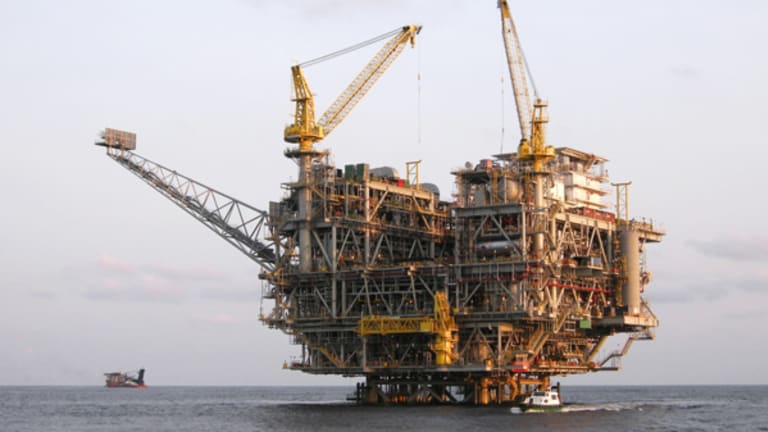 3 Reasons Oil Is Replacing Gold as Top Safe Haven for Investors
Investors and speculators are leaving gold in the dust and are sending United States Oil, ExxonMobil, Chevron and other oil assets soaring.
NEW YORK (TheStreet) -- The Great Recession changed investors priorities and now we see black gold replacing the yellow metal as the new safe haven asset. A simple look at United States Oil Fund (USO) - Get Free Report and we can see it replacing SPDR Gold Shares Trust (GLD) - Get Free Report as the safe haven asset. Investors and speculators have three primary reasons for leaving gold in the dust and riding the oil price boom wave. 

First, some history.
In August 2010 at the Jackson Hole economic summit, then-Federal Reserve Chair Ben Bernanke announced massive quantitative easing. This entailed the Federal Reserve expanding its balance sheet to purchase over $2 trillion in Treasuries and other securities to keep interest rates low. Quantitative easing was and is needed as there are no buyers, foreign or domestic, willing to purchase U.S. Treasury bonds and other securities at such low interest rates.
As a result, the value of the PowerSharesDBUS Dollar Index Bullish Trust (UUP) - Get Free Report fell with hard asset prices such as gold and oil rising. Energy stocks such as ExxonMobil (XOM) - Get Free Report, Chevron (CVX) - Get Free Report, ConocoPhillips (COP) - Get Free Report and others rose. Eventually the price of the yellow metal plunged while oil assets remained high, as shown by the chart below.

The major reason that oil replaced gold as a safe haven asset is that it appeals to both investors and speculators. Testifying before Congress in 2011, ExxonMobil CEO Rex Tillerson stated the price of oil was about 50% higher due to speculators. Oil appeals to investors as it is the primary fuel source for transportation, one of the world's largest industries. The allure to speculators is the massive profits that can be made from market, not economic, conditions.  Gold only appeals to speculators as it has no economic function.
Next is that oil, unlike gold, is consumed by factories, motor vehicles, etc.... There are supply and demand factors related to an economy producing goods and services that results in how much oil is used. From this, the price is affected. That is not the case with the yellow metal. It is almost completely for financial asset purposes. It relies on "the greater fool theory": purely the hope that someone else (i.e., "the greater fool") will pay more for gold.
Another is that the market for oil is much deeper, much more liquid and much more varied than that for the yellow metal. To state that the world oil market dwarves that for gold in size is a gross understatement. As just one example, the market capitalization for ExxonMobil, the biggest oil firm, is more than $440 billion. For Goldcorp (GG) , the largest gold firm, it is just over $20 billion. Oil also has a wider range of investment products, too.
Oil, long called "black gold," has now replaced the yellow metal as the new safe haven asset, and that's justification enough to keep the price of black gold high.
At the time of publication the author held no positions in any of the stocks mentioned.
This article represents the opinion of a contributor and not necessarily that of TheStreet or its editorial staff.
Read More:
June 16 Premarket Briefing: 10 Things You Should Know
European Stocks Slide on Escalating Violence in Iraq