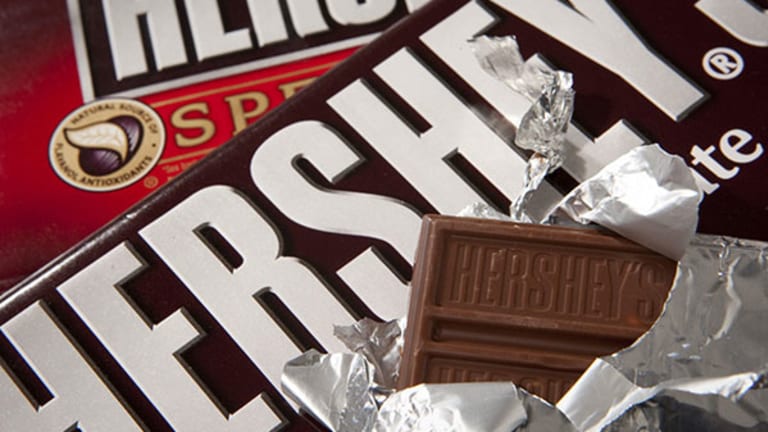 Hershey Rejects $23 Billion Acquisition Offer From Mondelez
The candy giant made a bid for its rival of $107 a share in cash and stock, but the offer was promptly rejected by Hershey's board.
Updated with additional details.
Hershey's (HSY) - Get Hershey Company Report business may be looking too sweet to for one fellow food giant to ignore.
Shares of the iconic chocolate maker were up 15% to $111.87 in afternoon trading Thursday following a report by The Wall Street Journal that fellow candy giant Mondelez (MDLZ) - Get Mondelez International, Inc. Class A Report has made a $23 billion bid in cash and stock, or $107 a share, for the company. Shares of Mondelez were trading up 4.8% to $45.05 on Thursday. 
Hershey confirmed the bid, but the company promptly rejected it, noting that its board determined that Mondelez's expression of interest provided no basis for further discussion.
Hershey's rebuff could mean it is trying to secure a higher bid from Mondelez. According to an afternoon note by analysts at Stifel, Mondelez could bid end up bidding $120 to $130 to seal the deal for Hershey.
A Hershey spokeswoman did not immediately return a request for comment.
According to the WSJ, any acquisition of Hershey would have to be approved by the Hershey Trust, which holds 81% of the voting rights of the stock and 8.3% of outstanding shares, though Mondelez is prepared to work to win the trust's approval. But, the Hershey Trust has set a precedent of being unpredictable. 
In 2002, the charitable trust that controls Hershey abandoned a $12.5 billion cash-and-stock offer from fellow candy-maker Wm. Wrigley Jr. Company in the final stages of approval.  
Wrigley's offer represented a generous 42% premium over Hershey's stock price at the time, and Hershey's auction also attracted a joint bid from Nestlé and Cadbury Schweppes. Wrigley went on to be acquired by Mars for $23 billion in 2008 in a deal that was financed by legendary investor Warren Buffett. And Cadbury was acquired by Kraft Foods, which split off its confectionery business into Mondelez in 2012.
Here's a brief look at what may have attracted the maker of Chips Ahoy, Oreos and Cadbury, among many other well-known brands, to Hershey. 
1. Hershey is reinventing its business.
Hershey recently acquired "snacking chocolate" brand Barkthins. TheStreet recently sampled several versions of Barkthins and can confidently report they are absurdly addicting and have a much better nutrition profile than a regular dark chocolate bar. Further, Barkthins have gobbled up some prime shelf space at major retailers such as Walmart (WMT) - Get Walmart Inc. Report lately as they play into the broader consumer trend toward snacking.
Barkthins joined another interesting acquisition made by Hershey of Krave beef jerky last year. Krave has some of the most innovative flavors in the premium beef jerky market, and similar to Barkthins is receiving prime shelf space at major retailers due to their snacking qualities.
Mondelez may appreciate the diversification beyond core chocolate bars. 
2. Core Hershey products are being reinvented.
Walk down most candy aisles today and you're likely to come across two new snack mixes from Hershey's -- the Reese's snack mix (peanut butter cups mixed with nuts in a 2-ounce package size), and the Hershey's snack mix (mini-Hershey bars mixed with pretzel and almonds in resealable plastic containers). These new products make ridiculous amounts of sense in this new snacking-crazed world.
Ultimately, it's good to see the creativity around a storied name such as Hershey, and likely has Mondelez optimistic on further innovations in the not-too-distant future.
3., Cost-cutting continues.
Like Coca-Cola (KO) - Get Coca-Cola Company Report , General Mills (GIS) - Get General Mills, Inc. ReportKellogg (K) - Get Kellogg Company Report  and other big-name food companies, Hershey has not been reluctant to wield the ax to improve profit margins and the flow of new innovations. The company recently increased its annual savings target from cost-cutting to $100 million per year through 2019, from the previous $50 million to $70 million. 
Mondelez may have confidence that under its umbrella, it could slash even more costs at Hershey, by, for instance saving on raw materials such as sugar and fuel.