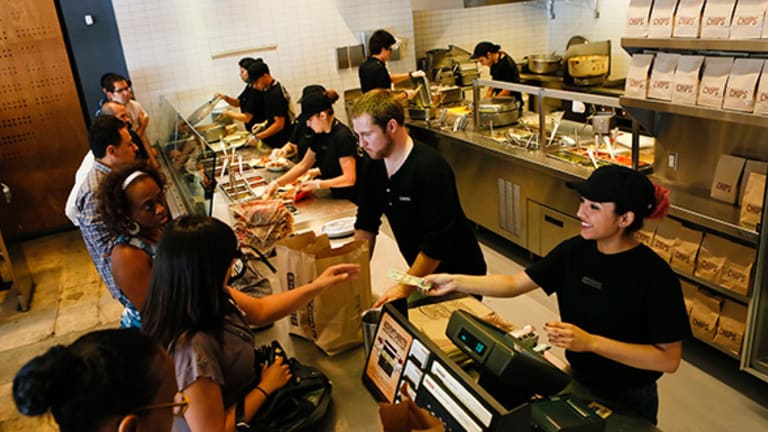 3 Reasons Chipotle Will Have a Hard Time Repeating Its Success Next Year
Chipotle had a stellar run in 2014, but replicating that performance next year and beyond won't be so easy.
NEW YORK ( TheStreet) -- Chipotle Mexican Grill (CMG) - Get Chipotle Mexican Grill Inc. Report had a stellar run in 2014 as its healthier take on fast food led to crowded restaurants at lunchtime and dinner, big sales gains and a surging stock price.
Replicating that trifecta of success next year and beyond won't be so easy, however.
The burrito and salad bowl king will confront several challenges in the quarters and years ahead, including fewer prime real estate opportunities for its newer restaurants and pressure to maintain the unique employee culture that has fed the chain's winning ways. Furthermore, Chipotle is unlikely to raise menu prices next year as it did in 2014, with inflation related to beef, poultry, avocados and dairy cooling off of late.
Those factors may make Chipotle less appealing to investors who have piled into the company looking for growth. Chipotle's stock has skyrocketed 28% this year, handily outpacing the 5% rise for Starbucks (SBUX) - Get Starbucks Corporation Report and 13% gain for the S&P 500.
TheStreet takes a look at the challenges ahead for every millennial's favorite place for lunch.


1.Prime real estate is becoming harder to find.
Chipotle has nearly doubled the number of company-owned restaurants in operation since 2009, going from 956 to about 1,780 at the end of 2014. In total, Chipotle will have opened from from 180 to 195 locations this year. Even more aggressive store opening plans are on tap for 2015, ranging from 190 to 205 new locations. Included in those numbers is Chipotle likely quickening the pace of openings for its Asian-food inspired brand Shophouse and build-your-own-pizza concept Pizzeria Locale. The company had eight Shophouse and two Pizzeria Locale spots at the conclusion of the third quarter.
The torrid growth of Chipotle in the U.S., combined with that of competitors Starbucks, which opened 458 owned and licensed stores in the U.S. in its 2014 fiscal year, and Panera Bread (PNRA) , which opened 115 to 125 new locations in 2014, is now leading to two things: Fewer prime real estate opportunities and upward pressure on rents.
"While the market overall has become more competitive for the kind of sites we are looking for, Chipotle remains a very desirable tenant with strong financials," said Chipotle's co-CEO, Monty Moran, on the Oct. 20 third-quarter earnings call. Chipotle's strong sales trends are attracting real estate developers who are willing to build new two or three tenant strip centers in smaller, more remote markets for the company's use. Moran cautioned, however, that "we expect to see some pressure on rents in major markets, but think we can offset some of that with a strong supply of new, smaller retail strip centers."
For now, opening restaurants in locations Chipotle used to pass over for any number of reasons, including population density or median income, are not weighing on the underlying sales trend. According to the company, its newer restaurants in non-tier one locations are producing strong opening volumes of $1.7 to $1.8 million. Higher rent rates have also not yet taken a bite out of operating margins, as they have been offset by impressive restaurant volume and more recently, a menu price increase. Operating margins in the third-quarter touched 19.3%, up from 16.6% in the third quarter of 2011.
The richer compensation package and clear path to promotion have supported Chipotle's lightning-quick lines during the peak hours of noon to 1:00 pm and 6:00 pm to 7:00 pm. More hungry people served, more sales. Year over year, Chipotle has increased its average number of transactions during both its peak lunch and dinner hours by six.
But there are two modest downsides to Chipotle's successful employee system. 
First, top performers in the U.S. are being tapped to lead the development of Chipotle in the U.K. and France, essentially removing them from high-grossing U.S. restaurants. "We have had some restaurateurs that have left the U.S. to go to work in England and France who have done a marvelous job of putting in place that people culture," Moran pointed out in an Aug. 27 interview with TheStreet. Over time, the U.S. could be viewed as a talent pool to fuel Chipotle's international growth. A few more leaders could also decide to stay in the U.S. and work for Shophouse or Pizzeria Locale. Having to seed their international locations and new concepts with employees from their top Chipotle locations could eventually hurt the core Chipotle brand.
The second downside is preserving the culture that has underpinned the company's success. That will be tested in 2015 as Chipotle opens more new restaurants compared to 2014. Said Moran in the Aug. 27 interview, "The name of the game to making sure the culture works, and is sustainable, is making sure that we have enough restaurateurs being developed. Then, we have to make sure enough restaurateurs are rising up into positions of leadership in the company."
The wild cards in whether Chipotle trumps its sales guidance for 2015 are catering orders and the company's nascent mobile ordering platform. Catering sales, where large orders for office events or parties are prepared in separate lines than those handling folks inside the restaurant, represent about 2% of annual sales. Catering gives Chipotle an opportunity to boost average checks at existing and new locations. And there is an added opportunity in takeout orders placed through the Chipotle mobile app. An updated version of the app was delayed from an anticipated November introduction as the company worked on enhancing features for the kids menu, catering and order customization.
Chipotle did not respond to an email for comment on this story.
This article is commentary by an independent contributor. At the time of publication, the author held no positions in the stocks mentioned.