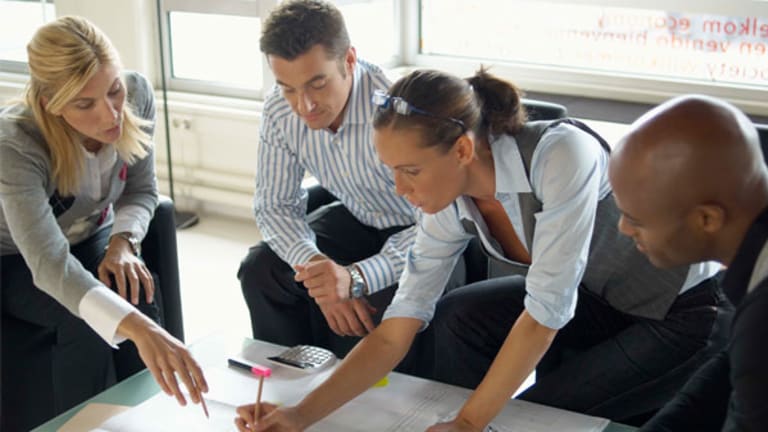 3 Ways Banks Will Be Killed by New Rules
A cogent letter from the 'Occupy' movement changes the debate.
A cogent letter from the 'Occupy' movement changes the debate.
NEW YORK (
) -- The highly controversial "Volcker Rule" is back in the news since the period for public comment on the Securities and Exchange Commission's proposal ended Feb. 13. It's easy to see why banks are worried.
The rule, named after 84-year-old former Federal Reserve Chairman Paul Volcker, aims to sharply reduce risk-taking at banks by placing limits on so-called proprietary trading, as well as investing in hedge funds and private equity.
While the debate continues to rage, there are essentially three reasons bankers are sweating the new rule.
3. Banks will lose talented people
Banks have already lost lots of talented people, but the more boring banks get, the more talented people they will lose. Or so goes their argument.
Goldman Sachs
(GS) - Get Report
, for example, lost several teams of proprietary traders, including Bob Howard, head of its Principal Strategies Group, and eight traders who reported to him, to
KKR
(KKR) - Get Report
.
Citigroup
(C) - Get Report
lost Andrew Hall, a highly profitable commodities trading talent and head of a unit known as
Phibro
that traded out of a Connecticut farm house, to
Occidental Petroleum
(OXY) - Get Report
.
Morgan Stanley
(MS) - Get Report
spun off its FrontPoint Partners hedge fund unit, parting company with co-heads Dan Waters and Mike Kelly.
These are just a few examples.
2. Volcker is another regulatory battleground in the banking war
Many rules have come out of the Dodd Frank legislation, but the Volcker Rule was the one that prompted Occupy the SEC to weigh in on the regulatory debate, showing the rule is not just powerful as a profit killer, but also as a symbol of financial services reform.
Occupy's letter has blown open at least one big new hole in the debate over the rule. Up to now, the main argument had been over the difference between proprietary trading (banks making their own bets) versus market making (acting as a go-between to allow other parties to make bets). Everyone seemed to agree that the latter activity should be permitted. The only issue was how to draw a distinction.
But hold on a minute, says Occupy to the SEC. Who says market making belongs in banks?
"Market making is an indispensable component of liquid, efficient markets. This service, however, simply does not belong in banks. One of the most challenging aspects of our attempt to digest and comment on this Proposed Rule has been navigating the presupposition that banks have some inherent role in proper market making. We are familiar with the extensive lobbying efforts by the banking industry to present this idea as a fact, but we propose that the Agencies seriously reconsider this premise for both the safety and soundness of the industry and the simplicity of this Rule."
Occupy's 325-page letter has raised questions issues larger than the Volcker Rule such as the very nature of rulemaking as it relates to the securities industry.
Occupy's letter states that the proposed rule "evinces a remarkable solicitude for the interests of banking corporations over those of investors, consumers, taxpayers and other human beings." For example, Occupy notes that the rule's overviewIn their Overview of the Proposed Rule, 'the Agencies request comment on the potential impacts the proposed approach may have on banking entities and the businesses in which they engage,' but curiously fail to solicit comment on the potential impact on consumers, depositors, or taxpayers."
1. Banks will be dull and unprofitable
Well, duh. And yet a Feb. 14 research note from Nomura banking analyst Glenn Schorr curiously dances around this issue.
"We believe the regulators are reasonable and don't want to significantly reduce market liquidity, increase capital costs, and create an unlevel global playing field," he writes. Okay, fine, but if they do any of these things, banks will be less profitable. And if they limit the ability of banks to make big, risky bets, that will also make the banks less profitable, assuming the bets pay off.
Of course, in the fourth quarter of 2007, the bets did not pay off at all. Banks
lost big on prop trading, which didn't stop them from subsequently making claims that prop trading had nothing to do with the crisis
.
So whether it would be bad for shareholders if banks stopped making big risky trades is an open question. Those most likely to suffer would be bank executives, who have far more to gain if those trades go right than they stand to lose if they don't.
--
Written by Dan Freed in New York
.
Readers Also Like:
10 Companies in the 'Ultimate Stock Pickers' Portfolio
10 Stocks of Top-Performing Funds in 2012
Disclosure: TheStreet's editorial policy prohibits staff editors, reporters and analysts from holding positions in any individual stocks.