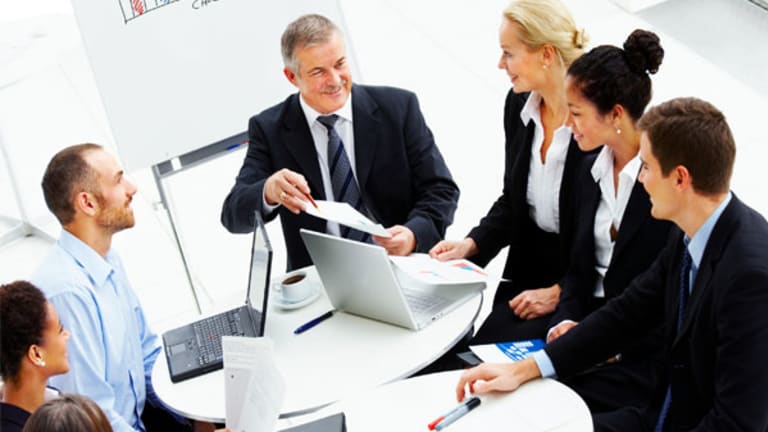 3 Questions About Apple's iTV and Honest Answers From a Long-Term Bear
Whether or not bulls want to admit it, Apple's future depends on iTV. And the future might not be bright.
NEW YORK (TheStreet) -- The next iPhone. The next iPad. Relatively speaking, these things mean little to Apple's (AAPL) - Get Apple Inc. Report future. It's all about iTV (or whatever it will be).
Hold off on
the snappy, 140-characters-or-less retorts
and hear me out.
Consider the following questions and (my) answers regarding iTV and Apple's future.
Can iTV Match Up to iPhone and iPad?
It's crazy to expect the same volume of sales; however, in terms of revenue, and maybe more importantly, impact, iTV absolutely needs to come mighty close to, match or surpass the success of iPhone and iPad. Think about how much more successful, in terms of rapid adoption, iPhone was than iPod and iPad is than iPhone. The same thing absolutely must happen with iTV.
Many Apple bulls argue the opposite. They claim that iTV does not have to be a hit. Some go so far as to say it could attain humble Apple TV or, worse yet, Ping status and be just fine. iPhone and iPad drive sales. They make up a lion's share of the revenue. That's where the opportunity lays, particularly in international markets.
That's a nice way to play with your own head. But it's also wishful thinking. If the market valued Apple based on its sales as well as current and past performance, it would have a price-to-earnings ratio much higher than 14.
It's also a convenient way to let Tim Cook off of the hook. Whether or not he or another living member of Apple's team conceived any or all of iTV means little. It will go down as Steve Job's idea or project, but Cook's responsibility. Don't blame a dead man if Cook or other Apple executives foul something up between now and launch. Whatever happens with iTV is on them; it takes place on their watch.
Apple stock has failed to retouch its highs, let alone $600, because of this. Maybe not because of iTV directly, but because investors have to know that there is life after not only Steve Jobs, but iPhone and iPad.
You can argue that somehow this time it will be different, but you cannot ignore the numbers.
, iPod sales are down 25%, while iPhone and iPad trended up 85% and 132%, respectively. The latter two had a more profound impact and will, without question, sustain longer than iPod. However nothing lasts forever including those two excellent devices' dominance.
With Steve Jobs around, the market would have had the same questions about the future. With him gone, these uncertainties gain more of the spotlight.
Will iTV Be Subsidized?
Earlier this year,
out of Canada flew somewhat under the radar. It reported that
Canadian media and telecommunications giants
,
Rogers Communications
(RCI) - Get Rogers Communications Inc. Class B Report
and
BCE, Inc.
were testing an iTV prototype while in talks with Apple to serve as carriers of iTV north of the border. The same story included speculation from an analyst that
AT&T
and
Verizon
(VZ) - Get Verizon Communications Inc. Report
would be U.S. carriers.
This notion of "carriers" for iTV makes the distribution model sound a lot like the one for iPhone. This brings up a load of questions regarding subsidies and access to content.
Will telcos be willing to subsidize iTV to the level they do iPhone? I highly doubt it. And, if it's not going to be a telco-subsidized product, will Apple subsidize it itself like
Amazon.com
(AMZN) - Get Amazon.com, Inc. Report
apparently does with Kindle Fire? Or maybe there will not be any subsidy at all, which, given the probable $2,000 to $3,000 price point, makes this thing dead on arrival, relative to iPhone and iPad.
Will iTV Even Be All That Unique?
In the same article out of Canada, the Globe and Mail noted that, while you might think a Rogers and Bell hook up with Apple would hurt the country's number three telco,
Telus
(TU) - Get TELUS Corporation Report
, it might not. Something the paper said piqued my interest:
... Telus is on the brink of unveiling new technology that would give its customers the ability to control its Optik TV product through voice commands and hand gestures. Those new features could be facilitated by existing Xbox 360 hardware and would position Telus to be first out of the gate with such an offering.
That reinforces something I have been writing about lately: Apple is not winning and likely will not win
the battle for the living room
.
It's interesting to see
Microsoft's
(MSFT) - Get Microsoft Corporation Report
name come up in conjunction with Telus's rumored living room plans.
AAPL bulls can chide those of us who refuse to forget about Steve Jobs for not forgetting about Steve Jobs. Maybe they'll be proven right. Guys like me are little more than broken records. Nothing will come of this drivel. Who knows?
That said, you could set yourself up for a world of hurt if you do not at least consider the fact that behind his seemingly confident public exterior, Tim Cook cannot handle the obstacles and gametime decisions Apple faces before it makes its first real entry into the living room. The market can do nothing but wait and see if Cook can perform. It knows Jobs could have. Those facts are history. The future is unwritten.
This article is commentary by an independent contributor, separate from TheStreet's regular news coverage.
At the time of publication, the author was long BCE, MSFT, RCI and VZ
.