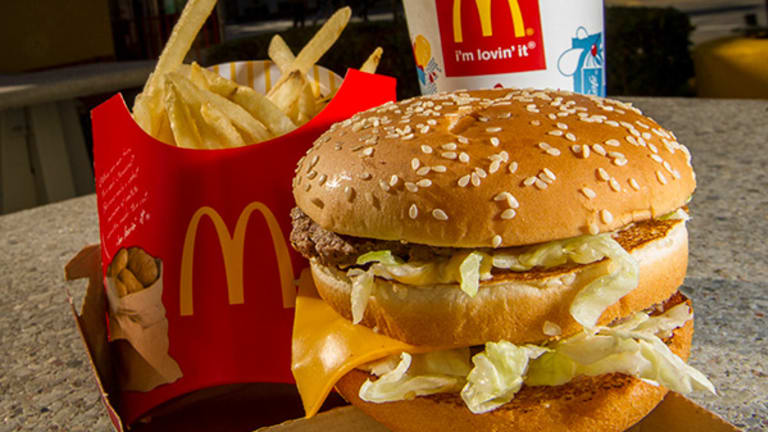 3 Predictions for What McDonald's Will Do in 2016
Coming off its strong gains in 2015, the giant burger chain could roll out a new restaurant concept in the U.S., among other moves.
Editors' Pick: Originally published Dec. 31.

Investors got fat buying McDonald's (MCD) stock in 2015.
Shares of the Golden Arches gained 27% this year, marking the second-best performance on the Dow Jones Industrial Average behind sneaker giantNike's (NKE) 31% surge. McDonald's was among just thirteen Dow Jones Industrial Average components to eke out a gain in 2015, as companies in the industrial and oil sectors such as Caterpillar (CAT) and Chevron (CVX) battled the negative effects of a strong U.S. dollar and a 40% plunge in oil prices.
As an extra feather in the cap of McDonald's execs, the company ends the year with fewer concerns about food quality among U.S. consumers than its one-time partner Chipotle (CMG) , which has seen public sentiment sour following an E. Coli outbreak in November and other instances of customers getting sick at its restaurants. Chipotle's investors have soured on the once red-hot stock, too -- shares will end 2015 down about 29%.
Despite continued sluggish sales and profits, McDonald's CEO Steve Easterbrook, who took over in late January, has managed to win over Wall Street with promises of a brighter future. Easterbrook has been working to improve the food quality and speed of service at McDonald's restaurants worldwide following years of neglect to these two key areas, which caused consumers to seek lunch and dinner elsewhere.
The company also made one of its most supersized bets of all-time, believing that consumers had the desire to consume McDonald's breakfast foods around the clock. So far, the all-day breakfast platform has proven to be a success, reinvigorating sagging sales in the U.S. According to a new study in December by research firm NPD Group, one-third of customers who purchased breakfast at McDonald's beyond the traditional breakfast hours hadn't visited the chain at all in the month before the company's all-day breakfast launch in early October. 
Just as McDonald's has undertaken measures to bolster its sales, at its investor day in November execs outlined a new plan for improving the bottom line in 2016. By re-franchising about 4,000 restaurants by 2018 and moving further away from directly operating restaurants, McDonald's will lower its costs and expenses by approximately $500 million.
With the winds currently blowing in McDonald's favor for once, TheStreet makes three predictions on what may lay in store for the world's largest fast-food chain in 2016.


The world's largest McDonald's in Orlando, Florida.
1. Same-store sales in the U.S. grow in each quarter of 2016.
McDonald's achieved a significant milestone in 2015's third quarter -- same-store sales in the U.S. increased 0.9%, representing the first increase in two years. Sales were propelled by efforts to enhance food quality and pare down the size of the menu to more quickly service customers. "Our turnaround is operationally led," said Easterbrook to analysts on an Oct. 22 earnings call, adding, "We want to give [customers] more reasons to dine in McDonald's by recommitting to hot fresh food, cost-friendly service, contemporary restaurant experience, all at the value of McDonald's."
The sales momentum from the third quarter could extend into 2016 thanks to several factors. McDonald's sales in the first three quarters of 2016 will get a lift from the availability of the popular all-day breakfast menu, which was not available to customers in the first three quarters of 2014. Second, in January, McDonald's will debut its new McPick 2 value menu, offering a pair of items from a list of favorites, including the McDouble or McChicken, for $2. The inevitable heavy marketing of sharply priced fast-food is likely to get more butts in the seats of McDonald's restaurants -- and more cars waiting in line at the drive-thru.


McDonald's Japan has been nothing but trouble in recent years. 
2. McDonald's exits Japan.
McDonald's Japan, which operates about 3,100 restaurants and is McDonald's second-largest market after the U.S., has been a headache for the company going on two years. Sales have been pressured as McDonald's has tried to win back customers following a series of high-profile food scares in Asia in 2014. For the third quarter of 2015, system-wide sales at McDonald's Holdings Japan dropped 20.4% year-over-year to $228.7 million.
"Japan's performance has not been meeting expectations," said McDonald's president of foundational markets Ian Borden at the November investor event. Borden added, "Much of this can be explained by the significant setbacks from two major food incidents in the last 16 months -- however, the brand was also losing relevance prior to these incidents and becoming more functional, driven by low price versus loyalty or a strong consumer connection." McDonald's will have closed about 130 restaurants in Japan this year, while remodeling hundreds of others, in a bid to improve the economics of the business.
But with its stock riding a wave of support from investors anticipating big changes from Easterbrook, it's likely that McDonald's inks a deal to sell its stake in Japan. McDonald's Japan is 50%-owned by McDonald's Corp. and 50%-owned by McDonald's Holding Co., a Japanese affiliate. By doing so, McDonald's would rid itself of the weak sales and profits from Japan that are muddying overall results. McDonald's would still be involved in Japan, however, as a new owner for McDonald's Japan would likely pay the company fees for the rights to use its name.
Such an arrangement would be somewhat similar to one recently orchestrated by Yum! Brands (YUM) . Dealing with a bout of turbulent results in China, Yum! Brands will split into two separate companies by the end of 2016. Yum! China will be an independent company with exclusive rights to use the KFC, Pizza Hut and Taco Bell brands in China, and will pay Yum! Brands a license fee of 3% of its sales. The remaining Yum! Brands will operate and develop restaurants outside of China.


McDonald's newest concept called Next, pictured above, could be brought to the U.S. in 2016.
3. McDonald's tests a new concept in the U.S.
Facebook and Instagram lit up with pictures and comments on Wednesday as McDonald's unveiled a new concept restaurant in Hong Kong. Coined "Next", it features a Chipotle-style "make your own order" counter, huge touch screen ordering machines and healthier fare such as multi-grain rolls. The concept in Hong Kong comes on the heels of one previously opened late in 2014 in Australia called "The Corner", that featured a similar sleek design with food that looks more natural than that typically found at McDonald's.
Easterbrook has shown an inclination to be bold in fixing McDonald's, and there would be no better way to continue that sprit than by launching a few Next locations in the U.S. in 2016. There would be virtually no material financial risk to McDonald's by opening, say, five Next restaurants in several major U.S. cities. Hatching a new concept may even prove to be an opportunistic move by McDonald's as Chipotle continues to deal with the fallout from its highly publicized E.Coli outbreak, causing consumers to keep searching for other healthier fast food options for lunch and dinner.