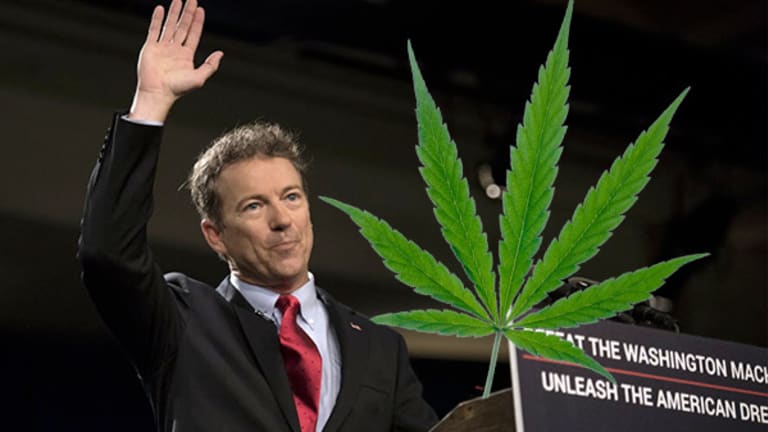 3 Pot Stocks to Buy If Rand Paul Becomes President
Before Bernie Sanders got hip to the whole pot thing, the marijuana industry had a different presidential contender BFF: Rand Paul.
Before Bernie Sanders got hip to the whole pot thing, the marijuana industry had a different presidential contender BFF: Rand Paul.
Before Democratic candidate Bernie Sanders got hip to the whole pot thing and announced his own legalization plan, the marijuana industry had a different presidential contender BFF: Rand Paul.
The Republican senator from Kentucky is a long-time friend of the "420" crowd, the Congressional Cheech to the pot industry's Chong, if you will.
He has attached his name to three different pieces of weed-friendly legislation, including the CARERS Act, the most comprehensive medical marijuana bill ever sent to Congress.
The bill, which Paul introduced in March alongside New Jersey Senator Cory Booker and New York Senator Kirsten Gillibrand in March 2015, would, among other things, allow states to legalize marijuana for medical use without federal interference, make marijuana a schedule II drug (it is currently schedule I, the same category as heroin and LSD), allow banks to provide financial services to marijuana dispensaries and eliminate barriers to medical marijuana research.
Paul has also been a vocal supporter of decriminalizing and reducing criminal penalties for those arrested for marijuana possession. The Marijuana Policy Project, a Washington, D.C.-based organization dedicated to marijuana policy reform in the United States, gives him an A- on his pot stance (Sanders gets an A).
A libertarian, Paul largely sees marijuana through the prism of state's rights. He outlined his views on the topic at a Republican primary presidential debate in September aired on CNN.
"The bottom line is, the states, we say we like the 10th Amendment until we start talking about [marijuana]. And I think the federal government has gone too far. I think that the war on drugs has had a racial outcome and really has been something that's really damaged our inner cities," he said. "I don't think that the federal government should override the states. I believe in the 10th amendment, and I really will see that the states are left to themselves."
At the same debate, he made a not-so-subtle reference to former Florida Governor Jeb Bush, whose history with drugs in high school is an open secret. Paul hasn't quite gone so far as to completely own up to smoking pot in his youth, but he has hinted at it (one of his friends outed him on it anyway back in 2010).
The Kentucky senator has courted the cannabis industry on the campaign trail to raise money, too.
Should Paul be elected president in 2016 -- an unlikely scenario -- and successfully enacts the marijuana-friendly, state's rights-focused policies he has put forth -- also unlikely -- it would mean big things for the still-green pot sector (pun intended).
"It would be good for a lot of companies we don't even know about yet, because it would...draw more conservative entrepreneurs into the industry," said Alan Brochstein, certified financial analyst and founder of 420 Investor and New Cannabis Ventures.
Of course, those already active in the arena would benefit as well.
"The ones that you're really looking for are the ones that actually have significant business right now in the market, because there are a lot of companies out there that are looking to get into the business or want to be in the business and their business plans and their current exposure to the industry is more aspirational than actual," said Jim McIlree, a senior analyst at New York-based investing firm Chardan Capital Markets. "The ones who actually are doing things, those are the ones that will probably benefit the most, earliest."
Investing in marijuana can be risky business, but under a Paul presidency, that might change. Here are three pot stocks that would probably do well with Paul in the Oval Office.
CANV
data by
1. CannaVest
Nevada-based CannaVest (CANV) is in the business of developing, producing, marketing and selling raw oil and end-consumer products containing agricultural hemp-based compounds -- namely, cannabidiol (CBD). Because of the way CBD is regulated in the United States right now, CannaVest is forced to import the oil it uses from Europe. But under the Paul-sponsored CARERS Act, that would change.
Among other things, the legislation would also permit interstate commerce in CBD, meaning CannaVest and companies like it could stop importing and start sourcing CBD locally.
"CannaVest is a very legitimate company. They're going through a terrible process right now because of the laws," said Brochstein. "[It] would be able to lower their cost of production and probably have a higher-quality product."
In 2014, CannaVest posted $10.2 million in sales and a gross profit of $5.8 million, up significantly from the $2.2 million in sales and $1.3 million gross profit it saw in 2013. It also saw an increase in legal expenses in 2014, which would likely go down if the legal system were more marijuana-friendly.
Separately, an eased environment for CBD will also prove a boost to biotech stocks that already have related products, such as CBD-based treatments, in the pipeline. "More lax marijuana laws ... bring added confidence to institutional money that has been on the sidelines, and biotech will be their only option," said Adam Heimann, creative director and partner at MarijuanaStocks.com, a website that tracks cannabis investments and news.
"The first group of companies to [take off] will most likely be biotech as institutional investors can easily swoop in and start buying up large positions of the NASDAQ listed cannabis-biotech companies, and many already have," Heimann said. "The cream of the crop in biotech include GW Pharma, Insys Therapeutics, Zynerba Pharmaceuticals and Cara Therapeutics." 
data by
2. Surna
If marijuana were legal throughout the U.S. -- or, if as Paul's legislation has proposed, it was downgraded to a schedule II substance and left alone by the federal government in states where it is legal -- there would be an uptick in demand for all sorts of products, including those made by Surna (SRNA) .
Based in Boulder, Colorado, Surna engineers and manufactures technology and products for controlled environment agriculture. In other words, it builds products for growing cannabis indoors, a true pick-and-shovel play.
"They do equipment for the growers," McIlree said, offering Surna as an example of a company that already has strong foundations.
Paul Cohen of California-based investment research firm Cohen Grassroots Research, which focuses on micro-cap and small-cap stocks as well as a number of publicly-traded marijuana companies, also touted Surna as a solid marijuana industry bet. "I don't know what's going on there politically," he said, noting that Surna's CEO, Zynga co-founder Tom Bollich, resigned from the company earlier this year. "But they have a very good product line, actually."
In 2014, Surna had gross revenues of $1.8 million, though it posted a net loss for the year of $3.0 million. The company addressed the profitability issue in its annual report, explaining that its continued operation is dependent upon "attaining and maintaining profitable operations and raising additional capital if needed."
Marijuana's continued listing as a schedule I substance leaves a cloud over the industry and those doing business in it. As a result, raising money is an extremely difficult process.
"All of them have been negatively impacted by the difficulty of raising capital, that marijuana stigma," said McIlree.
Something like the CARERS Act and a classification downgrade would probably ease this challenge for companies such as Surna.
data by
3. Pazoo
Currently trading at less than a penny and with a market cap of about $1.2 million, Pazoo (PZOO) is about as micro-cap as they come. But the marijuana testing company could have big prospects if, as the CARERS Act proposes, federal entities were guaranteed to stay out of laboratory testing and marijuana research in states where such activities are legal.
Cannabis testing laws vary state to state, and in many places -- including pot-friendly Colorado -- the guidelines are still being formed for testing for things such as potency, homogeneity and contaminants. 
Pazoo is the full owner of Harris Lee, LLC, which has an exclusive contractual agreement with cannabis testing and analytics company Steep Hill Labs. It is also the largest shareholder in MA & Associates, a licensed marijuana testing lab in Nevada. What Pazoo has set out to do is to offer laboratory testing and analytics for marijuana via exclusive licensing agreements with Steep Hill.
"They have the best Starbucks-type model to open up testing centers throughout the United States," said Cohen. "They have set themselves up with the three best testing firms ... in the United States. If they don't go bankrupt, this is the best company of them all, and if they can make it financially and not dilute themselves too much, it's the best bet." 
They'll have a much better chance of staying afloat if the risk of the federal government shutting down their operations is removed.
The next Republican Presidential debate starts at 9 p.m. ET this Tuesday, 11/10. Join TheStreet.com for live coverage of the event, starting with the under-card debate at 7 p.m. Tune in for stories, videos, and more, and make sure to follow us at @TheStreet on Twitter for live commentary by TheStreet Editor-in-Chief Jeffrey Kanige during the debate.
This article is commentary by an independent contributor. At the time of publication, the author held no positions in the stocks mentioned.