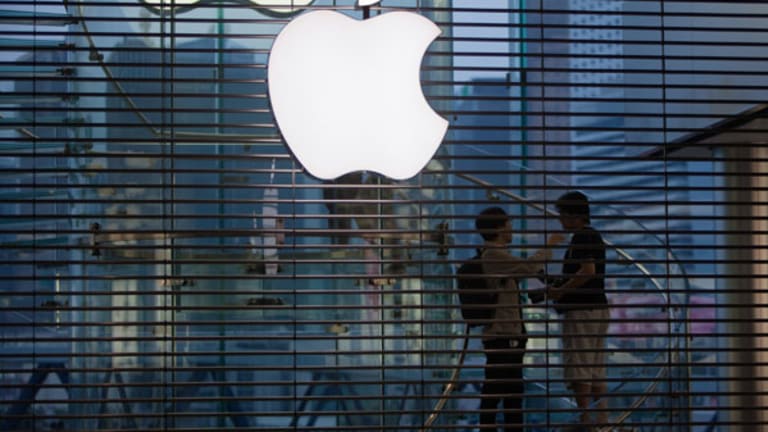 Publish date:
3 Positive, Uplifting Stories That Could Unfold in 2013
Yahoo!, Apple and the fiscal cliff: Here's hoping these stories take care of themselves for the better in 2013.
Yahoo!, Apple and the fiscal cliff: Here's hoping these stories take care of themselves for the better in 2013.
NEW YORK (TheStreet) -- It's difficult -- and feels inappropriate -- to talk about the stock market, lament the NHL lockout or whine because The Killers postponed the Friday night concert at MSG I was supposed to attend given what happened in Connecticut.
Such meaningless small potatoes, man. But what do you do?
In the general flow of life, things like stocks, sports and music -- while they serve a few practical and righteous purposes -- exist for times like these. When you cannot make sense of the serious, of the tragic, of reality, you turn to the inane crap that you know really doesn't matter when perspective knocks you upside the head.
So, here it goes. Three positive, uplifting stories -- pertaining to
Yahoo!
(YHOO)
,
Apple
(AAPL) - Get Apple Inc. (AAPL) Report
and the fiscal cliff -- that, if there's any justice in this crazy world, will unfold, like storybook stories, in 2013.
Marissa Mayer Turns Yahoo! Around
If you follow tech, you better be rooting for Yahoo!. They're not the New York Yankees. You don't either love or hate Yahoo! You root for Yahoo! like you root for a not-all-that-far-under underdog.
Almost everybody I talk to uses Yahoo! I keep tabs for
TheStreet
and
Yahoo! Finance
open on my browser all day, everyday. Outside of these sites, there's email (Gmail
and
, you guessed it, Yahoo! Mail), social media feeds and an open tab or two for hitting other sites I need to see and conducting searches.
While I most often use these free tabs to conduct
Google
(GOOG) - Get Alphabet Inc. Class C Report
searches, I, with almost the same frequency, pop over to a Yahoo! site. When news breaks, I hit
Twitter
first, Yahoo!'s homepage second (it used to be Yahoo!'s homepage first!). I need a sports update, I automatically go to the appropriate Yahoo! Sports property.
As Marissa Mayer explained durnig a recent Yahoo! conference call, Yahoo! has the user base and traffic, it just needs to do a better job leveraging what is already a "daily habit" for millions.
But, beyond the fact that it's a great platform that deserves a grand revival, it will be good for the entire tech space if Yahoo! succeeds. Victory at Yahoo! could -- well, I sure as hell hope it does -- inspire other companies to do like Yahoo! did and make a bold move at the top. No more
pulling a Best Buy (BBY) - Get Best Buy Co., Inc. Report
and overpaying a glorified consultant to play CEO.
Tim Cook Produces 'The Next Big Thing'
I understand long-term Apple bearishness. It makes sense to feel and express concern that Apple can't possibly keep the magic alive post-Steve Jobs. But, to root for Apple to fail like so many haters do just doesn't make any sense.
Here's a company that's good for America. Sure it keeps tons of cash overseas (who doesn't?) and builds most everything in Asia (though
), but let's face it, there's something to be said for
Designed by Apple in California
.
The same type of person who hates Apple -- and roots for it to fail -- probably hates California. But, seriously people, without Apple and California, your life would be less rich. You would still listen to music, watch television and movies, compute, take pictures, share them and operate a phone all day long -- maybe even a "smartphone" -- but you would not do it quite the same way.
Even if you do not use Apple devices, the company touches your life. That Kindle or Galaxy or Nexus or Surface or Lumia or ultrabook or whatever knock-off piece of plastic they can't make look like metal you use -- that's got Apple's inspiration, even if it sucks, written all over it.
If Apple falls from grace and dominance, that's another dent in America's armor. We're worried about losing our competitive edge. Well, we take a giant step back if Apple fails. And who would be left to set such a high bar for the rest of tech to strive for?
The Fiscal Cliff Does No Damage
We already inflict enough pain on ourselves and one another in this society. While "only" a few souls lose their minds and commit mass murder each year and disrespect for life exists in a relatively small number of people, you or somebody you love is only the wrong time and the wrong place away from becoming a victim.
It's an uncertain, anxiety-provoking world we live in. One that's filled with things we wish we could control but we can't -- gun violence, earthquakes, hurricanes, cancer.
When there's something brewing that impacts upon the livelihoods of millions that we, together as a collective, can control, we should damn well control it!
The fiscal cliff. It's not some mysterious outside force exerting its will on us. Our politicians own this thing. They can do the right thing. Whether it's now, before the New Year or somehow, some way in early 2013 with limited or no damage, they can make this right.
Inaction in Washington has already hurt millions. It has kept some people from spending and others from reinvesting. It has helped evaporate wealth many Americans hold in everything from stocks such as AAPL to housing.
If the worst comes out of the fiscal cliff, what has already happened will appear tame compared to the job loss and recession we're likely to face.
Tragedy often puts me in the mood to think positive. Let's hope it delivers some much-needed perspective to Capitol Hill and settles a situation we simply do not need to deal with as a country after, at least in parts, a particularly painful 2012.
--Written by Rocco Pendola in Santa Monica, Calif.
Rocco Pendola is
TheStreet's
Director of Social Media. Pendola's daily contributions to
TheStreet
frequently appear on
CNBC
and at various top online properties, such as
Forbes
.