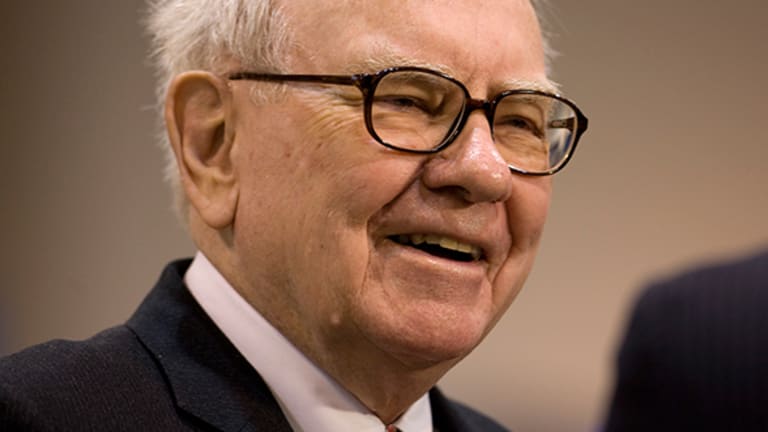 Publish date:
3 New Warren Buffett Quotes You Can't Live Without
Warren Buffett offers these three nuggets of must-read investing wisdom in Berkshire Hathaway's latest annual report.
Warren Buffett offers these three nuggets of must-read investing wisdom in Berkshire Hathaway's latest annual report.
Editors' pick: Originally published March 15.

Berkshire Hathaway's (BRK.A) - Get Report (BRK.B) - Get Report Warren Buffett is known for his straightforward and insightful investing quotes, some of which he made decades ago. Buffett isn't finished, though. This living investment legend continues to encapsulate his vast knowledge into short bursts of wisdom. Let's look at three "instant classic" quotes the Oracle of Omaha offered in Berkshire Hathaway's 2015 annual report, which was released late last month.
Instant Classic Quote No. 1
"A business with terrific economics can be a bad investment if it is bought at too high a price."
Warren Buffett is no longer a strict value investor. Businesses with "terrific economics" are his first priority, but this type of business rarely trades at a deep discount to its intrinsic value. Such a business can, however, trade at prices that make a purchase foolish.
The "Nifty 50" phenomenon is a prime example of great businesses trading at prices that made them very poor investments. In the early 1970s, great businesses started trading for ever-higher price-to-earnings ratios. McDonald's, for example, had a price-to-earnings ratio of 86 in 1972, while Disney had a P/E of 82.
Of course, both of these companies are great businesses that are still around today and are much more valuable than they were in 1972. At that time, however, they weren't good investments. Investors would have done much better by purchasing securities priced more reasonably and waiting until McDonald's and Disney's shares fell back to earth before scooping them up.
Instant Classic Quote No. 2
"As much as Charlie and I talk about intrinsic business value, we cannot tell you precisely what that number is for Berkshire shares (nor, in fact, for any other stock). It is possible, however, to make a sensible estimate."
It is foolhardy to try to place an exact value on a stock. Anyone who says "Coca-Cola is worth $53.17 today because..." is wrong. Coca-Cola may be worth around $40 or around $50 a share based on the estimated future value of its earnings.
The value of a business comes from an estimate of its future cash flows. The key word in that sentence is "estimate." Valuation is more art than science. The exact intrinsic value of any business is unknowable.
That said, the more predictable and stable a business is, the more precise an estimate of intrinsic value can be made.
Instant Classic Quote No. 3
"The managers who succeed Charlie and me will build Berkshire's per-share intrinsic value by following our simple blueprint of:

(1) constantly improving the basic earning power of our many subsidiaries;
(2) further increasing their earnings through bolt-on acquisitions;
(3) benefiting from the growth of our investees;
(4) repurchasing Berkshire shares when they are available at a meaningful discount from intrinsic value;
(5) making an occasional large acquisition. Management will also try to maximize results for you by rarely, if ever, issuing Berkshire shares."
This quote shows exactly what Warren Buffett and Berkshire Vice Chairman Charlie Munger look for in management. There is no guesswork involved; this is what the two are looking for in their successors.
The goal of the management of any business is to maximize the intrinsic per-share value of that business. This goal is very closely aligned with increasing the earnings power of the business. Per-share earnings power can be increased in a number of ways.
Bolt-on acquisitions are a low-risk way of growing the business with excess cash flows. Bolt-on acquisitions are not transformative; they simply add another smaller, similar business to the larger one. Bolt-on acquisitions are most effective when an industry exhibits economies of scale.
Share repurchases can either create or destroy shareholder value, depending on when the shares are repurchased. If shares are repurchased when a business is undervalued, value is created. Management is effectively purchasing $1 of value for less than $1 -- that's always a good move. When a business is overvalued, the opposite occurs.
Buffett and Munger also discuss making occasional large acquisitions. Large acquisitions are transformative. They can create synergies through cost reductions, greater economies of scale and cross-selling opportunities. Synergies can also be destructive. Businesses can be poor fits for each other, resulting in the destruction of value. As with purchasing a stock, the price one pays for an acquisition largely determines whether the deal will be beneficial to shareholders.
Final Thoughts
Warren Buffett is nothing if not quotable. The quotes above provide deeper insight into the philosophy of (arguably) the greatest investor of the last 100 years. Studying Warren Buffett's wisdom can only help your own investing. 
This article is commentary by an independent contributor. At the time of publication, the author held positions in MCD and DIS.