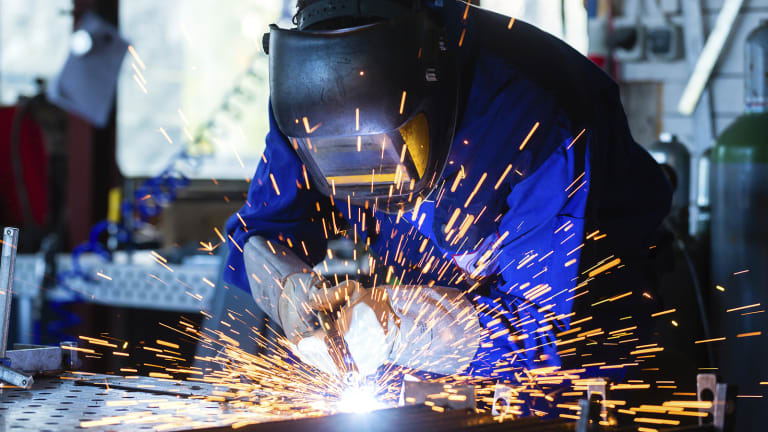 3 Must-Have Industrial Stocks That Will Soar in 2016
Economic recovery combined with strong management and market dominance make these three industrial stocks great buys amid a turbulent market.
Industrial stocks have been outperforming over the past month. The best of the breed have shown earnings growth, added shareholder value and tapped new opportunities that will boost their stock prices well into 2016 and beyond.
Three especially strong industrial stocks have shot up by 10%-to-20% over the past 30 days.
Let's take a look at why their rise should continue into next year.
data by
Roper Technologies Inc. (ROP) - Get Roper Technologies Inc. Report
Roper is transforming itself from just another industrial player to a diversified entity that now operates in four areas - medical solutions, radio frequency and software tech, industrial tech and energy systems and controls.
Roper is a growth story with major momentum (unlike these dangerous stocks). 
This change in the focus of the company, however, isn't hurting profits. The company reported $1.61 earnings-per-share for the last quarter, yet again topping consensus estimates.
This has set the stage for a 5% growth in full year 2015 earnings and a 10% rise in earnings for 2016. Capital deployment for acquisitions this year has surpassed $1.7 billion. At a forward earnings multiple of 25, Roper is at this moment enjoying a premium over peers like Danaher Corp DHR (18.5 times), Ingersoll-Rand (14.4 times) and Dover Corp (16 times).
You can attribute this premium to the strong 11% free cash flow growth in 2015. With a debt equity ratio of 2.5 and high margins, the company offers scope for more acquisitions and also has time to stabilize this growth pattern, without upsetting earnings.
data by
Lockheed Martin Corp. (LMT) - Get Lockheed Martin Corporation Report
Lockheed recently has racked up a lot of positives. Solid third quarter earnings, acquisition of the helicopter maker Sikorsy and expectations of a great fourth quarter -- a spate of successes that are rapidly boosting its stock price.
Third quarter earnings played a significant role in reaffirming investor faith in the company, which trades at a modest 19 times forward earnings. Third quarter net sales were up to $11.5 billion from $11.1 billion sequentially, a rise of 3.6%.
Further, earnings inched up to $888 million from $865 million quarter-on-quarter. Lockheed's share repurchase program was improved by $3 billion, and its quarterly dividend increased by 10% to $1.65 per share.
The company believes the fourth quarter will have the highest level of orders in the year with a number of large digital events such as the finalization of the C-130J Multiyear and F-35 LRIP 9 contracts and the award of a Long Range Strike Bomber program.
At a forward annual dividend yield of 3%, Lockheed is also an attractive dividend play.
data by
Snap-on Inc. (SNA) - Get Snap-On Incorporated Report
The $10 billion firm Snap-on is a tool supplier, strategically built around end-markets for the aerospace and construction industries.
The stock this year has enjoyed steady earnings, better than expected results and a consistent rise in dividend payouts.
Its financial performance has also stood at a stable space and 2015-to-2016 is set to witness a 12%-to-13% growth in earnings-per-share. Revenue growth, estimated at 3.5% in 2015, is likely to accelerate to nearly 7% next year.
Snap-on also is a global player, with its potential spreading across the Atlantic; Europe as a region accounts for around 20% of sales.
Also, investors are happy with the company's consistently superior net margins at nearly 14%, compared to less than 7% for Stanley Black & Decker Inc. and about 8% for W. W. Grainger Inc.
With decreased revenue exposure to China and benefits from lower steel and natural gas prices, Snap-on's seeing a super-charged run.
Warning: In this turbulent market, not all stocks are good buys. In fact, some are downright dangerous. Please read this list of stocks that are poised to collapse.
This article is commentary by an independent contributor. At the time of publication, the author held no positions in the stocks mentioned.