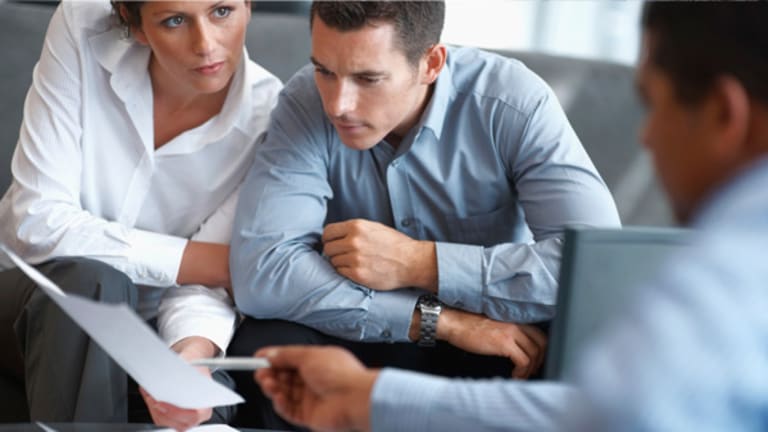 The following commentary comes from an independent investor or market observer as part of TheStreet's guest contributor program, which is separate from the company's news coverage.
NEW YORK (
) --Bigwigs in corner offices have been on the move in recent weeks.
In the "tearful goodbye" category,
Apple
(AAPL) - Get Apple Inc. (AAPL) Report
announced that its iconic founder
Steve Jobs is stepping down from his CEO role.
In the "don't let the door hit you on the way out" category,
Yahoo
(YHOO)
canned CEO Carol Bartz (via telephone, no less) with a year left on her contract.
In "laughing all the way to the bank" news, Robert Kelly, CEO of Bank of New York Mellon
(BK) - Get Bank of New York Mellon Corporation Report
, resigned in August over "differences in approach" and could get severance that approaches $37 million.
Even Regis Philbin said recently he will be retiring. Leadership vacuums seem to be the order of the day.
So just how important is good management and a strong CEO? And who are some of the best in the business -- especially now that Silicon Valley lion Steve Jobs is departing for good?
Also see: 4 More Tech CEOs That Should Get the Axe
Here are three winning CEOs who have led their companies to extraordinary success in recent years and still are playing an active role in the future. What's more, these publicly traded stocks have all outperformed Apple since guru Steve Jobs returned in 1997 -- so they have delivered stunning gains to shareholders as well as building their corporate legacy.
Also see: High-Brow Food Goes High-Tech: Google Buys Zagat
Amazon CEO Jeff Bezos
Name this stock: This tech giant is one of the biggest names in technology and has single-handedly redefined an entire industry. Thanks to its founder and current CEO, shares are up about 12,500% since 1997.
Did you guess Apple? You're wrong. While all those earlier statements apply, Apple stock is "only" up 8,800% since 1997. The company I'm talking about is
Amazon
(AMZN) - Get Amazon.com, Inc. Report
, led by Jeff Bezos.
Also see: Amazon Redesign: A Risky New Face
Bezos deserves as much of the spotlight as Steve Jobs. After all, the Amazon honcho was witness to the birth of e-commerce as we know it. And lest our grandchildren assume Apple is responsible for every tech innovation, the Kindle was here in 2007 -- just a few months after the iPhone was born and before the iPad was launched or the viability of "e-books" was a foregone conclusion.
>>Check out TheStreet's 30 Days of CEOs
Just how influential is Amazon? According to comScore, in June 2011, Amazon was visited by 282 million people, or 20.4% of the world's online population. Think about that: one in five folks with an Internet connection visit the site each month.
Bezos isn't done, either, focusing on upgrading Amazon Prime to make it a
streaming video destination akin to
Netflix
(NFLX) - Get Netflix, Inc. (NFLX) Report
and
redesigning its homepage for the first time in a decade to maximize engagement (and sales, of course).
Amazon owes much of its past success to founder and leader Jeff Bezos, and he continues to play a part in its future growth.
Hansen Natural CEO Rodney C. Sacks
Any growth stock investor should be familiar with
Hansen Natural
(HANS)
. The stock seems to only know how to go up -- with gains of 80% in the last year, 230% in the past three years and a stunning 17,800% in the past 10. That's more than four times the 10-year return of a little tech darling named Apple that has returned 4,300% under the past decade under Jobs.
Consumers might not recognize the company name, aside from foodies who are a fan of the Hansen all-natural soft drinks that are sweetened with cane sugar. But most folks surely will be familiar with its flagship Monster energy drink that has propelled the company to meteoric heights over the past several years.
Through it all, Rodney C. Sacks has led Hansen. Sacks has been an officer at HANS since November 1990 when he and fellow South African lawyer Hilton Schlosberg got involved with the company, ultimately buying it for $14.6 million. Now Hansen is worth $7.5 billion thanks to innovative branding of its Monster energy drink, which accounts for the lion's share of the company's profits.
Also see: AOL CEO Tim Armstrong Should Get Fired Next
It's not the iPad, to be sure. But Sacks knew an opportunity with Monster when it launched in 2002, and thanks to his leadership, Hansen has soared to new heights. HANS had sales of just $17 million when Sacks took over -- now it clears $1.3 billion in annual revenue.
Green Mountain Coffee Roasters Chairman Bob Stiller and CEO Larry Blanford
Okay, so this is a duo. But it's a good one.
Robert P. Stiller no longer is the CEO of
Green Mountain Coffee Roasters
(GMCR)
, having ceded control of his company to Larry Blanford in 2007. But he is the heart and soul of GMCR, leading the company from its founding in 1981 and staying on as chairman of the board with an active role. Its biggest source of revenue, the Keurig K-Cup brewing system, was rolled into Green Mountain under his watch in 2006.
Also see: Dish Network Resurrects a Blockbuster Hungry for Netflix's Brains
Larry Blanford was an outsider when he joined in 2007. But that didn't stop him from picking up the legacy of Stiller and putting his own very impressive mark on the company. GMCR went from $341 million in revenue for fiscal 2007 to a staggering $1.35 billion in revenue for fiscal 2010.
That's right -- a billion dollars in new revenue in just three years thanks to the single-cup brewing Keurig machines, partnerships with
Starbucks
(SBUX) - Get Starbucks Corporation Report
and
Dunkin Donuts
(DNKN) - Get Dunkin' Brands Group, Inc. Report
and a well-timed buyout of
Diedrich Coffee
despite overtures from rival
Peet's Coffee & Tea
(PEET)
.
Since it went public in 1993 to when Blanford took over on May 3, 2007, Bob Stiller presided over an impressive track record on Wall Street -- 890% gains in GMCR stock. And since 2007, Blanford has done his predecessor even better, with 2,150% gains in GMCR since taking the helm.
All told, that's a 20,000% gain from IPO to present day. Or put another way, you could have turned $1,000 into $20 million by buying GMCR on its first day of trading back in 1993.
Jeff Reeves is editor of InvestorPlace.com. As of this writing, he did not own a position in any of the stocks named here. Follow him on Twitter via @JeffReevesIP and become a fan of InvestorPlace on Facebook.
This commentary comes from an independent investor or market observer as part of TheStreet guest contributor program. The views expressed are those of the author and do not necessarily represent the views of TheStreet or its management.