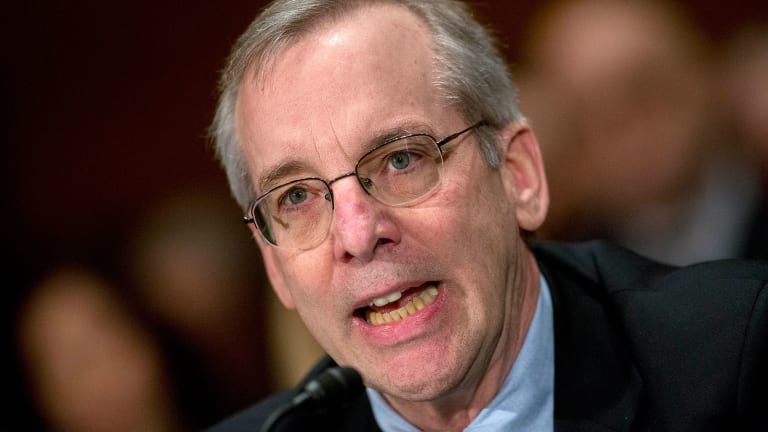 3 Factors Fed Is Watching for Rate Hike
Here are the key factors Federal Reserve policymakers are considering as they prepare to decide whether to start raising interest rates.
NEW YORK (TheStreet) -- Financial markets are eagerly anticipating the Federal Reserve'spolicy meeting in two weeks, because it could be when the central bank begins raising interest rates after more than six years of zero interest-rate policy.
Let's look at the factors the Federal Open Market Committee will be considering as it decides whether to raise interest rates as part of its mission to maintain maximum employment and price stability.
1. Economic Data
The Beige Book, a summary of economic conditions across the 12 Federal Reserve districts, this week reported positive economic activity across various sectors in most of the U.S. districts.
Strong economic data are a green light for the Fed to increase interest rates. High employment rates, stable prices and moderate growth indicate that the economy needs reduction in expansionary measures and a gradual increase in the interest rates.
There's one hitch. According to The Economist, even though the unemployment rate has been low,  wage growth has remained comparatively modest, and as a result, the U.S. may still be far from achieving "maximum employment."
Interestingly, one explanation described in research at the Federal Reserve Bank of San Francisco is that employers have been reluctant to increase wages during the recovery because they had been unable or unwilling to cut wages during the Great Recession, a behavior known as "downward nominal wage rigidity." 
That said, this week's Beige Book said there were increasing upward wage pressures in the economy, MarketWatch noted. That potentially could be used as an argument for an interest rate hike.
2. Inflation
A key consideration in monetary policy is inflation. Moderate inflation is considered desirable in a healthy economy, but high inflation is something policymakers try to avoid. The Fed says it monitors several different price indices in order to capture prices of various products and services and because indices are based on different calculations. "Therefore, various indexes can send diverse signals about inflation," the Fed says.
The central bank also says that it "often emphasizes the price inflation measure for personal consumption expenditures (PCE), produced by the Department of Commerce, largely because the PCE index covers a wide range of household spending."
Because the consumer price index reflects a strong influence from energy prices and tends to show stronger fluctuations in comparison to the PCE, the Fed gives more emphasis to the latter, which is less volatile.
On Aug. 29, Federal Reserve Vice Chairman Stanley Fischer spoke about developments in inflation in the country. He said that the resulting low inflation was mostly owed to the falling oil prices in addition to a rising dollar and "ongoing economic slack." He noted, however, that Fed policymakers remain "reasonably confident" that inflation will reach their target levels.
However, The Economist says that the Fed has been overconfident about inflation in the past: "...it found itself repeatedly restarting its asset-purchase programmes after inflation failed to rise to and stay near target when purchases were curtailed."
Nonetheless, if the Fed waits too long, then inflation may rise to higher than the target rate of 2% causing deeper concerns of economic instability. In that case, keeping prices from rising further could be a bigger worry for the Fed than the uncertainties across emerging markets.
3. Emerging Markets
As the authorities try to balance inflation and economic growth, growing concerns about emerging markets seem to add more volatility both to the existing markets and to the Fed's decision. Even though the Fed is bound to increase interest rates, the question of when it does depends on the developments in emerging economies.
As U.S. consumers benefit from low oil prices, continued economic growth and lower unemployment, concerns about emerging markets -- particularly China -- seem to be weighing on Fed policymakers. In his speech at Jackson Hole, Wyo., Vice Chairman Stanley Fischer said, "At this moment, we are following developments in the Chinese economy and their actual and potential effects on other economies even more closely than usual."
Even though many additional factors are considered before finally arriving at a decision of an interest hike, a few external factors may sometimes serve as a bigger factor than domestic data.
In the end, according to Fischer, "In making our monetary policy decisions, we are interested more in where the U.S. economy is heading than in knowing whence it has come."
While there always will be mixed reactions to a Fed interest rate hike, nearly seven years is undoubtedly a long time for the target rate to remain at zero to 0.25%, and it finally may be time for the Fed to raise rates.
Related stories:
This article is commentary by an independent contributor. At the time of publication, the author held no positions in the stocks mentioned.