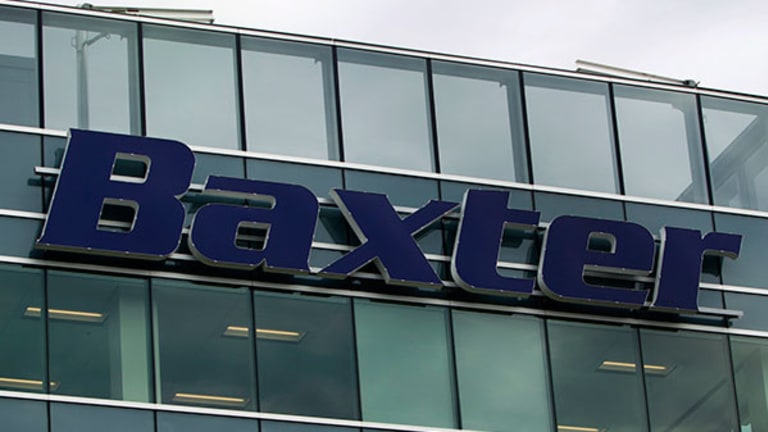 3 Large-Cap 'Value' Stocks That Warren Buffett Would Love
These three stocks currently meet the value criteria used by the Oracle of Omaha. That makes them screaming buys now.
For many investors, the value investing concepts championed by Berkshire Hathaway's Warren Buffett are the best way of making money over the long haul.
Value investing looks at the intrinsic value, or fair value, of a stock based on future earnings potential, an especially important yardstick in today's turbulent stock market.
We've pinpointed three value stocks that Warren Buffett would love right now: Baxter International (BAX) - Get Free Report , National-Oilwell Varco (NOV) - Get Free Report and Baidu (BIDU) - Get Free Report .
Indeed, the greatest investor of all time gets sentimental about his value investing strategy. How come? Because it helped him make his first $1 million back in the day. In fact, the Oracle of Omaha wishes he could still use this system. But Buffett's immense wealth makes the strategy off limits to him. Luckily, there's nothing stopping you. Buy these fast-growing stocks and watch your portfolio beat the market year after year; just like the Oracle himself. Click here to learn more.
Baxter International
First, the bad news. The stock is down 50% this year. The health care company's 2015 earnings per share are expected to decline by 73%. As such, conventional wisdom would tell you that Baxter is a no-show.
However, if you look at Baxter through Buffett's eyes, you'd see hidden value and untapped possibility. On a trailing-12-month basis, Baxter recently was trading at a price-to-earnings ratio of just 9. Its peer Becton, Dickinson has a P/E of 35. Baxter is trading cheaper than even the industry as a whole, which is has a price-to-earnings ratio of 27.
Baxter's making all the right moves to get back in shape. It plans to cut about 1,400 jobs worldwide, or about 5% of its nonmanufacturing workforce. This is part of a broad effort to reduce costs and boost profits.
Recent earnings reports are encouraging. The hospital products maker reported adjusted third-quarter earnings from continuing operations of 41 cents a share, topping the average analyst estimate of 29 cents.
What's more, activist investor Third Point has aggressively taken on Baxter with a 10% stake and is seeking two board seats, all of which should eventually unlock shareholder value.
National-Oilwell Varco
The 35% drop in National-Oilwell Varco's stock price over the last six months makes the stock an attractive buy. Its current price-to-earnings ratio of less than 8 takes into account weaknesses in the oil market, as producers decrease capital budgets and cut rigs. But the overly depressed level of the stock has few justifiable reasons.
First, the company is a stable dividend-paying energy firm. While the stock price drop makes the dividend yield at nearly 5% appear unreasonably high, the firm has cut share counts by 10% in the last 12 months and is still generating a fair amount of cash.
Secondly, coming earnings releases could possibly indicate a rebound in the energy industry. The metric to watch would be National-Oilwell Varco's rig aftermarket segment. If it picks up, as some industry watchers suggest, it could herald the first signs of a turnaround.
The advantage of spotting value early is that you get in before anybody else does. Your fast move yields slick gains. With the company's earnings report out soon, we'll soon know whether National-Oilwell Varco can manage to beat analysts' estimates. We think it will.
Baidu
Considered the Google of China, Baidu is surprisingly inexpensive.
The company's search engine is the unquestionable dominant player in China, with about 80%-90% of traffic share on both personal computers and mobile devices. Baidu's value has already been spotted by some. The stock (which is down 24% year to date) has gained 30% in the past month.
Nonetheless, at a forward 12-month P/E of 4, the company is massively undervalued compared to its peers. Although this has been a difficult year on the earnings front, 2016 could be a whole lot better for Baidu, with EPS growth estimated at 33%. Over the next five years, EPS growth is likely to be 18% compared to 12% for the industry.
The Chinese stock plunge has had an adverse effect on Baidu, but company fundamentals are still healthy. With the company having implemented a billion-dollar stock buyback program, Baidu's management sees itself as a sturdy and robust long term player.
Add this value buy to your portfolio and watch it zoom once the Chinese stock market's challenges are over.
One investor in a hundred may know the strategy Warren Buffett used to build his first million. Click here to learn the secrets of Buffett's wealth.
This article is commentary by an independent contributor. At the time of publication, the author held no positions in the stocks mentioned.