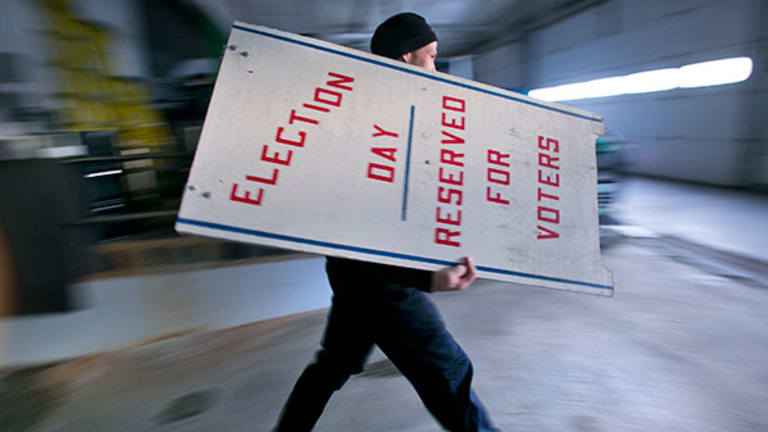 3 Issues That Will Be Key for Clinton to Earn Millennial Support
The presumptive Democratic nominee will have to connect with younger voters on economic issues, including student debt and jobs.
Editors' pick: Originally published July 21.
Young voters will be pivotal to presumptive Democratic presidential candidate Hillary Clinton's chances of becoming president in November.
So far, they seem to be lining up behind the presumptive Democratic nominee, though there are signs that her lead among younger groups over GOP candidate Donald Trump is declining.  
A Harvard IOP Summer Poll released this week found that Clinton has a significant lead among millennials, but that Trump has made up some ground since a Harvard IOP Spring Poll.
If this trend continues, that could make it more important for Clinton to connect with younger voters on a few key issues. 
This year, millennials became the country's largest demographic group by age, according to the Pew Research Center, which focuses on population and other trends.
Millennials, whom the Pew Research Center considers between 18 and 34, are 75 million strong, a slightly larger group than the baby boomers. 
The Pew Research Center study found that economic concern is the top priority for about two in three of the 1,001 millennials surveyed. 
Sen. Bernie Sanders of Vermont had a wide following among millennials before he endorsed Clinton, largely because of his emphasis on providing more opportunity to the poor and working class. He remains popular with younger voters, and this month, he vowed to do everything possible to help Democrats retain the White House. 
To appeal to these younger voters, Clinton has come closer to a number of Sanders' positions.
Below are three issues that will be key in the fall campaign. 
1. Education and student debt
Rising student debt is one of the challenges that many millennials face. So far, about 43 million borrowers owe nearly $1.3 trillion in student loan debt.
Many observers of higher education think that this problem reflects a society that is making it increasingly difficult for anyone but the richest members to attend college and graduate school. 
On June 22, Clinton unveiled an education plan that would eliminate tuition for families with incomes up to $125,000 at in-state public colleges and universities by 2021. Clinton's plan would also provide debt relief to about 25 million people, with no one paying more than 10% of their income.
Her initiatives include cutting interest rates on loans and debt forgiveness for the remaining portion after 20 years.
Sanders applauded Clinton's initiative to address the education problem of students and make education more affordable and debt-free.
2. Technology and innovation
Millennials face an uncertain job market as many companies still smarting from the Great Recession of 2008 remain cautious about hiring full-time workers or boosting wages too quickly.
Clinton ties strong job growth to the success of the technology industry. She has made the development of innovative tech products and services a cornerstone of her economic strategy.
Toward that end, she wants to increase capital for start-ups, focusing on minority, women and young tech entrepreneurs. Clinton thinks that postponing debt payments for students who are working on start-ups and forgiving debt for those who create companies and jobs will lead to better-paying, more secure jobs.
In a 14-page tech and innovation agenda, which she unveiled in Denver, she said, "My goal is to build an economy that works for everyone not just at the top. [The tech industry] is one of our biggest assets, and I want it to be democratized."
3. Social media
Social media is the favorite means for younger generations to communicate and access information.
According to a March 2015 research study, 88% of surveyed Millennials said they use Facebook to find news, and Trump won the Republican nomination in no small part because of his use of Twitter. 
Facebook and Twitter are holdings in Jim Cramer's Action Alerts PLUS Charitable Trust Portfolio. See how Cramer rates the stocks here. Want to be alerted before Cramer buys or sells FB or TWTR? Learn more now.
Several of Sanders staff members are now on board with Clinton to defeat Trump.
Clinton has followed many of the lessons that Obama provided in running his two successful, presidential campaigns, including the creation of a large, savvy social media group focused on widening his message and drawing young voters. More recently, she received a boost when Sanders workers who have focused on social media starting working for her campaign. The Sanders group will try to woo other one-time Sanders' supporters, along with environmental, labor and women's health communities that favored the senator. 
Separately, Clinton's campaign is assembling a "Millennial engagement program" that will create local outreach programs and "working group" meetings with voters under 35. 
In 2008, when Hillary exited the presidential race, her young supporters coalesced behind Barack Obama. Obama benefited from a strong showing from young voters who re-emerged again to re-elect him in 2012.
Clinton hopes the 2016 election will bring a similar result.
This article is commentary by an independent contributor. At the time of publication, the author held no positions in the stocks mentioned.