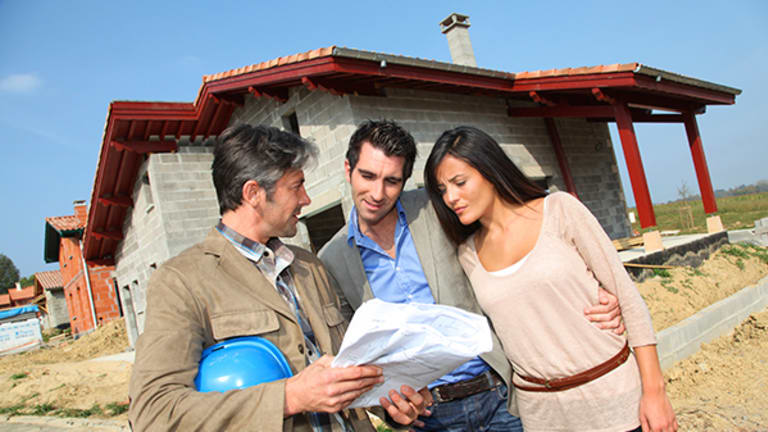 3 Indicators There Is No Housing Bubble and Building Stocks Are a Good Investment
Credit remains relatively tight. NVR and D.R. Horton are well-placed to take advantage of continued gains in housing starts.
Home values have received a significant boost in most parts of the country, leading some observers of the real estate and home building industries to believe a bubble is imminent. But while some indicators suggest we are approaching a similar scenario to 2007, things are much different this time.
Today's housing market conditions suggest nothing more than an above-normal increase in home prices. Investors would do well to consider adding some home building stocks to their portfolios. NVR (NVR) - Get Free Report and D.R. Horton (DRH) - Get Free Report are at the top of the list. Both companies have produced strong recent earnings and seem well placed to take advantage of increases in housing starts.  
To be sure, the current climate is volatile. But the economy looks stable enough to support continued demand for homes. 
Let's take a look at three reasons that we are not about to enter a housing bubble and then why NVR and D.R. Horton belong in your portfolio.
1. Credit is More Accessible, but Still Relatively Tight
Loose lending requirements were at the root of the Great Recession. There were simply too many people given access to money they couldn't afford. About 25 million loans (40% of all U.S. mortgages) were of poor quality, which was largely to blame for the credit crisis.
Not surprisingly, institutional lenders tightened their mortgage guidelines to ensure that borrowers could pay back their loans. Credit remains tighter than it was a decade ago and borrowers continue to face higher standards.
For example, a quarter of the way through 2016, consumers with a credit score of 740 to 750 could receive a mortgage loan backed by Fannie Mae herself. During the recession, those with a score 20 to 30 points lower could secure a Fannie Mae loan.
With new guidelines like TRID in place, fewer homeowners are expected to default on their loans, making another financial crisis unlikely to happen in the near future.
2. Historically Low Interest Rates
It's no wonder people believe we are headed for another bubble. Housing prices have risen at a rate that is eerily reminiscent of 2007.
However, interest rates remain historically low, and that makes a big difference in the two periods.
For example, if you were able to put 20% down on a home at current interest rates, premiums would account for about 15% of your gross income. Over the course of the recession, however, the same 20% down payment would have resulted in a monthly premium that was equal to 25% of your gross income. Today's interest rates make it possible for middle-income households to purchase a single-family home without over leveraging their bank accounts.

3. Housing Supply
Over the four-year period leading to the 2008 bubble, homebuilders constructed an average of 1.9 million new homes nationwide. However, since 2011, the construction of new housing units averaged 950,000 per year. The tight inventory has sent home prices soaring, making a lot of markets unaffordable for average homebuyers.
"We are not in a housing market bubble in terms of an inevitable impending home-price crash," said Lawrence Yun, chief economist for the National Association of Realtors (NAR). "Rather, we are facing an above-normal home-price growth trend, which admittedly is unhealthy on several levels because of the simple economic law of insufficient supply. We need more homebuilding."
Homebuilder Stocks
There may be no better time to get in on homebuilder stocks, particularly NVR and D.R Horton.
NVR, a homebuilding and mortgage company, recently hit a 52-week high, and is in a position to do even better in the coming year as housing starts continue increasing. Analysts' median price target shows a slight increase. 
Moreover, the 68-year-old company has the sort of wide reach and deep-rooted industry knowledge to take advantage of market upturns. 
D.R. Horton has bettered analysts' expectations in three of the past four quarters. It has a solid inventory of land and homes for sale. 
According to a recent report , D.R. Horton "currently boasts a 10,665-home backlog, of which 3,526 homes come from the Southeast, 3,706 homes from the South Central U.S., and another 1,150 homes from the West. Geographic diversity allows D.R. Horton to take advantage of rising demand and prices in certain markets and regions."
This article is commentary by an independent contributor. At the time of publication, the author held no positions in the stocks mentioned.