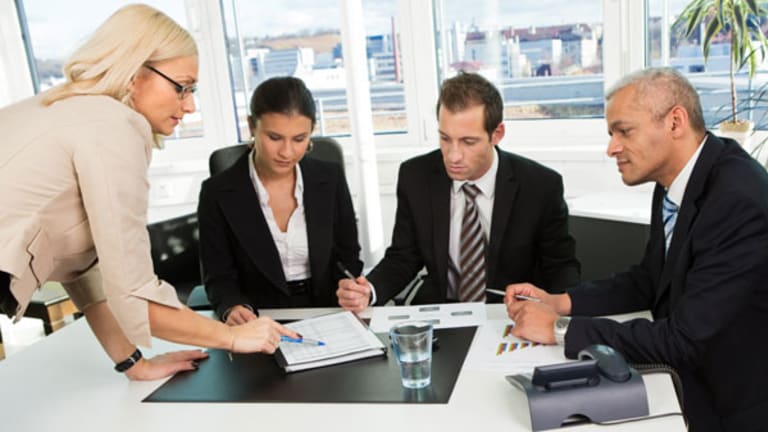 3 Hot Stocks for a Sideways Market
There are always leaders emerging in any kind of market.
NEW YORK (TheStreet) -- It is beginning to appear that the market is entering into a sideways trend after a nice six-month rally.
The S & P 500 started rising in October of last year and more than likely peaked (for now) at around 1,422 back in early April. It looked like maybe the market had some rally left in it, but then more bad job numbers and a political sea change in Europe snuffed it out.
Apple
(AAPL) - Get Apple Inc. Report
was one of the poster children during this rally that took the markets on a 30% run. I was able to cash in on stocks like Apple,
Tractor Supply
(TSCO) - Get Tractor Supply Company Report
,
Dollar Tree
(DLTR) - Get Dollar Tree, Inc. Report
,
Ross Stores
(ROST) - Get Ross Stores, Inc. Report
,
Sturm Ruger
(RGR) - Get Sturm, Ruger & Company, Inc. Report
,
Alexion Pharmaceuticals
(ALXN) - Get Alexion Pharmaceuticals, Inc. Report
,
Terra Nitrogen
(TNH)
, etc. during this up trend.
I like to own leadership stocks in the portfolios that I manage. I define leadership as stocks that possess performance (momentum), value, and have healthy stock charts. Fortunately, leaders can be found amongst all different style categories, from aggressive growth to conservative growth and income stocks.
I have my own proprietary ranking and grading system that I use to select my stocks. I try to stay within my top 200 ranked stocks. This eliminates just over 2,600 stocks from consideration and makes my job a whole lot easier. Once I have constructed a portfolio of about 25 equally weighted positions, I check those positions daily for performance, value, and the health of their charts.
In recent weeks, I have been noticing some market rotation taking place. This recent run in the market has greatly favored the more aggressive growth stocks which performed so poorly in 2011. In fact, 2011 was a year that greatly favored large-cap dividend paying stocks. Then they began to become pricey in late fall of last year and started dropping in rank.
More aggressive growth stocks like the ones mentioned above began to pick up the leadership baton and run with it. I have been able to bag some big returns during this most recent run, but as market rotation begins to now set in, it is important to watch for tired leaders begin to give up the ghost, while new leaders begin to emerge.
Many times, market leaders can be at or near the top for months, even years. Apple, Dollar Tree, Ross Stores,
AutoZone
(AZO) - Get AutoZone, Inc. Report
and
T J Maxx
(TJX) - Get TJX Companies Inc Report
, would be some good examples of this. They have been in my top 100 for well over two years. As long as these stocks maintain their performance, value, and trend lines, there is no reason to sell. Too many investors panic every time the wind begins to blow in the market and are never around long enough to cash in big winners like those mentioned above.
Leaders can also fall from grace. Sometimes there is no advance warning, but more often than not, leadership stocks give plenty of warning before they become laggards.
Netflix
(NFLX) - Get Netflix, Inc. Report
was a leader for almost two years before management decided to raise everyone's subscription price. The stock started dropping in rank until it was no longer in my top 200, and the chart started to roll over. I sold Netflix around $250 and there has been no reason to own it since.
Now that the market is beginning to rotate, many of the more aggressive growth stocks that have led the market are beginning to falter, and new leaders are beginning to filter into my top 200. I have said goodbye and good luck to several of my most profitable positions like Apple and Terra Nitrogen, while others like Dollar Tree and Ross Stores continue to hold up well. It is so important for investors to analyze their portfolio one day at a time and one stock at a time. Making an emotional decision to sell everything and go to cash is what amateurs do.
I am starting to see a lot of my favorite income and growth stocks start to filter into my top 200. That is the beauty of a relative grading system - there are always 200 leaders, no matter what the market circumstances are. In 2008, when the S&P 500 was down 38.5%, Treasuries were up 32%, Dollar Tree was up over 60%, pawnshop operator
First Cash Financial
(FCFS) - Get FirstCash Holdings, Inc. Report
was up almost 30% and an inverse ETF like
DOG
(DOG) - Get ProShares Short Dow30 Report
was up over 30%. Those were the market leaders back then.
Now that the market is starting to slowly rotate away from aggressive growth stocks back to more defensive income and growth stocks, let's take a look at some specific examples. It is very important to note that I do not buy stocks just because they pay a good dividend. I want some growth along with my dividends. That eliminates duds like
AT&T
,
Verizon
(VZ) - Get Verizon Communications Inc. Report
,
Merck
(MRK) - Get Merck & Co., Inc. Report
, etc. that have not delivered any growth for over 10 years.
Let's begin with
Textainer
(TGH) - Get Textainer Group Holdings Limited Report
Data from Best Stocks Now App
In addition to an attractive 4.1% current yield, the stock has also delivered some very nice capital appreciation over the last three years. As you can see from the screen shot, Textainer has also entered into my top 100. I have not seen any such income and growth stock in my top 100 for a long time. In addition to this, Textainer had a nice earnings report on Tuesday and the stock is hitting new highs.
Let's next take a look at
Tanger Factory Outlet
(SKT) - Get Tanger Factory Outlet Centers, Inc. Report
As you can see, Tanger has delivered superior growth along with its current dividend yield of 2.6% over the last 1, 3, 5, and 10 years. Also note that the stock was up 4% during the 2008 market sell-off. Tanger is also hitting new highs and it has also recently entered into my top 200.
Okay, one more. Let's look at
Avalonbay Communities
(AVB) - Get AvalonBay Communities, Inc. Report
. The company is flourishing in this new renter economy. It has also delivered superior capital appreciation along with its current dividend yield of 2.6% over the last 1, 3, 5, and 10 years.
Just because it looks like we may be entering into a sideways market does not mean that there will not be leading stocks. It is now time to be very vigilant on stocks that have had big runs, and look for new leaders that are starting to emerge.
Disclosure: At the time of publication, Bill Gunderson was long SKT and TGH.
--Follow me on Twitter @BillGunderson