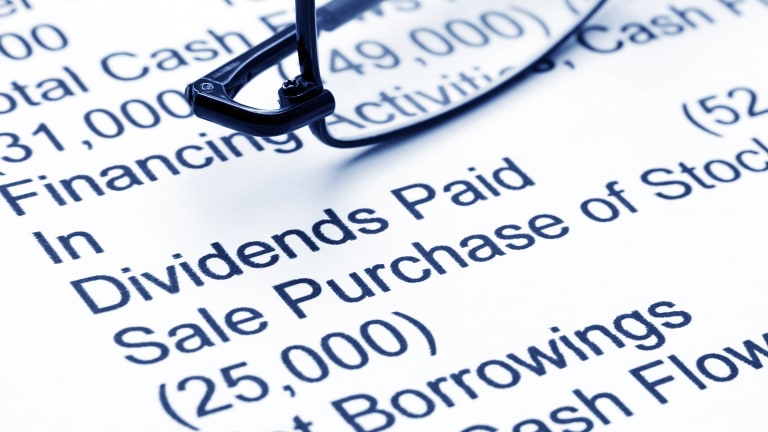 NEW YORK (TheStreet) -- A dividend cut is an income investor's worst nightmare. It slams the stock price and diminishes income streams -- a devastating double whammy.
Below, we pinpoint three stocks with high dividend yields that are in danger of imminent and drastic cuts to their dividends. If you own any of them, dump them now before you get burned.
LGCY data by YCharts
Legacy Reserves (LGCY)
This gigantic oil and natural gas producer is currently throwing off a 27% dividend yield, but it will probably be one of the first "high yielders" to announce a dividend cut. The sustained drop in oil prices from $60 a barrel at end of June to about $47 a barrel today is undermining the company's ability to generate sufficient cash flow to sustain dividends.
Legacy's share price already is down about 60% since the beginning of the year, with analysts across the board warning of a dividend cut before the year is done.
With the company's bottom line red for the last two years and for three quarters of 2015, Legacy will all too likely announce a cut to reduce debt and bolster cash reserves.
THRX data by YCharts
Theravance (THRX)
With an 11% dividend yield, biotechnology firm Theravance seems like an income investor's friend. Don't believe it. 
The company's financials don't provide investors with much comfort, either. The company's escalating and consistent net losses show no sign of easing; burgeoning debt levels only worsen the balance sheet.
Financing dividends through debt is a sure warning sign that a cut is in the cards. And with a sales recovery of its prime products Breo and Anoro nowhere on the horizon, this stock is a high yielder with high risk.
CSAL data by YCharts
Communications Sales and Leasing (CSAL)
Spun off from parent Windstream Holdings (WIN) - Get Windstream Holdings, Inc. Report only six months ago, Communications Sales and Leasing is a new kid on the telecom block. The company is a real estate investment trust (REIT) that acquires and leases communication distribution systems.
In August, the company reported second-quarter sales of $129 million, its first operating results as a company and a solid performance that cheered investors. The stock jumped almost 5% by the end of the trading day.
Sporting a dividend yield of 12%, which translates into $2.40 per share, you might be tempted to stock up on this one. But remember, the company is the first communications REIT in its niche and it's eager to invest cash in future growth.
It's also important to note that parent company Windstream is Communications Sales and Leasing's sole customer now, providing it with considerable room to grow. Roughly 2,000 communications, technology, utility, and other firms are potential Communications Sales and Leasing customers. Indeed, the company estimates that it only holds 1% market share of the fiber and copper markets that it could pursue.
That's all plenty of incentive to expand, especially for a company whose management has expressed a keen interest in acquiring other companies.
The upshot: Communications Sales and Leasing's expansion will require substantial funds, which are quite likely to come from the dividends the company is churning out. Investors should pass on this stock; better income opportunities lie elsewhere.
Instead of getting roped in by seemingly attractive dividends that are poised for a fall, consider this group of high-quality, high-yield income opportunities. These yields are robust and backed by solid, cash generating businesses. Click here to learn more.
This article is commentary by an independent contributor. At the time of publication, the author held no positions in the stocks mentioned.