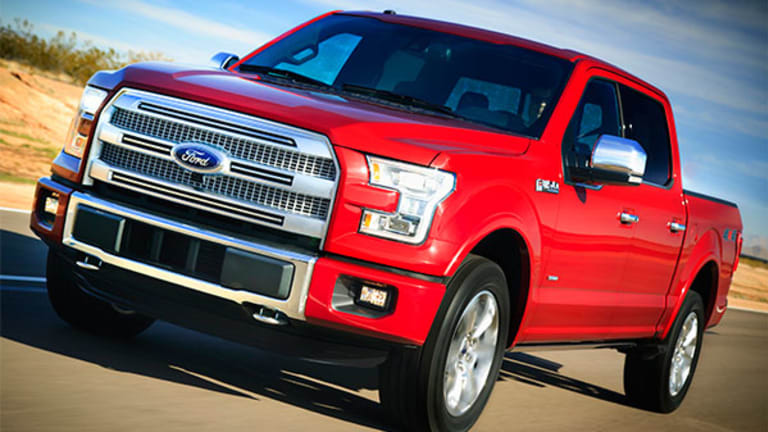 3 High-Dividend Stocks That Can Handily Beat the Market
Investors can grow their portfolios with this simple and effective strategy: Buy, forget and collect.
NEW YORK (TheStreet) -- Seasoned investors know that finding the right mix of potential gains within their acceptable risk tolerance is a difficult task. However, while timing is always a factor, by exploiting disciplined strategies for success, the average investor's portfolio can perform as well as the best money market funds.
One strategy is investing in high-paying dividend stocks from leading companies poised to deliver future results. The plan is simple: Buy them, forget them, and collect dividends. Let's examine three stocks currently poised for significant gains.
Cisco (CSCO) , one of the world's largest suppliers of the technology that runs the backbone of the Internet, delivers on revenue and profits quarter after quarter. If data is online, chances are good it passed through a Cisco router or device to get to its destination. 
Shares of the San Jose-based company are trading at a discount because it's not as sexy as the latest social media stocks, and that's exactly why I like it. When you're looking for a bargain, always stick with out-of-fashion quality. When it comes back into fashion -- and quality always does -- the returns will be much higher than you'd get from those high-flying companies with price-to-earnings ratios of 100 or more, and their equally high levels of portfolio peril.
Cisco shareholders enjoy an oversized dividend that started in 2011 and has been raised every year since. It's now more than three times higher than when the company declared its first dividend, and its payout ratio (the amount of dividends in relation to earnings) remains under 50%. That indicates there is room for further dividend increases.
The market loves dividend increase announcements and rewards companies that produces them with higher valuations -- so much so that dividend growth was a significant reason the Nasdaq went above 5,000 the first time 15 years ago, and why its has done so again this month.
Incredibly, Cisco was worth almost four times more in 2000 than it is today, but that doesn't detract from the investment thesis it brings to the table for long-term investors.
One indicator that looks less encouraging is the lack of insider and institutional purchases. Tech companies are known for issuing stock options as a means to recruit and retain employees, but in the last six months, I'm not finding any purchases by insiders. The sales are of less concern because as the stock options mature, employees will sell the stock. Insiders aren't known for their investment prowess; there's a reason they work in tech and not at hedge funds.
Much (if not most) of Cisco's underwhelming China sales are already built into the price. It's no secret that Chinese companies prefer domestically-made products, and the revelations about NSA spying aren't helping matters. But other international markets are growing too. Other Asian nations including India, and African countries as well, will continue to fuel this tech giant's growth and dividend stream.
Ford (F)  is over 100 years old, trades an average of 28 million shares a day, and has a market capitalization of about $64 billion. The company missed expectations for February sales, which fell about 2% (compared to a predicted increase of 5.2%), and the shares barely skipped a beat. Clearly, the market has expectations for an improving top and bottom line at America's oldest automaker.
The Ford F-150 pickup is the best selling truck in America. According to Joel Jack, general manager of one of the largest-volume truck dealerships in the middle of "truck country," due to a combination of demand and changing of production models, inventory -- and especially F-150 inventory -- is moving quickly off the lot at Eau Claire (Wis.) Ford Lincoln.
The key takeaway is that relatively-more-profitable truck sales remain strong, and it's important that you break down the sales figures before concluding profits totally correlate to volume. It's also why Ford traded near the low at the open and moved higher after reporting February's sales.
In comparison to Ford's $64 billion valuation, Tesla (TSLA)  sports a $25 billion market cap, and while Ford's 12-month trailing revenue is about $144 billion, Tesla's totals just $3 billion. Ford's forward-looking price multiple is less than 9, while enthusiasm for Tesla has pushed the share price of the California automaker to more than 47 times its expected profit next year. (And, keep in mind: Tesla hasn't produced an annual GAAP profit yet.)
Obviously, General Motors (GM) or Toyota (TM) appear to make better comparisons, but it's important to illustrate when a company takes an old product and renews it with the latest technology. Tesla may not make the best investment, but it makes one of the best cars in its class.
Analysts are mixed on Ford, with recent target price downgrades by Citigroup (C) from $17 to $16, and Stifel Nicolaus from $22 to $19, although Stifel Nicolaus continues to rate Ford a buy. Susquehanna (SUSQ) raised its price target from $15 -- the lowest price target by an analyst in the previous 90 days -- to $16.
For dividend seekers, Ford leads the automakers in yield. Since resuming payouts in 2012, the company has increased its dividend 300%, to a current level of 60 cents per share for a 3.7% yield. The recent retracement and strength demonstrate that the upside isn't priced in. It's a classic case of heads you win, tails you break even.
Pfizer (PFE) , a pharmaceutical giant with a $211 billion market cap, has remained a favorite of mine for several years. I'm far from alone, evidenced by investors who have recently pushed its stock to new all-time highs.
It's understandable why many on Wall Street have focused on Pfizer's patent expirations. 2014 witnessed a decline in revenue. It's also easy to take it too far and forget that while new drugs may not have scheduled break-through dates for FDA approvals or successful clinical trials, the pipeline remains in place. And with about $20 billion in Pfizer's war chest, the company has the knowledge and cash to keep the hits coming.
About a month ago, Pfizer announced a deal to buy injectable drugs and infusion technologies maker Hospira (HSP) for more than $16 billion. Investors can expect the transaction to close later this year. According to Pfizer's press release, the combined companies should expect a total savings of about $800 million within three years. That works out to about 7 cents per share in annual earnings gains.
Analysts are mixed, and the consensus price target of $35.05 is only about 1% higher than the current price. In the past month, Pfizer received eight updates, and in the last 90 days, all target price changes have been increases. Three of the eight updates were by Vetr, which has downgraded the stock from a hold to a sell, and then a few days later upgraded it from sell to hold, and then finally, another week later, downgraded the pharmaceutical back to a sell.
If you're an active day trader, three updates in a month may be helpful. Otherwise, probably not. Short sellers aren't buying the bear thesis. Short sales amount to less than 3.5% and are inconsequential.
What is important is the strength of the shares even after they touched their recent 52-week high. If you want to gain a solid understanding of the technical factors working in Pfizer's favor, set your chart to monthly bars. After touching lows in 2011, it's been on a straight line higher and is exhibiting a classic bull trend that technical analysts love.
Beyond buying Pfizer directly, if you're the kind of investor who is comfortable with options, there's another attractive strategy for investing in Pfizer. The January 2016 $30 strike call is trading at a premium of only about 40 cents above intrinsic value. That means you can control 100 shares of Pfizer until the third Friday of January, and only pay 40 cents for time value.
If Pfizer is trading at $34.60 and an investor purchases the January $30 call for $5, that's the most that can be lost. Pfizer could drop to the October lows of $27.60 and instead of facing a $7 loss (less dividends), the downside is capped at $5.
The upside is unlimited, but the call option doesn't pay a dividend and if Pfizer is the same price at expiration as today, the time premium is lost. However, if Pfizer continues to rise, and is (for example) worth $40 at expiration, the option has doubled in value and can be exercised to begin receiving dividends (which may be higher at that time) with the lower cost basis of $35. In a nutshell, it's a lower risk method of gaining almost all the upside exposure without the risk or capital outlay of owning the stock directly.
This article is commentary by an independent contributor. At the time of publication, the author held no position in the stocks mentioned.