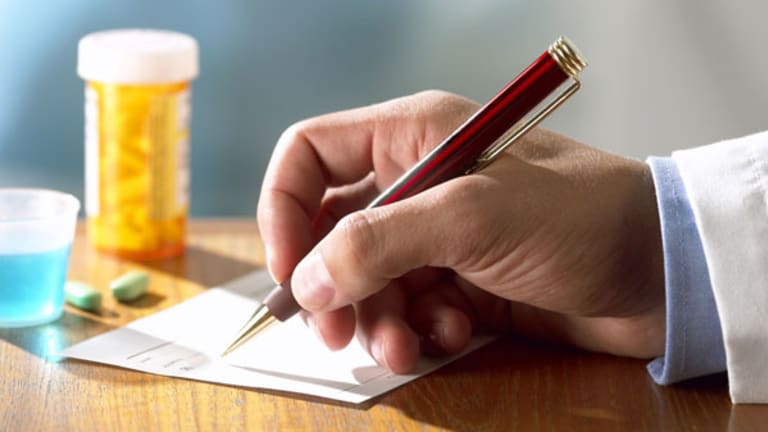 3 Health Care Stock Picks for 2015 in the Age of Obamacare
Private exchanges will prove to be beneficiaries of the health care shift.
NEW YORK ( TheStreet) -- The health business in the U.S. undergoing transition thanks to the changes created by the Affordable Care Act, aka Obamacare. How can savvy investors capitalize? Buy into companies helping the new health care economy function.
The open enrollment period for consumer buying health care coverage for next year ends on Feb. 15, meaning that companies poised for success in this market will still be attractively priced. So now is the perfect time to invest.
Here's where the opportunities lie.
Private Health Care Exchanges Providers
Similar to the government-regulated health care exchanges where consumers can shop for health care plans, private exchanges are marketplaces of health insurance where a broad range of products (dental and life insurance, for example) are offered to consumers.
These private market places are being offered by different providers including insurance companies Aetna (AET) and Cigna (CI) - Get Cigna Corporation Report as well as broker/consultant networks Towers Watson (TW) - Get Tradeweb Markets, Inc. Class A Report and AonHewitt (AON) - Get Aon Plc Class A Report . These players provide a marketplace for their respective network of individuals and small groups to customize their benefit packages. Many of these companies outsource the private exchange infrastructure and stock it with their own customized products, including medical plans.
Technology Platforms Providing Exchange Infrastructure
Technology platform companies develop the health care exchange infrastructure by providing cloud software and data analytics solutions to clients such as the insurers listed above, brokers and consultants and also large employers looking for a custom exchange.
Up to 40 million consumers will be using private health care exchanges by 2018, according to Accenture, representing tremendous growth for a market that did not exist a few years ago. To compare, three million Americans are enrolled in private health insurance exchanges for their 2014 employer benefits. That's a lot of infrastructure to develop in the next four years.
Consolidations Indicating Future Potential
The large insurers, brokers and consultants mentioned have been buying companies to adapt to the changing landscape. In late 2013, Towers Watson acquired technology platform Liazon for $215 million. Just a month ago, Aetna agreed to acquire insurance exchange technology provider Bswift for $400 million. Both acquired companies were in the business of providing technology platforms that offered retail shopping experiences for health insurance exchanges. Additionally, both acquisitions commanded rich premiums, considering both companies were unprofitable.
Due to these deals and the immense growth that is expected in the private exchanges space, these three companies could make good investments.
Benefitfocus (BNFT) - Get Benefitfocus, Inc. Report
Benefitfocus provides employers, insurance carriers and consumers with cloud-based technology to shop, enroll, manage and exchange benefits information. Through a partnership with insurance consulting company Mercer Marketplace (MMC) - Get Marsh & McLennan Companies, Inc. Report , the Benefitfocus platform is used to support the largest broker led private exchange market with nearly one million users. Benefitfocus has loyal customers: 95% of its revenue come from retaining current customers, which reflects the value such an infrastructure adds for customers like Mercer.
The company expects to generate $135 million in revenue in its 2014 fiscal year, a 30% increase over the previous year. Benefitfocus is targeting adjusted earnings before interest, tax, depreciation and amortization at about a $48 million loss. Investing in this company is a long-term play that may take several calendar years to materialize. Once it does, management aims to have gross margins settle at around 65%, with 20% Ebitda.
The company started trading in September 2013 at an initial public offering price of $26.50, hit a high of $77 in January and has now fallen below its IPO price. Some 35% of Benefitfocus shares are traded short, making the company one of the most shorted stocks on the Nasdaq. Goldman Sachs (GS) - Get Goldman Sachs Group, Inc. Report , the largest holder of Benefitfocus, owns approximately 33% of the 25.6 million shares outstanding.
With the significant growth expected to be seen in private health care exchanges, Benefitfocus could serve an addressable market worth more than 10 times its current business. This should be seen as a catalyst that will continue to drive revenue growth.
Quadrant 4 Systems (QFOR)
The Quadrant 4 qHIX health insurance platform provides regional insurers and third-party administrations technology solutions to distribute their respective health care benefits. Quadrant's technology platform helps with administration tools and assists in connecting consumers with employer groups. The marketplace not only offers products for the network of clients but also provides a support system for consumers to have the best possible customer experience while shopping online for coverage.
Quadrant 4 is currently implementing qHIX infrastructure on five health care exchanges and expects to sign an additional four deals by early 2015. Quadrant 4 has projected 2014 revenue of $50 million, an increase of 34% over 2013, and 2014 Ebitda to be approximately $6.5 million. According to Chairman Dhru Desai, 2.5 million users will be on the exchange by the end of 2015.
The company generates 75% recurring revenue based on repeat customer subscription, indicating the importance of technology platforms in the shift towards private exchanges. Though smaller in size than other technology providers in the health care exchange space, Quadrant 4 is profitable whereas larger players (ie. Benefitfocus) are reporting losses.
The company has shown 15 consecutive profitable quarters and will be nearing a break-even bottom line in 2014. Management expects this trend to continue. Quadrant's profit margins could be as high as 40% by 2015 due to the revenue expansion and marginal software costs of servicing greater volume.
HealthEquity (HQY) - Get HealthEquity Inc Report
HealthEquity focuses on self-managed, non-bank health savings accounts (HSAs), so-called because they are savings accounts not run by banks. The company's platform helps consumers compare treatment options and pricing of different healthcare services. With the Affordable Care Act, individual responsibility is going to become more important in health care decisions, directly benefiting HSA providers. HealthEquity had an IPO in July, selling for $14 a share. Today, HQY trades around $23.
HealthEquity managed over one million HSAs on its platform as of June 30, a 46% increase over the previous year. The number of individuals using an HSA will grow to 50 million by 2020, HSA advocate and former Cigna (CI) - Get Cigna Corporation Report senior vice president John Young estimates. The majority of HealthEquity's revenue is sourced from monthly recurring account fees, custodial fees and card fees. Some 93% of all HSAs remain open, which generate recurring revenue for HealthEquity.
For the six months ended July 2014, HealthEquity reported revenue of $21 million, a 47% increase over the same period the previous year, and an adjusted Ebitda of $13.6 million, up 61% year-over-year. Given the company's Web platform business model, the business can scale with little capital investment. Investors should keep a close watch on the third quarter fiscal 2015 results that will be reported at the market close on December 9, 2014. As HSAs grow in popularity, there is a good chance growth figures remain constant.
This article is commentary by an independent contributor. At the time of publication, the author held no positions in the stocks mentioned.