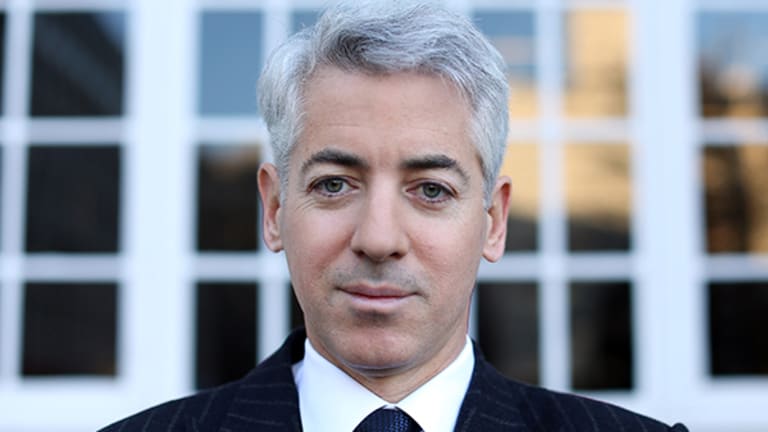 3 Health Care M&A Deals and How Billionaire Investors are Playing Them
The health care industry is bursting with opportunity right now, perhaps especially on the M&A front. Billionaire investors aren't missing out.
The health care industry is bursting with opportunity right now, perhaps especially on the M&A front. Billionaire investors aren't missing out.
NEW YORK (TheStreet) -- The health care industry is bursting with opportunity right now, perhaps especially on the deal front. Billionaire investors aren't missing out.
The U.S. Supreme Court's 6-3 ruling on Thursday rejecting a challenge to the use of federal subsidies in the Affordable Care Act wasn't just a win for President Obama. It also bodes well for the health care sector and its investors in what has already been a strong run in recent months.
The Health Care Select Sector SPDR Fund (XLV) - Get Report, which tracks the health care companies listed on the S&P 500, gained more than 20% in 2014. It has climbed an additional 10% year-to-date.
Mergers and acquisitions are among the main forces driving the sector, and last week's ruling is expected to intensify health care M&A activity. Novartis (NVS) - Get Report got the ball rolling on Monday with the announcement of a deal to buy biotech company Spinifex.
Billionaire investors and hedge fund managers like Bill Ackman and Larry Robbins are among those enjoying the benefits health care's stock market run and profusion of deals. And they stand to make even more. (Average investors can follow along at BillionairesPortfolio.com, which provides insights into sophisticated hedge fund analyses and strategies, tracks billionaire health care M&A bets and helps average investors to do the same.)
Here is a look at three potential M&A deals and how the billionaires are playing them.
1. Zoetis - Valeant
WSJ reported on June 25 that Valeant Pharmaceuticals International (VRX) has approached Zoetis (ZTS) - Get Report regarding a potential acquisition. Should the deal come to life, potentially no one will be happier than Bill Ackman.
The billionaire at the helm of Pershing Square has major stakes in both companies. As per his most recent holdings disclosure, Ackman's top position is Valeant, of which he holds 19.5 million shares. He also has a sizable investment in Zoetis, with 41.8 million shares.
Pfizer (PFE) - Get Report spun off Zoetis in 2013. The animal health care company caught Bill Ackman's eye in 2014, and in November, his fund disclosed an 8.3% stake in the firm. He has since maneuvered to secure Ackman's Pershing Square space on the Zoetis board and pressured the company to cut costs, including laying off as much as 25% of its workforce.
Though Ackman waited until early 2015 to invest directly in Valeant, he has had a relationship with the company for quite some time and in 2014 teamed up with it in an ultimately failed bid to acquire Botox maker Allergan (AGN) - Get Report. In May, he called Valeant the next Berkshire Hathaway (BRK.A) - Get Report (BRK.B) - Get Report.
A potential Valeant-Zoetis transaction appears to be in the earliest of stages, but it isn't the first or last bid we'll see from Valeant. The company completed the acquisition of specialty pharmaceutical company Salix in April, CEO Michael Pearson told Bloomberg in May that the firm has been and will continue to make acquisitions.
Other billionaires could get a boost off of a Valeant-Zoetis merger as well. Andreas Halvorsen, Steve Mandel and Larry Robbins have stakes in Valeant, and George Soros has invested in Zoetis.
2. Anthem - Cigna
A merger between Anthem (ANTM) - Get Report and Cigna (CI) - Get Report would have an enormous impact on the health insurance industry. And as eager as Anthem seems to be to take over Cigna, Cigna isn't having it.
On June 20, Anthem made a $184 per share bid for Cigna and confirmed that the two had been in talks for quite some time. Cigna rebuffed the proposal the next day, calling it inadequate and not in the best interests of its shareholders.
Anthem reiterated its commitment to its bid on June 22, and CEO Joseph Swedish said in a statement that combined, the companies "will generate approaching $2 billion in synergies with two years post close and at least $17 adjusted earnings per share by 2018."
Should the two sides come to an agreement on deal terms, Larry Robbins will score a big win. The Glenview Capital manager, who was one of the first Wall Street heavyweights to bet on Obamacare, has stakes in both companies.
As per his latest holdings disclosure corresponding to the end of the first quarter, Robbins holds 4.9 million shares of Anthem. He also has nearly 1.8 million shares of Cigna.
It is worth noting that Ray Dalio's Bridgewater Associates has small positions in both companies as well.
3. Aetna - Humana
According to a June 25 Bloomberg report, Aetna (AET) is closing in on the acquisition of Humana (HUM) - Get Report. The potential deal between Anthem and Cigna intensified discussions, and Aetna is said to have made a formal bid last week.
But there are other players in the mix.
Cigna has also approached Humana with an offer, and Anthem has previously expressed interest as well. According to Bloomberg, however, Humana prefers the bid from Aetna.
UnitedHealth Group Inc. (UNH) - Get Report, the largest health insurer in the United States, could also make a bid to buy Aetna, which may nix the Humana deal.
Should the Aetna-Humana deal prevail, Larry Robbins would again be a major beneficiary. Humana is one of his top positions, and as of the end of the first quarter, he owns more than five million of its shares. He also has 3.5 million shares of Aetna.
Robbins isn't alone in recognizing the potential value of Humana, which is a leader in the Medicare Advantage market. Leon Cooperman initiated a new position in the company during the first quarter of 2015, and Andreas Halvorsen and Ray Dalio are shareholders as well.
Dalio also owns over 100,000 shares of potential Aetna acquirer UnitedHealth.
This article is commentary by an independent contributor. At the time of publication, the author held no positions in the stocks mentioned.