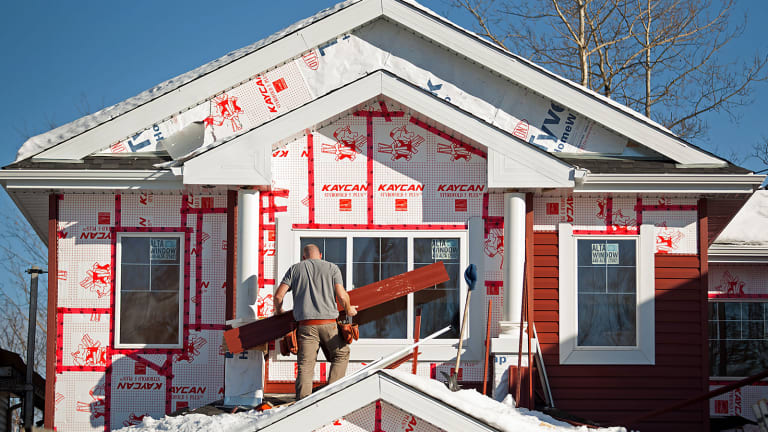 Publish date:
3 Growth Stock Winners in the Booming Housing Sector
The housing industry is in the midst of a long-term resurgence. Here are three sure-fire growth plays on the trend.
The housing industry is in the midst of a long-term resurgence. Here are three sure-fire growth plays on the trend.
The U.S. Federal Reserve's decision to begin raising interest rates in December for the first time in years doesn't appear to be significantly dampening the housing market in the U.S.
Yes, it's true that pending home sales declined in January from December, but that likely was caused by high prices in some key markets and could be a temporary decline. The S&P/Case-Shiller 20-City Home Price Composite index gained 5.7% in December. Meanwhile, an improving employment situation is driving more buyers into the market. And mortgage rates are unlikely to be a concern in the near future, with the 30-year U.S. mortgage rates at about 3.65%, far from the 6% mark, which according to this Reuters article, is where they begin to seriously affect housing activity. Housing among the most interesting investment opportunities available now.
The following stocks should benefit from continued strength in housing and are worth adding to your portfolio now. They're smart and safe growth plays in an otherwise dismal broader market.
1. Home Depot (HD) - Get Report
Helped by a warmer-than-expected winter, Home Depot said total sales for its fourth fiscal quarter jumped 9.5%, while U.S. same-store sales increased 8.9%. The weather increased purchases at Home Depot of roofing products, outdoor garden items, lumber, siding and fencing products, Fortune reported.
Rival Lowe's also benefited, but with same-store sales growth of 5.5%, it failed to match Home Depot's pace.
Future prospects for Home Depot look bright as consumers are investing more in fencing, siding, and renovating their homes in the face of a booming housing market where prices are appreciating as supply shrinks. An improving employment scenario and higher savings from lower gasoline prices are other favorable factors for the industry and for this retailer.
Home Depot is also benefiting from the restructuring activities its management had undertaken before the 2008 global financial meltdown. After cutting costs and shuttering stores that weren't delivering on numbers, Home Depot became a stronger and leaner company. It is also maintaining a strong focus on e-commerce, with sales from this channel growing 25% in 2015 and now accounting for 5.3% of total revenue.
Shares are trading around $125.12, up 9.2% over the last year. The average 12-month price target from analysts covering the stock is $145, suggesting shares can gain 16% from current levels. With a dividend yield of 2.2%, you can also enjoy decent income as the stock's price appreciates. 
2. Toll Brothers  (TOL) - Get Report
Another company riding high on the housing market recovery is the largest luxury homebuilder in the U.S., Toll Brothers.
For the most recent quarter, Toll Brothers reported revenue at $928.6 million, up 8.8% from the same quarter a year ago and beating estimates of $910 million. It met expectations on earnings per share at $0.40. For six straight quarters now, the company has reported year-on-year contract growth in dollar and unit terms.
Company CEO Douglas Yearley says that the company won't necessarily "see explosive growth" owing to the recent stock market turmoil, but he expects a "steady upward trend" in housing. While deposit and contract growth were flat year-over-year (YOY) for most of February, traffic rose 13% YOY during the same period.
Analysts expect earnings growth for the company at 32.50% this year, compared to 1.6% for the S&P 500. Next year too, Toll Brothers at 15.3% is seen outperforming the S&P 500's 12.30% figure.
The stock has lost over 28% since December alone, making it cheaper than its peers. At 9.16 times forward price-to-earnings (P/E), TOL is more attractive than DR Horton at 10.41 times and is on par with Pulte Group at 9.1 times.
3. New Residential Investment  (NRZ) - Get Report
New Residential Investment Corp is a mortgage real estate investment trust (mREIT) that unlike other mREITs benefits from higher interest rates because it is connected to mortgage servicing rights which climb along with interest rates.
Even if the Fed is slow to increase rates because of uncertainty governing global markets, it will eventually do so, taking New Residential prices along with it, making it a classic long-term play.
At a dividend yield of 15.75%, New Residential is a gem for income investors and has been pegged a "Buy" or "Strong Buy" from all 11 analysts recommending it.
According to FBR Capital, New Residential was shrewd to prioritize capital preservation and is well positioned to make use of its excess liquidity of $1 billion to benefit from any "distressed opportunities" that might arise. So, even if the company choses preservation over increasing dividends and cuts them, investors will still receive a healthy chunk owing to the high yield. This puts New Residential among a group of ultra-high income payers with sustainable dividends.
Analysts put a 12-month median price target of $16 on the stock, a gain of 37% from current levels. Having lost over 20% during the last one year on having been grouped with regular REITs, New Residential also now provides an attractive undervalued opportunity to enter.
As we've just explained, Home Depot, Toll Brothers and New Residential Investment all offer substantial capital appreciation this year. If you're an income investor and you'd like to learn about several high-quality, high-yield opportunities that are far too ignored by most investors, I urge you to check out this free presentation: 11% Yields and No Taxes. Inside, you'll learn about one of the greatest gifts to income investors in the last century, and how you can begin taking advantage of it today for your portfolio. Click here now to learn more.
This article is commentary by an independent contributor. At the time of publication, the author held no positions in the stocks mentioned.