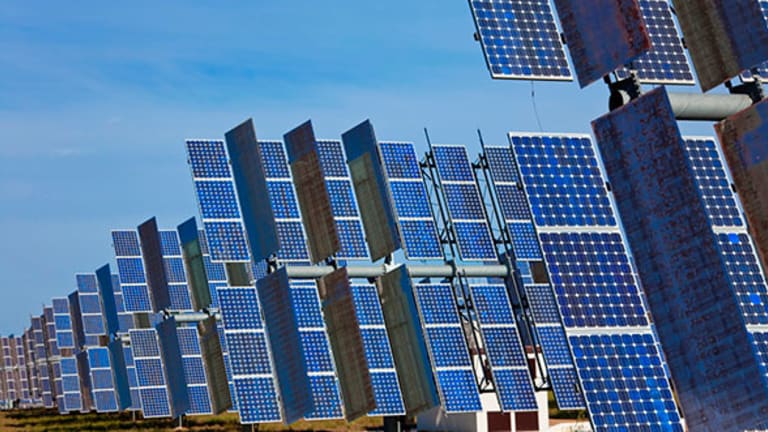 3 Great Energy Stocks Amid the Sector's Carnage
These growing companies have strategic tailwinds and cover refining, solar and natural gas.
NEW YORK (TheStreet) -- No industry has been more volatile in 2015 than energy. But amid the rubble you can find great investments now at bargain prices.
1. Marathon Petroleum (MPC) - Get Marathon Petroleum Corporation Report
Since Marathon Pete was spun off from Marathon Oil MRO four years ago, the big crude refiner's share price has roughly tripled. It's done so despite the typical volatility of refining profits and notwithstanding MPC's relatively modest dividend, currently yielding 1.7%.
Marathon has seven refineries that add up to a maximum production of around 1.7 million barrel per day. This makes Marathon the third-largest independent U.S. refiner, with almost 10% of total U.S. processing capacity.
The company's already strong earnings stream is likely to improve substantially when it completes the mostly-equity merger with MarkWest Energy Partners (MWE) it announced recently.
With all these virtues, MPC's price-earnings ratio remains under 9, which makes the stock a steal at its current price of around $49. In fact, the stock rates a buy all the way up to $65.
With oil prices in freefall for much of the last year, the impetus to move away from fossil fuels has been reduced. But the long-term trend is still in favor of non-carbon based energy sources, if only because of increasing regulations aimed at reducing global warming.
2. SunEdison (SUNE)
There are some bargains to be found now in the alternative energy field. SunEdison's share price has dropped from above $30 to below $10 since May.
Yet the company remains the leading developer of profitable, tax-advantaged projects in the fast-growing alternative energy sector. The stock price has fallen so far so fast that one energy sector analyst recently wrote that it is trading at 4 times next year's expected project development cash flows -- quite low by industry standards.
SunEdison also announced a joint venture with utility giant Dominion (D) - Get Dominion Energy Inc Reportfor a solar plant it has been building in Utah, on attractive terms that will have Dominion supplying $500 million of the project's $650 million cost in exchange for half the cash flow and all the tax equity.
The stock started moving up Wednesday after it revealed that it is beginning construction of a major project that will deliver electricity to eight schools in the Montgomery County Public School system in Maryland.
This one is definitely a risky, aggressive choice, but it could pay off in a big way. Buy SunEdison up to $18.
3. EQT Midstream Partners (EQM) - Get EQM Midstream Partners LP Report
EQT remains a bright spot in this sector. In fact, it is the best play on natural gas drilling right now.
In the last 12 months, revenue growth for EQM exceeded the industry average by more than 10%. Since the same quarter one year prior, revenues rose by 32.3%. Growth in the company's revenue has boosted its earnings per share; the price-earnings ratio is now 19.
Limited partners get a modest, tax-deferred 2.8% current yield, which at the current rate of distribution increases and assuming a constant unit price would grow to 5.7% in 2019.
At their present rate of increase, EQM's distributions per unit to limited partners are set to roughly double over the next five years, and the stock price just surpassed its 50-day moving average. Buy EQM up to $82.
If you'd like to learn about a group of high-quality, high-yield income opportunities that are far too ignored by most investors, I urge you to check out this free presentation: 11% Yields and No Taxes. Inside, you'll learn about one of the greatest gifts to income investors in the last century, and how you can begin taking advantage of it today for your portfolio. Click here now to learn more.
This article is commentary by an independent contributor. At the time of publication, the author held no positions in the stocks mentioned.