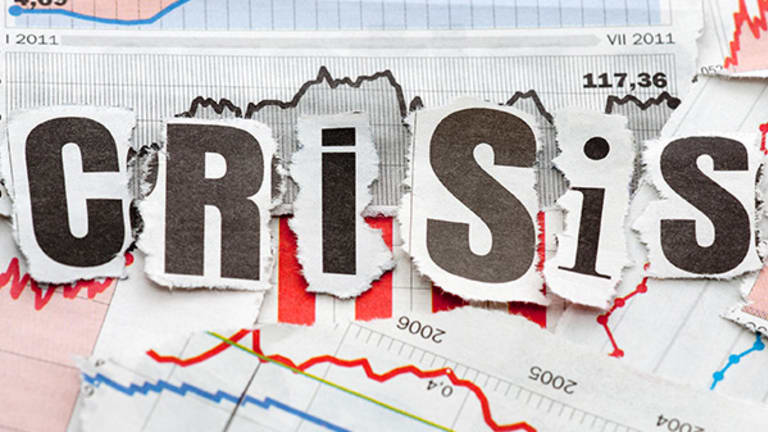 3 Great Dividend Stocks Trading at Bargain Prices in Wake of Brexit Selloff
Here are three dividend-paying stocks that are have sold off in the wake of the U.K. vote to leave the European Union. All three are great bargains right now.
Here are three dividend-paying stocks that are have sold off in the wake of the U.K. vote to leave the European Union. All three are great bargains right now.
Analysts, pundits and the media didn't expect Britain to leave the European Union. When the Brexit referendum yielded a "leave" result, world stock markets tumbled. The S&P 500 fell 3.6% Friday on the news and was trading even lower on Monday morning, but panic creates opportunities for investors willing to buy when the masses are selling, and the Brexit is no different.
Although the S&P 500 fell 3.6% Friday, some stocks fell even more, including some elite dividend stocks. Let's look at three great dividend stocks that fell 5% or more on Friday in the wake of the Brexit news. Now could be a great time to pick up these investments at bargain prices.
One of the stocks is one of Warren Buffett's top 20 high-yield dividend stocks. This financial services company is a longtime holding of Buffett's Berkshire Hathaway, and it just declined 5% in one day. 
The second stock fell 6.6%. The company is the global leader in construction equipment manufacturing. In addition to its market leading status, it has a high 4.2% dividend yield.
The final stock is not a household name like the first two, but it does create a compelling valuation proposition. With a dividend yield of 3.9% and a low price-to-earnings ratio, this manufacturer is now on sale after falling 7.6% on Friday.
Keep reading to learn about all three of these elite dividend stocks.
1. American Express (AXP) - Get Report
Warren Buffett first purchased American Express in 1964. More than 50 years later, the stock is still one of Berkshire Hathaway's biggest holdings and and makes up 8% of the company's portfolio.
There's a reason Buffett has held American Express for more than 50 years. The company is a high-quality dividend-growth stock with a strong and durable competitive advantage.
In short, the company is a compounding machine. Since June 1972 every $1 invested in American Express has turned into $30.49. This comes to a compound annual growth rate of 8.9% a year (including dividends) over a 44-year period. (Data from Yahoo Finance. Earliest price data starts in June 1972.)
Despite Buffett's vote of confidence, American Express stock is on sale. The company's stock currently trades for $57.57. It is down from highs of more than $95 set in July of 2014.
The company's stock is down over the last two years due to a small decline in earnings per share. The company had EPS of $5.56 in 2014, but 2015 adjusted earnings fell to $5.38. The slide has continued into the first quarter of fiscal 2016, with EPS down 2.0% year over year.
The modest decline is due to a mix of strong competition and American Express losing its exclusive credit card agreement with Costco (COST) - Get Report . Despite short-term weakness, American Express is a strong business with a long history of rewarding shareholders.
The company looks even cheaper after the Brexit. American Express is trading at a price-to-earnings ratio of 10.3, based on earnings estimates for 2017. The company is a bargain dividend stock at current prices.
Costco is a holding in Jim Cramer's Action Alerts PLUS Charitable Trust Portfolio. See how Cramer rates the stock here. Want to be alerted before Cramer buys or sells COST? Learn more now.
2. Caterpillar (CAT) - Get Report
Caterpillar is the global leader in construction equipment manufacturing. The Brexit cast doubts on the health of the global economy going forward.
The result? Caterpillar's stock tumbled 6.6% Friday. Stock price declines are never easy to stomach, but there is a silver lining. Investors can now pick up shares of Caterpillar for a 4.3% dividend yield.
Caterpillar's status as a global business has hurt the company in recently. The company generates less than 50% of its revenue and earnings in the U.S. The strong dollar has hurt the company financially as it must report earnings from weaker currencies in greenbacks.
As mentioned above, the Brexit is the latest in market fear surrounding the global economy. But make no mistake: Over the long run, Caterpillar's global focus will increase the company's growth.
Emerging markets are expected to grow faster than the developed world over the next several years due to a mix of rising populations and an expanding middle class. This has (and will continue to) cause more demand for construction, increasing demand for Caterpillar's products.
Long-term investors who can see beyond the current crisis will likely be rewarded with outsized returns for investing in Caterpillar when it's short-term fortunes are cloudy. 
The company is expected to have EPS of around $7.50 per share by 2020 when operations normalize. The company has maintained an average P/E ratio of 15.5 over the last decade. If future estimates are accurate, this implies a forward price of $116.25 per share. The stock is currently trading for $71.58 per share.
This works out to returns of 10.8% a year through 2020 before dividends. Including the company's 4.2% dividend yield, investors in Caterpillar should expect total returns of 15.0% a year over the next several years.
3. Eaton (ETN) - Get Report
Eaton is not as well-known as American Express or Caterpillar, but that didn't stop the market from absolutely punishing the stock on Friday. Eaton shares fell 7.6% on the day.
Eaton has a $26.58 billion market cap. The company was founded in 1911, in Bloomfield, N.J. To reduce the company's tax rate, Eaton is now headquartered in Ireland.
The company is a diversified manufacturer. Eaton makes specialized hydraulic, electrical, engine, and control equipment for a variety of industries, including vehicles, aerospace and construction.
Eaton stock looks very appealing at current prices. It offers investors a high 4.1% dividend yield. In addition, the company's price-to-earnings ratio is low at just 13.5.
The company is also very shareholder friendly. Eaton has managed to pay steady or increasing dividends for 32 consecutive years. On top of these dividends, Eaton has reduced its share count steadily since 2013.
The company has managed to compound its EPS at 6.2% a year over the last decade. If this level of growth continues, investors will see 10%-plus total returns from the company's EPS growth and its high dividend yield.
Eaton is operating in a very unfavorable environment. Low oil prices have reduced purchases from the oil and gas sector. Weakness in the agricultural sector has reduced demand as well. On top of this, a strong dollar makes the company's operations appear weaker when currency effects are considered.
Despite all the headwinds, Eaton's EPS are only down 7.9% from record highs set in 2014. The company's management should be applauded for excellent execution during the difficult period outlined above.
The company makes a compelling choice for investors looking for exposure to the manufacturing industry along with a high dividend yield and a very reasonable valuation.
See full Brexit coverage here.
This article is commentary by an independent contributor. At the time of publication, the author held no positions in the stocks mentioned.