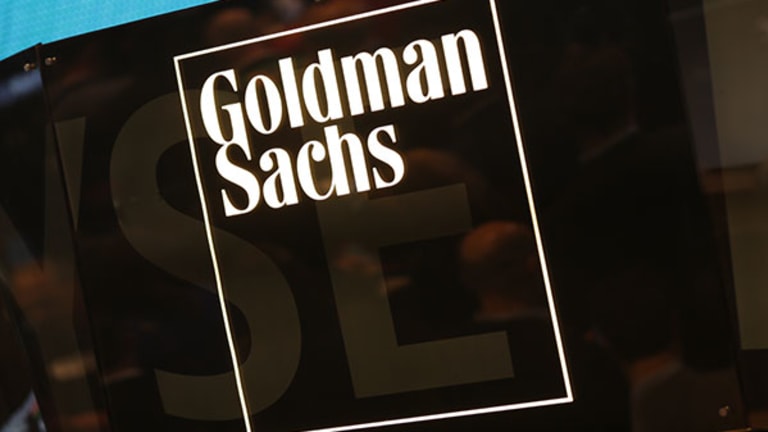 3 Goldman-Picked 'Cheap Stocks' That Are Poised to Strike Gold
In an overvalued and unpredictable market, when Goldman Sachs recommends a stock, investors should listen. Here are three standouts worth buying now.
Goldman Sachs recently selected an assortment of 21 cheap stocks en-route to clock in 50% upsides. We looked through the list and chose the best three.
Below is the complete breakdown. Now, let's examine our trio of winners.
VIAB
data by
1. Viacom (VIAB) - Get Viacom Inc. Class B Report
Viacom is among the top-10 largest broadcasting and cable companies in the world, in terms of revenue.
Viacom is now valued at a modest 8.6 times forward earnings and yet its rapidly striding forward. The company cemented a strategic deal with TiVo to boost ad-targeting data initiatives and it also signed a new long term partnership with AT&T, for Viacom programming retransmission on U-verse and DirecTV platforms.
Viacom's stock should rise if its buyback plan retires over 25% of the shares outstanding. With a forward annual dividend yield of 3.24%, the stock will attract value investors and dividend-lovers alike. If the buyback happens, the value of its remaining shares will increase and it could hike dividend outflows as well.
Over the last few years, Viacom has paid $540 million to 555 million in dividends, while keeping free cash flow intact at $2 billion -- all while maintaining healthy free cash flow/net income ratios.
Earnings scenarios are improving with 2016's earnings-per-share growth pegged at 8.60% versus 1.50% this year. This will also be accompanied by a recovery in revenues, with a 2.9% drop in 2015 but an estimated 3% rise for the year ending September 2016.
data by
2. Wynn Resorts (WYNN) - Get Wynn Resorts, Limited (WYNN) Report
Wynn Resorts, a developer and operator of high-end hotels and casinos, was placed at a mind-boggling 150% upside, after Goldman suggested a "Buy" on this stock.
The stock is up 11.88% over the last month. Even after the recent gain, the stock is relatively cheap and trades at roughly 20 times forward earnings. This is attractive compared to direct competitors like MGM Resorts (38 times) and Las Vegas Sands (20 times) that haven't seen the kind of dream-run Wynn is enjoying at this time.
While the slowdown in China continues to hurt the company's core business, you can't underestimate the genius of Wynn Resorts chief executive Steve Wynn, an innovative pioneer in the casino-hotel business.
data by
3. Navient (NAVI) - Get Navient Corp Report

Navient Corp's operations include servicing and collecting on student loans. The stock is up nearly 18% over the last month and now trades at 6.5 times forward earnings. It also offers a forward annual dividend yield of nearly 5%.
Naysayers observe that a majority of Navient's borrowers are struggling with excessive student loan debt, but CEO Jack Remondi reiterates that most customers are successfully meeting payment obligations.
There are concerns with the compliance landscape, with regulatory changes in the works that could create significant increases in servicing costs. In reality, these standards will establish a level of consistency within the industry and will benefit borrowers as well as servicers.
The company also has been buying its own shares, with year-to-date purchases at about 47 million shares at an average price of $17.8.
2015 may have been a forgettable year but 2016 is expected to help the company register double-digit earnings-per-share. With a free cash flow to net income ratio of 1.5 for the last 12 months, earnings before tax margin of over 50%, and 24% returns on equity, Navient has a solid set of profitability ratios.
You've just read about three stocks that are strong buys. For a list of highly vulnerable stocks that are flashing "sell" signals, click here.
This article is commentary by an independent contributor. At the time of publication, the author held no positions in the stocks mentioned.