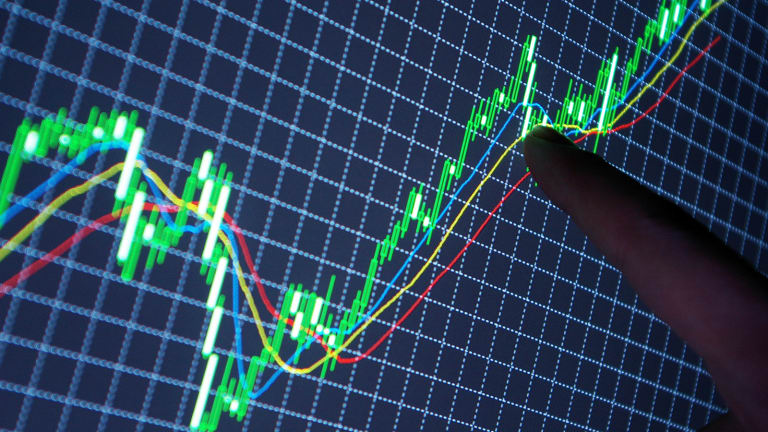 3 Top Stocks That Offer Pricing Power for Climbing Inflation
During inflationary times when the business cycle is slowing, shares of these companies offer growth and pricing power.
We all have needs and wants, but unless you have more money than you know what to do with, you have probably noticed lately that prices for many important "needs" are rising.
These needs include health insurance, sending kids to college, buying groceries, and eating and drinking out. And business owners should look out for a rise in the minimum wage across the country, which is a great thing for workers but might not be such a great thing for corporate profits and margins.
Real inflation is much higher than the government's "ex-everything that is really important" method.
Generally, inflation expectations around the globe have been falling as high-debt countries battle deflation by printing money and buying government bonds. However, there is a fork in the road coming, and the companies that have pricing power and loyal customers will survive and thrive as wage pressures mount and margins get squeezed.  
"Personal margins" have been shrinking, and the same is happening at the corporate level. Margins have been abnormally high for a lot longer than most would have expected.
Let's just call it what is is: "financial engineering."
According to DoubleLine Capital, as margins compress, recessions begin. We certainly are in a "profits recession," and looking at the damage the average stock has experienced up until the Feb. 11 bottom, price action was also looking recessionary. 
And wages have been gently rising since 2010, but the trajectory has changed since 2013.
Companies can "manufacture" attractive earnings for only so long. In the end, balance sheet engineering has a terminal end, and it is the companies with top global brands with the most in-demand products and smartest management teams that will be able to keep revenue moving higher while maintaining their attractive margins.
Inelastic demand is one key to high and sustainable margins. This happens when a 1% change in the price of a good or service has less than a 1% change in demand for that good or service.
A superior company has the ability to maintain or raise prices in good times and bad, which is called pricing power.
The most ideal are those companies with high brand recognition, brand loyalty and market share; consistent sales growth; and stable margins that are higher than those of industry peers.
Looking at the top 200 most relevant brands universe and screening for operating margins that were higher than 5% for the past five years on average, operating margins on a trailing 12 months' basis greater than the industry average and compound average annual growth of revenue greater than 5% each year, as well as those that are trading above their 25-day moving average, provided three top global brands. All of them are in the Dynamic Alpha Brands Index.

1.  Constellation Brands (STZ) - Get Report
This stock has a current dividend of 0.77%, operating margins that are much higher than the industry average and three-year compound annual sales growth of 32%.
The company's name may not be familiar, but its brands include beers such as Corona, Corona Light, Modelo Especial, Mondavi, Pacifica and a recent purchase of SD craft beer leader Ballast Point. Its wine brands include Clos du Bois, Estancia, Mount Veeder, Ravens Wood and Toasted Head, and its spirits include Casa Noble Tequila and Svedka Vodka.
The stock's chart is everything you want it to be: up and to the right

2.  Sherwin-Williams  (SHW) - Get Report
This company has a current dividend of 1.1%, five-year compound dividend growth of 13%, a 38-year streak of consecutive annual dividend increases, operating margins that are double the industry average and three-year compound annual sales growth of 5.95%.
Home improvement is alive and well, and one major beneficiary is Sherwin-Williams. The company benefits from economic growth and infrastructure build as well as from home construction and home improvements.  
Sherwin-Williams is a global leader in the manufacture, development, distribution and sale of paint, coatings and related products to professional, industrial, commercial and retail customers. The company operates 4,086 stores across the globe selling well-known brands such as Dutch Boy, HGTV Home, MinWax, Sherwin-Williams and Thompson's Water Seal.
On March, 31, the company said it would acquire competitor, Valspar for $11.3 billion, creating the premier global paints and coatings company with the highest revenue in the category.
The chart shows the stock breaking out to new highs, with the moving average convergence average pointing north. The same can be said for other home improvement and construction stocks
3.  Ulta Salon Cosmetics and Fragrance (ULTA) - Get Report
This is a high-growth brand without a dividend but boasting five-year average operating margins of 12%, operating margins that are double the industry average and three-year compound annual sales growth of 20%.
Ulta is the largest beauty retailer in the United States and a premier beauty destination for cosmetics, fragrance, skin, hair care products and salon services. It operates more than 800 stores across the country and sells more than 500 beauty brands.
It also offers high-end, full-service salon services. The company has been on a huge growth run, but its market share has an enormous runway for continued growth, given how fragmented each local beauty market is.
The company is on track to open 100 new stores this year. Based on a recent corporate presentation, Ulta's payback period for a new 10,000-square-foot store is just two years.
The chart shows volatility over the past six months and that the stock is a bit overbought, but it appears to be breaking out. Technically, the stock would be a screaming buy if investors could buy it on a pullback to the 25 exponential moving average around 177 to 180.
The stock offers strong long-term potential.
Bottom line: There will come a time when wage pressures start affecting corporate margins and growth. Stocks are priced for perfection, and many aren't priced for the margin erosion and earnings slowdown that will likely happen.  
It is imperative that investors own stocks with pricing power and sustainable growth. Focus on top brands that have the brand loyalty and products/services that are in favor.
That will allow their sales to continue to grow and their margins to stay high. And in a world where there are fewer and fewer companies with those characteristics, the future looks bright for the top brands that have them.  
This article is commentary by an independent contributor. At the time of publication, the author held no positions in the stocks mentioned.