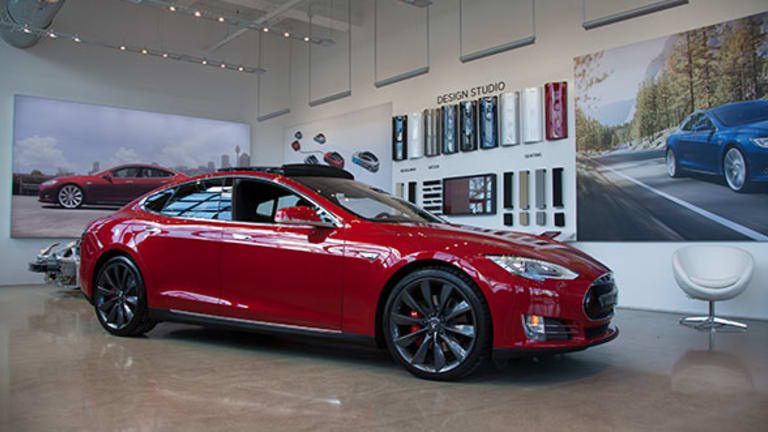 3 Global Brands to Benefit From $30 Trillion Wealth Transfer
Apple, Restoration Hardware and Tesla make products that people with discretionary income -- and otherwise -- covet.
As younger generations increasingly inherit wealth from their parents and grandparents -- some $30 trillion in wealth transfer expected in the next 30 years -- they will have more spending power.
This represents a boon to major brands in the consumer goods, retail and other industries. GDP growth has been lukewarm as reflected by the Federal Reserve's reluctance to raise interest rates again. Still, it is a good time to be a supplier of goods and services that people want and can afford. 
There is a lot of money coming to brands and that is likely to increase in the coming years. Here are three stocks that should particularly benefit. They sell high-quality, attractive products that should remain popular for years. 
Apple (AAPL) - Get Report

Apple's stock has lagged year-to-date, and analysts have voiced concerns about increasing competition and reduced demand in key foreign markets. But in its latest quarter, Apple posted $75 billion revenue, and two-thirds of that total came from outside the U.S.
The company isn't in the major Brands Portfolio because of the sluggish performance of its share price. But that could change if the stock can escape the current down trend. 
Apple Looks like a Buy if it can break over $110, which is the down trend line in the chart. I love the brand and hope to have it back in the portfolio.
You see Jim Cramer on TV. Now, see where he invests his money and why Apple stock is a core holding of his multimillion-dollar portfolio. Want to be alerted before Jim Cramer buys or sells AAPL? Learn more now.

Restoration Hardware (RH) - Get Report
Restoration Hardware has amazing products, good and improving customer service and an aspirational appeal. The company sells the sort of furniture and other items that people want in their homes because they add to the coolness quotient.
I dare you to go to a Restoration Hardware store with some extra cash and not want to leave with an order receipt.
This is a "catch a falling knife" brand: It's hard to do and easy to cut yourself doing it. It's difficult to say how the company will evolve or how aggressive short sellers will be as the evolution continues. Predict wrongly and you could wind up with a hole in your portfolio. But the quality of the products and brand reputation have staying power.
Like Apple, Restoration Hardware doesn't qualify for inclusion to the brand portfolio. But the company sits in a good position during this era of money transfer. If you buy it, buy in stages as Cramer says, buy in three tranches.
Technically, its showing some positive divergences, although the price is falling. Those tend to be decent trading opportunities or good entries for long-term holders.

Tesla (TSLA) - Get Report
Tesla is an innovator. Other car brands have introduced outstanding vehicles, but Tesla remains the 800-pound gorilla of luxury electric cars.
Like Apple, Tesla had a huge run last year and has been resting lately. But the chart looks like it's getting ready for a new up-leg. It needs to break above the current down-trend but technicals look positive.
The stock is not currently in the Brands Portfolio, but with a push through the down trend, it might receive the push it needs to reach the top 50.
This article is commentary by an independent contributor. At the time of publication, the author held no positions in the stocks mentioned.