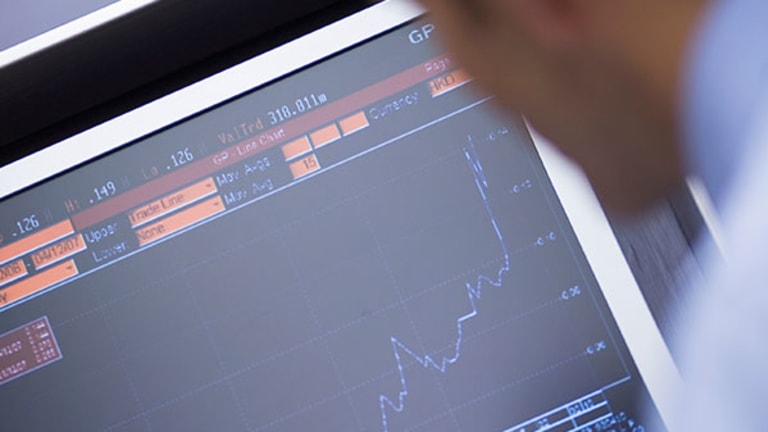 Publish date:
3 FinTech Start-ups Disrupting Big Banks
Winter may be coming for the largest banks in the U.S. as they contend with a new crop of nimble start-ups chipping away at their services.
Winter may be coming for the largest banks in the U.S. as they contend with a new crop of nimble start-ups chipping away at their services.
NEW YORK (TheStreet) -- Winter is coming for large banks in the U.S. Ever since the Dow Jones closed down 588 points on August 24, regulators and bank executives are preparing for what they believe to be a period of economic uncertainty. The Federal Reserve is threatening to increase rates and a recession could be imminent.
Everyone is talking about what may threaten financial institutions in the future, and in doing so, they are neglecting to see how disruptive technology is such an immediate and pervasive threat for banks. Banks need to take this disruption seriously and realize how start-ups shaking up traditional wealth management, lending and investing are threatening their previously dominant positions in the market.
Jamie Dimon, CEO of JPMorgan (JPM) - Get JPMorgan Chase & Co. (JPM) Report , identified this threat back in April when he said in a letter to shareholders, "Silicon Valley is coming."
While there has been continued turbulence in the public markets, technology companies are booming; there are now over 8,000 financial technology or "FinTech" companies in the U.S. alone. Why? Americans now expect trust, transparency, and accessibility in the products and services they use. While banks are constantly trying to rebrand themselves to prove they are secure, honest, and accessible, new technology solutions are serving clients in for now what seems like a more streamlined and secure way.
Here are three start-ups disrupting wealth management, small business lending and private investing in the U.S. -- three markets that banks like JPMorgan (JPM) - Get JPMorgan Chase & Co. (JPM) Report , Capital One (COF) - Get Capital One Financial Corporation Report , Barclays (BCS) - Get Barclays PLC Sponsored ADR Report , Citigroup (C) - Get Citigroup Inc. Report   and others have controlled until now without challenge.
1. Betterment: Wealth Management
With markets in a state of unending flux, clients are showing they want more control and transparency around their wealth. Historically large banks have regulated and siloed financial advisors so that clients require multiple touch points to maintain a diversified portfolio. With low interest rates and the threat of an impending Fed rate raise, wealth managers will have to create new solutions to better mitigate volatility in the markets. For large financial institutions, it's harder than ever to innovate and restructure around new solutions. That's why robo-advisors are growing in the place of traditional wealth advisors. They are taking out the middleman and giving clients a more streamlined, transparent, and affordable solution to managing their wealth.
Betterment is a robo-advisor with over 100,000 customers and $2.5 billion in assets under management. It is automating investing and eliminating third-party gatekeepers at a fraction of the cost of traditional wealth managers. Betterment is becoming a "full-stack" provider, acting as a plan's record-keeper, custodian, third-party administrator, and fiduciary advisor at essentially no added fee to the client. Many argue that automation only goes so far and that a human touch is still valuable. Even then, traditional advisors will have to do more to justify their cost with a slew of new technologies flooding the market.
Why is Betterment winning? It is moving quickly and introducing new products serving both sides of the market. Betterment recently launched an institutional product that enables registered investment advisors to quantify the value of their services and add a wrap fee. Also, it recently introduced the first robo-advisory platform for 401(k) sponsors and participants -- radically disrupting how retirement plans have always worked. In addition to Betterment's main robo-advisory platform, these new technology solutions are redefining decades-old practices and will continue to shape wealth management in the U.S.
While many banks theoretically have the money to build their own system to seamlessly integrate into their current platforms, it's seems likely that they will not be able to compete against the rapid evolving new leaders in the market. Acquisition will be the key to survival. Last month BlackRock (BLK) - Get BlackRock, Inc. Report  bought FutureAdvisor, the fifth largest robo-advisory firm. All eyes are now on Betterment and the other leading competitor, Wealthfront, as the next acquisition targets. Let's see which banks takes note.
2. Bond Street: Small-Business Lending
Despite a growing market of small-businesses, large financial institutions have not been financing small business at the same levels they used to. In the wake of the credit crunch, alternative lending platforms are more efficiently providing capital to entrepreneurs, in less time, for less money. For loans that banks do issue, the process is dated, clunky, and time consuming. Small businesses must walk into a branch, fill out piles of paperwork, and pay high standard rates. Bond Street has stepped in to serve this market and has already experienced a huge level of growth.
Bond Street is an online lender that empowers small businesses by offering loans in a simple, fair and transparent way. Led by David Harber, a 27-year-old Harvard grad, Bond Street leverages data to approve loans faster and for amounts that banks usually refuse to finance. Bond Street's average loan is $180,000 and delivered in as fast as two months. The company most recently pocketed a $110 million investment led by Jefferies (JEF) - Get Jefferies Financial Group Inc. Report  and Spark Capital.
According to the U.S. Small Business Administration, there are over 28 million small businesses in America, which account for 54% of all U.S. sales. This number has increased 49% since 1982 and in the current climate, is forecasted for continued growth in the years to come. If banks do not innovate their current models, they are positioned to lose out on this growing market.
Jefferies (JEF) - Get Jefferies Financial Group Inc. Report  isn't the only bank that has recently recognized the value of investing in a lending platform. In April, Goldman Sachs (GS) - Get Goldman Sachs Group, Inc. (GS) Report  announced it is entering the peer-to-peer lending space and will also venture into lending to small businesses by launching its own proprietary platform later this year. JP Morgan could be the next to follow suit. In Jamie Dimon's JPMorgan (JPM) - Get JPMorgan Chase & Co. (JPM) Report  shareholder letter in April, he also recognized the market for new lending platforms, "There are hundreds of startups with a lot of brains and money working on various alternatives to traditional banking ... The [new] firms can lend to individuals and small businesses very quickly and - these entities believe - effectively by using Big Data to enhance credit underwriting. They are very good at reducing the 'pain points' in that they can make loans in minutes, which might take banks weeks."
3. SeedInvest: Private Lending 
First of all, a disclosure: I work at SeedInvest.
With growing skepticism of the public markets, individuals and institutions are dedicating increasingly larger portions of their capital to the private markets. There has been more data showing the value of healthy diversification and with that, more money is moving out of public stocks and into alternatives.
Securities laws have historically restricted early-stage investing to the wealthy. On April 5, 2012, President Obama signed a new piece of bi-partisan legislation called The JOBS Act into law. The JOBS Act greatly expanded entrepreneurs' access to capital, allowing them to go to the crowd and publicly advertise their capital raises. At first, private companies could only crowdfund from accredited investors, the wealthiest 2% of Americans. On June 19, 2015, Title IV of the JOBS Act went into effect, which now allows private growth-stage companies to raise money from all Americans.
With public markets in flux and new securities laws at work, there is more opportunity and access to invest in early-stage companies than ever before. In light of this, equity crowdfunding platforms are growing by providing access and a streamlined solution to invest online for the first time.
SeedInvest is one such equity crowdfunding platform, launched in 2012. SeedInvest now has a community of over 12,000 accredited investors working alongside a community of 30,000 unaccredited investors. The momentum fueling SeedInvest's growth reflects an overall interest in finding alternatives to the public markets, and access to high-quality deal flow.
This article is commentary by an independent contributor. At the time of publication, the author held no direct positions in the stocks mentioned.