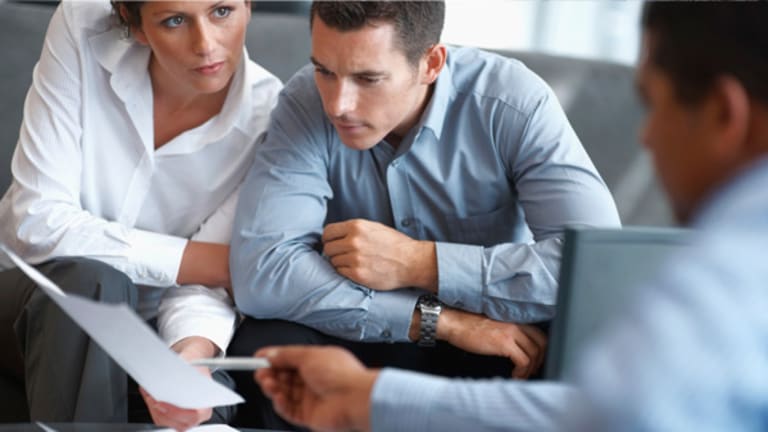 3 Financial Execs Obama's Special Unit Should Target
Still no major prosecutions, but we can always hope.
NEW YORK (
) -- President Obama announced during his State of the Union address Tuesday night that he will create a "special unit of federal prosecutors and leading state attorneys general to expand our investigations into the abusive lending and packaging of risky mortgages that led to the housing crisis."
Many of us are frustrated that we haven't seen any major prosecutions of financial criminals as a result of the reckless behavior that devastated the economy and put millions of people out of jobs. By limiting his focus to abusive lending and packaging of risky mortgages, Obama may already be off to a poor start.
The bipartisan deregulatory fervor that has gripped Washington D.C. since the Reagan era is probably at least as much to blame, as people like former
Citigroup
(C) - Get Report
chief Sandy Weill managed to convince Congress to dismantle regulations like the Glass-Steagall Act that had limited the power and growth of the financial sector. Meanwhile, advisers to President Clinton like ex-
Goldman Sachs
(GS) - Get Report
chief Robert Rubin and Harvard hedge fund man Larry Summers allowed
JPMorgan Chase
(JPM) - Get Report
, Goldman Sachs and other financial giants to win a free pass for the multitrillion dollar credit default swaps market, necessitating a $170 billion bailout of
AIG
(AIG) - Get Report
. Though they are all Democrats, their main philosophical twin in Congress during the mid to late 1990's was Texas Senator Phil Gramm.
The Securities and Exchange Commission nonetheless should have been actively sticking its nose into all manner of financial crimes during the bull market, but do-nothing Chairmen like Christopher Cox and a well-oiled
between the SEC's enforcement division and the general counsel's office of top Wall Street firms ensured no big fish would ever end up in the government's net.
Obama's special unit may indeed have teeth, since, according to the
it will be led by New York's
Eric Schneiderman
, maybe the single-biggest thorn in the side of Wall Street at the moment.
The move by Obama is surprising if you consider that just five months ago Obama was reportedly leaning on Schneiderman to
. Here are three scoundrels Obama's unit should target.
3. Angelo Mozilo, former CEO of
Countrywide Financial Corp.
.
Why is
Bank of America
(BAC) - Get Report
in worse shape than major rivals like JPMorgan, Citigroup and
Wells Fargo
(WFC) - Get Report
? Look no further than Countrywide Financial.
Countrywide appears to have ramped up its mortgage operation just as the housing market was at its frothiest. Countrywide was the top U.S. mortgage originator with $463 billion in 2006, followed by Wells Fargo at $398 billion, with JPMorgan Chase a distant third at $173 billion, according to data from trade publication
Inside Mortgage Finance
that Countrywide cited in its 2007 10-K.
In 2007, however, Wells Fargo cut its originations way back to $272 billion. That was still good for second place, but well behind Countrywide's $408 billion in originations.
Mozilo has already been
a record $22.5 million after he "failed to disclose to investors the significant credit risk that Countrywide was taking on as a result of its efforts to build and maintain market share," according SEC charges brought in 2009. However, Mozilo didn't admit guilt in that case, and another $45 million in "disgorgement of ill-gotten gains," was paid by Bank of America.
2. Chuck Prince, former Citigroup CEO
Prince, an attorney, was handed the top job in 2003 in part because he was considered well-equipped to clean up various regulatory messes at Citigroup at the time, including a total of $4.7 billion to settle lawsuits that claimed Citigroup helped defraud investors of
Enron Corp.
and
WorldCom Inc.
, according to a
Bloomberg
published at the time of Prince's departure from Citigroup.
The
Federal Reserve
pushed Prince to toughen internal controls at Citigroup, but he soon let risk run wild at the company under fixed income head Tom Maheras. He will always be remembered for the infamous quote he gave to the
Financial Times
, "as long as the music is playing, you've got to get up and dance," he told the newspaper, adding, "We're still dancing."
Though Citigroup would eventually need $45 billion in bailout funds from the U.S. Treasury, Prince
managed to walk away with $147 million in his final year
, according to
The New York Times
.
1. Franklin Raines, former CEO,
Fannie Mae
(FNMA.OB)
.
Could Raines be targeted by the Obama Administration? Though John McCain's presidential campaign tried to paint Raines as an Obama adviser during the 2008 election, Glenn Kessler, who writes
The Washington Post
's "Fact Checker" column, found those claims dubious.
Fannie Mae and its cousin,
Freddie Mac
(FMCC.OB)
are Republicans' favorite punching bags when it comes to finding institutions to blame for the financial crisis. But though they are mainly trying to score political points since lots of Fannie and Freddie leaders, supporters and beneficiaries have been Democrats, that doesn't mean they're wrong.
Fannie and Freddie both stink of corruption and graft, but Fannie, because it was larger, stunk worse. In 2004, it was forced to restate past years' earnings by $6.3 billion. Fannie's regulator found that Raines earned $90 million between 1998 and 2004, with $52 million of that being directly tied to Fannie meeting its earnings targets, according to the book "All the Devils Are Here."
While the book offers plenty of evidence Raines was the victim of a political witch hunt, it certainly doesn't excuse Raines. "Whether because of sloppy accounting or something less excusable, Fannie gave its regulator enough rope to hang it with."
--
Written by Dan Freed in New York
.
Disclosure: TheStreet's editorial policy prohibits staff editors, reporters and analysts from holding positions in any individual stocks.