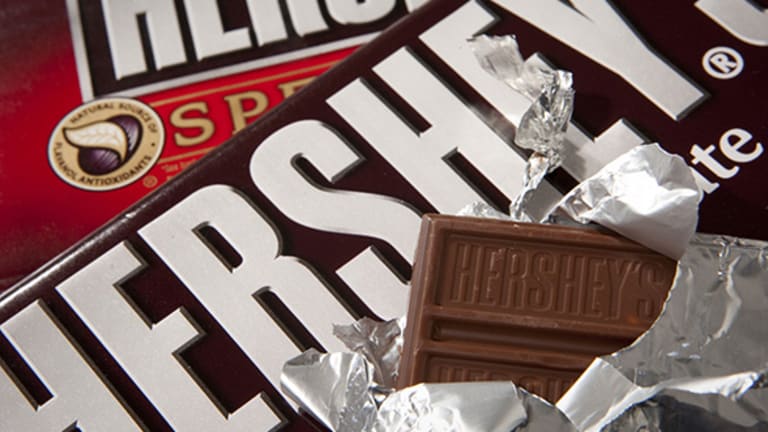 3 Favorite Dividend Stocks at Hedge Fund Renaissance Technologies
Renaissance Technologies is one of the most successful hedge funds of all time. Three of the fund's top six holdings are dividend stocks with 30 or more years of dividends.
NEW YORK (TheStreet) -- Renaissance Technologies is one of the most successful hedge funds of all time. Founded by legendary mathematician Jim Simmons in 1982, it has grown to become one of the largest in the world with more than $22 billion in assets under management.
Renaissance Technologies current portfolio includes many high quality dividend growth stocks near the top. Three of the hedge funds top six largest holdings have paid steady or increasing dividends for 25 or more consecutive years: Colgate-Palmolive (CL) , Hershey (HSY) , and Becton, Dickinson & company (BDX) .
Colgate-Palmolive
Colgate-Palmolive is one of the longest running success stories there is. The company has been paying dividends for 120 consecutive years, and has increased its dividend payments for 52 consecutive years. This makes Colgate-Palmolive a Dividend Aristocrat and shows how resilient the company's brands are to competition.
Colgate-Palmolive sells personal and home care products under the following brands: Colgate, Palmolive, SpeedStick, SoftSoap, and Ajax. Additionally, the company sells pet food under the Hill's Pet Nutrition and Science Diet brands. Colgate's portfolio of high quality brands give the company its strong competitive advantage and allowed it to consistently grow its dividend over the last 50 years. If you are looking for stability, look no further than Colgate-Palmolive.
Colgate-Palmolive plans to continue growth through focusing on five key points:
Emerging market growth
Increase prices
Increase advertising
Generate supply chain savings
Innovative new products
Colgate-Palmolive is focusing heavily on emerging market growth. The company has already experienced much success internationally. For example, Colgate-Palmolive has a 54% market share in toothpaste in India. The combination of higher prices and lower operating costs will increase margin for the company. 
The company's growth strategy appears to be working. Colgate-Palmolive has grown earnings-per-share at 6.9% a year over the last decade. Growth over the next several years is expected to be as high as 10.5% due to the five key growth drivers Colgate-Palmolive is focusing on.
Hershey
Hershey is the second largest confectionery in the world, behind only Mondelez (MDLZ) . Hershey's brands are instantly recognizable to anyone in the U.S.: Hershey's, Reese's, Jolly Rancher, KitKat, PayDay, Milk Duds, Mounds, Almond Joy, and Twizzlers, among others. About 80% of Hershey's sales come in the U.S.
Hershey's currently has a dividend yield of 2.1%. The company has paid steady or increasing dividends for 39 consecutive years. Hershey's competitive advantage comes from its portfolio of strong brands. In total, the company has grown earnings-per-share at about 6.4% a year over the last decade. Hershey's growth rate over the next several years will likely eclipse its historical growth rate, however.
Expansion in China, India, Brazil and Mexico will fuel growth for Hershey. The company is investing heavily into these specific emerging markets. Hershey has gained market share in the chocolate market in each of the last four years in these countries. Hershey's picked to expand into these four markets for a reason: They are all growing rapidly. The expected growth rates in the overall chocolate market in each of these four countries for the next several years are inspiring:
Brazil: 12% per year
China: 10% per year
India: 19% per year
Mexico: 7% per year
Domestically, Hershey is attempting to capitalize on the growing trend for easy-to-understand ingredients and few total ingredients. The company is planning to re-introduce its iconic Hershey's chocolate bars with a redesigned ingredients list. The new chocolate bars will only have the following ingredients: sugar, milk, chocolate, cocoa butter, milk fat, soy lecithin, natural flavors.
Hershey's growth plans and long dividend history should appeal to investors who are looking for a reasonably fast growing business with a shareholder friendly management in a stable industry.
Becton, Dickinson & Company
While the first two stocks discussed in this article are easily recognized by most people, Becton, Dickinson & Company (referred to from this point on as BDX) is somewhat less discussed. BDX is one of the largest medical instrument and supply companies in the world; it has a market cap of over $27 billion.
BDX provides hospitals and health care providers with various medical products including: needles, syringes, catheters, drug delivery systems, and disposable containers. Additionally, the company sells products used in the collection, transportation, and testing of bacteria, viruses, and cancers. Finally, the company also provides diagnostic and research tools to various research businesses and institutions.
BDX currently has a dividend yield of 1.7% which is below the S&P 500's current dividend yield. BDX has managed to grow its dividend payments at 13.1% a year over the last decade. Earnings-per-share grew at 9% a year over the same time period. BDX will likely continue to grow dividends faster than overall company growth as the company still has a low payout ratio of under 40%.
Going forward, BDX's management expects to continue growing earnings-per-share around 9% a year. Growth will continue to come from the ever-expanding health care field. As global GDP per capita rises, more and more people are demanding quality health care. This bids up the price for health care and health care-related items. The health care industry is growing faster than overall GDP globally. BDX stands to continue benefiting from this trend.
BDX has paid increasing dividends for 43 consecutive years. The company is a member of the exclusive Dividend Aristocrats Index. Additionally, BDX ranked highly using The 8 Rules of Dividend Investing before its stock price increased 25% over the last 6 months.
This article is commentary by an independent contributor. At the time of publication, the author held no positions in the stocks mentioned.