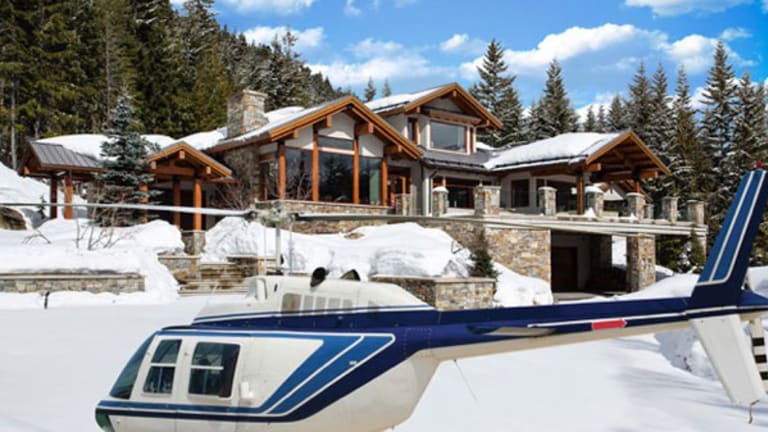 3 Exotic Travel Stocks to Watch
The rise in sales for luxury tour packages has pushed some of these firms into the public marketplace.
The rise in sales for luxury tour packages has pushed some of these firms into the public marketplace.
Luxury travel has redefined vacations.
Boat rides that place tourists within an arm's reach of a blue whale and safaris that offer close-up views of the jungle's wildest beasts, are now the favored destinations of the traveling elite. Giant cruise ships offering endless amenities and stops at exotic beaches have also been taking the travel industry by storm.
Adventure travel grew into a $263 billion industry after 65% annual increases between 2009 and 2012, according to the Adventure Tourism Market Study, conducted by George Washington University.
Specialty cruises for last year are also expected to have continued building passenger growth, after experiencing a 21% annual increase between 2009 and 2014, according to the Cruise Lines International Association.
"Adventure travel companies offer customers unparalleled experiences that they sometimes can't plan or access on their own," said Schneur Wineberg, a Canadian-based tour operator. "The combination of comfort and exotic excursions often experienced with luxury travel is very attractive to travelers."
The rise in sales for luxury tour packages has pushed some travel companies into the public marketplace.
As more travelers embark on their journeys into the most exotic corners of the globe, here are three companies that investors should watch this year:
1. Viad (VVI) - Get Report
Luxury travel company Viad offers high-end trips to snowy destinations, including Alaska, Glacier Park and several Canadian spots through the travel and recreation unit of its company. The company also generates revenue through its marketing and events group, which caters to competitive consumers and has high profit margins.
Although known for its luxury tours, it was Viad's M&E group that spurred company growth in the fourth quarter, with M&E full-year revenue finishing at $32.4 million, a 3.4% increase from a year earlier. By contrast, Viad's T&R group faced declines of 6.9%, ending the year with $8.3 million.
T&R's revenue decrease is largely due to renovation work on the Banff Gondola in Canada, a major attraction at Banff National Park in Alberta, according to Viad's annual report.
Unattractive exchange rates have hindered visits to the area, as well.
Shares of Viad trade at about $29 apiece, and the company has a market capitalization of $592.83 million.
Given the company's tumultuous fourth quarter, the risk of purchasing the stock is fairly high. However, in January, Viad acquired Maligne Tours, which it anticipates will provide about $5 million in T&R revenue for the upcoming year.
2. Lindblad Expeditions (LIND) - Get Report
Beginning as an exotic travel company with a fleet of ships all its own, Lindblad partnered with National Geographic in July to leverage the latter's brand and network of specialists, scientists and photographers. The merger pushed Lindblad into the public market, and the company has since seen peaks and declines, especially over the past year.
Nonetheless, Lindblad's 2015 third-quarter report showed a steady increase in revenue.
Tour revenue generated $46.5 million, a 3.8% increase year-to-year. The climb is mainly due to a rise in ticket revenue since Lindblad began offering more frequent voyages.
Trading at just $10 a share, the luxury stock is a lower-risk buy than Viad. 
3. Inspirato with American Express (AXP) - Get Report
Backpackers search for affordable apartments on Airbnb, but luxury travelers search for villas and grand mansions on Inspirato.
Although not officially a public company, Inspirato partnered with specialty finance giant American Express in 2013, and investors can get limited exposure to the company by investing in American Express stock. Through the partnership, the members-only club is able to provide unique offers and discounts to American Express cardholders looking to book reservations within Inspirato's network of residences.
American Express reported fourth-quarter net income of $899 million, a 36% decrease from $1.4 billion a year earlier, or $1.39 a share, down from 89 cents a year earlier. 
The stock trades at about $57 a share.
At the end of last month, Inspirato announced the addition of 65 new destinations, the largest portfolio expansion in the company's history. Inspirato also confirmed a new partnership with LG Electronics in June under which that company supplied 22 select Inspirato residences with its new Curved OLED TV.
Both these business moves suggest that Inspirato is continuing to expand its brand and may be inching closer to a time when it will officially trade publicly, especially given its relationship with two public companies.
Makena Owens contributed to this article.
This article is commentary by an independent contributor. At the time of publication, the author held no positions in the stocks mentioned.