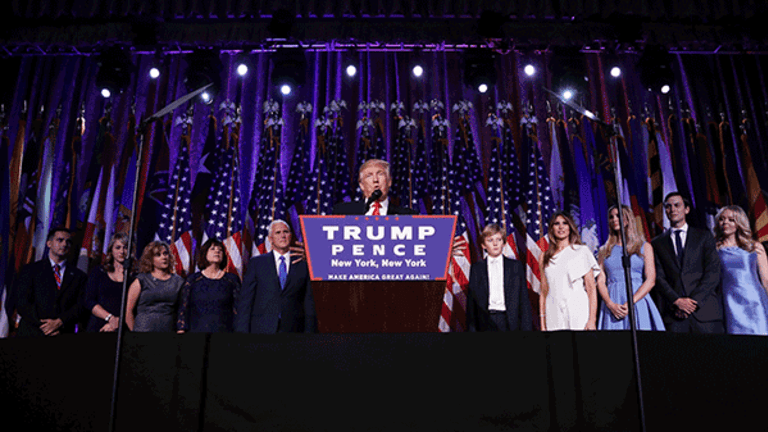 3 Economic-Related Things to Watch for During a Trump Presidency
Dodd-Frank, the choice of economic advisers and Federal Reserve transparency could be the first of many changes.
On Jan. 20, President-elect Donald J. Trump will be sworn in as the 45th president of the U.S., which will officially authorize him to introduce some significant changes to the existing economic and trade policy landscape.
With the full support of the unified Republican-controlled Congress, this could mean some big reforms, many of which form a part of the GOP platform and are featured on his new presidential transition website, greatagain.gov.
Although Trump's suggested economic plans, on the whole, have been vague, he has talked about massive tax cuts and increasing spending on defense and infrastructure.
Many people have deeply criticized his economic plans with The Economist saying, "The picture of Trump world is far darker for those outside the rich world than within it. Yet within, it is dark enough." 
But his lawyer, Michael Cohen told CNN that Trump should be given a fresh start.
"Wait to see before you make your decision," Cohen said.
Here are three to watch for under a Trump presidency.
1. The Dodd-Frank Act
The 2010 Dodd-Frank Act that became law under the Obama administration could be one of the first financial reforms that the Republicans introduce under a Trump presidency. The law was designed to address the issues of the 2008 financial crisis and reduce the power of big banks so that risky bets on customers' money could be avoided.
On Trump's website, he said that Dodd-Frank has done little for the working class and may have been a reason for the disappearance of community banks.
The dismantling of Dodd-Frank would be carried out by the financial services policy implementation team, which will "replace it with new policies to encourage economic growth and job creation."
Democrats and Republicans strongly disagree on the Consumer Financial Protection Bureau, which is a crucial part of the law. Republicans think that the CPFB is a "rogue agency."
The CFPB recently garnered attention when it finedWells Fargo $185 million for unlawful sales practices. 
Wells Fargo is a holding in Jim Cramer's Action Alerts PLUS Charitable Trust Portfolio. See how Cramer rates the stock here. Want to be alerted before Cramer buys or sells WFC? Learn more now.
Dismantling Dodd-Frank could also mean reinstating the Glass-Steagall Act, which is part of the GOP's platform, though it isn't on the website. The Glass-Steagall Act of 1933 prohibited commercial banks from engaging in high-risk activities but was repealed under the Clinton administration in 1999.
Getting rid of Dodd-Frank could boost the profitability of financial institutions because the law requires banks to hold more capital, and compliance costs have been costly for smaller banks.
Many banking industry bigwigs have criticized Dodd-Frank, including JPMorgan Chase Chief Executive Jamie Dimon.
2. The Economic Team
Among other expected changes under a Trump administration could be his choice of economic advisers, who will likely include a lot of Wall Street honchos.
These could include advisers during the campaign who may have contributed to his victory. That list includes economist Stephen Moore of the Heritage Foundation who also founded Club for Growth, a group that spent $23,374,741 this year in federal elections, and hedge fund billionaires such as John Paulson who reaped huge profits on Wednesday after Trump was elected.
A clearer picture of who will form Trump's economic team will reflect future policies, but the Republican Party has always favored fewer regulations and lower taxes, so there should be few surprises.
More surprisingly, during his victory speech, he spoke about rebuilding infrastructure.
"We're going to rebuild our infrastructure, which will become, by the way, second to none. And we will put millions of our people to work as we rebuild it," Trump said.
3. The Federal Reserve
Although the Trump transition website doesn't discuss the Fed, uncertainty surrounds the central bank, which is expected to raise interest rates next month. 
In the past, Trump has criticized Fed Chief Janet Yellen for being political and condemned her for keeping rates too low.
The Republican Party platform has called for a more transparency in the Fed's role.
The party intends to achieve this through legislation that will allow an annual audit of rates to keep the Fed "insulated from political pressures."
So far, the Fed remains "independent within the government,"  though ultimately accountable to Congress and the American people. Two of its five board members are scheduled to end their terms in 2018.
This article is commentary by an independent contributor. At the time of publication, the author held no positions in the stocks mentioned.