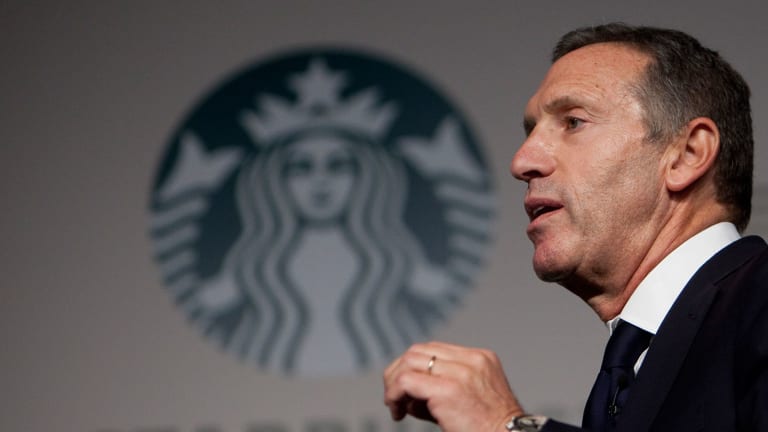 Starbucks Just Gave Big Raises to 150,000 of Its Workers
The coffee giant is planning several major changes to how it compensates employees in an effort to attract and retain talent.
Starbucks (SBUX) - Get Free Report is moving quickly to silence concerns among employees over slashed hours and poor working conditions. On Monday, the coffee giant unveiled several changes to how it compensates employees, including raises of at least 5% for the more than 150,000 employees and store managers at its company-owned locations in the U.S.
"Every day, I strive to build the kind of company that my father never had a chance to work for, one that not only cares for its people but gives them opportunities to be their best selves," wrote Starbucks Founder and CEO Howard Schultz in a 1,029-word missive to employees that was also littered with references to recent shootings in the U.S.
The compensation changes, which will likely prove costly to Starbucks' bottom line in the near term, appear to be a necessary evil. They come on the heels of a Starbucks barista's petition complaining the company has cut working hours in its stores to the point of "gross underemployment" for workers. Starbucks recently revealed that it plans to increase the price of some of its drinks by as much as 30 cents starting on July 12. 
TheStreet takes a brief look at some of the costlier measures Schultz has set in motion, which are in addition to promises to allow more freedom with the dress code and enhancements to how workers can select their healthcare coverage. 
1.Raises for Many Workers
Effective Oct. 3, all employees in U.S. company-operated stores will receive an increase in base pay of 5% or greater. Starbucks says the range of increase will be determined by geographic and market factors. The company has over 150,000 employees at some 7,670 company-operated locations in the U.S. The raises will be effective on Oct. 3.
Employees at Starbucks over 4,900 licensed stores in the U.S. appear to be out of luck.
2. More Stock Awards
Starbucks will be doubling the annual Bean Stock award for employees who reach two years of continuous service with the company. Created in 1991 as a way for employees to share in Starbucks' growth, the Bean Stock program grants restricted stock units (RSU) that convert into shares of Starbucks stock after a specific period of time has passed. For each RSU, an employees gets one share of Starbucks stock.
Schultz said the combination of raises and the additional stock awards changes will result in compensation increases between 5% and 15%.
3. Potentially More Hours For Workers
Schultz didn't specifically commit to granting workers X number of hours on a weekly basis. But he did suggest Starbucks will look to improve the number of hours employees get each week.
"While we have made progress over the years in providing more stability and consistency in scheduling, our field leaders are committed to make every effort to help you meet your specific scheduling needs especially when it comes to ensuring your benefits eligibility going forward," said Schultz. "To that end, please know that you have my personal commitment that we will work with every partner to ensure you have the hours you need."
Starbucks is a holding in Jim Cramer's Action Alerts PLUS Charitable Trust Portfolio. Want to be alerted before Cramer buys or sells SBUX? Learn more now.