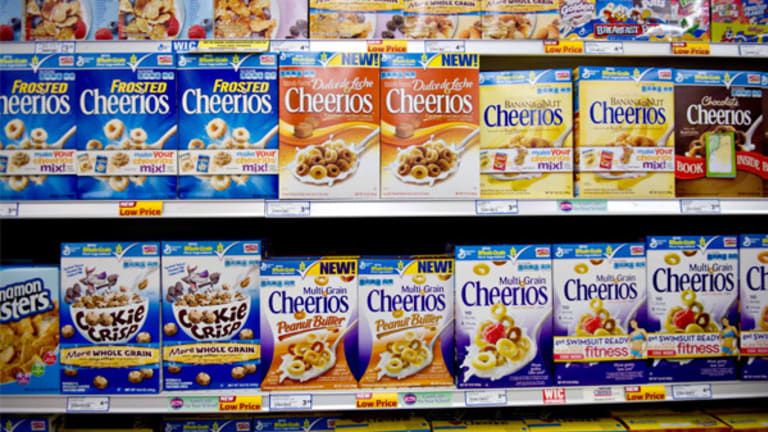 Publish date:
3 Consumer Goods Stocks That Offer High Dividends and Are Poised to Grow
Cal-Maine Foods, Unilever and General Mills are good plays during the current turbulent markets.
Cal-Maine Foods, Unilever and General Mills are good plays during the current turbulent markets.
Editors' Pick: Originally published Feb. 22.
Amid the gloom enveloping global markets, some respite has come from positive U.S. economic data. The latest data on manufacturing found that the economy is stabilizing and the effects of a strong dollar and commodity prices are weakening.
Factory output showed a half a percent increase in January, versus a 0.2% decline in the previous month. Factory output comprises 75% of overall production, and the biggest contributor to its improved performance is consumer goods output, which rose 1.6% after falling four consecutive months.
While inflation data is still far from the U.S. Federal Reserve's2% target, which would display robust demand growth and consumer spending, the news is largely promising.
Here are three consumer goods stocks you should catch before they take off. In these days of 1% CDs, it's tough to find a yield worth getting excited about. But these stocks belong in your dividend portfolio.
Cal-Maine Foods (CALM) - Get Report
This producer of eggs commands an industry-leading 23% of the shell egg production market. It is poised to benefit from rising demand for cheap, wholesome foods.
According to a report by the U.S. Department of Agriculture (USDA), per capita annual egg consumption in the U.S. has risen from 249 eggs in 2009 to 263 eggs in 2014. The renewed focus on eggs' nutritional benefits, and less concern about their impact on cholesterol, have spurred demand for the specialty egg segment. That segment comprises organic, free-range and vitamin-enriched eggs, among others. Specialty eggs accounted for 27.2% of Cal-Maine's sales in 2015.
Moreover, Cal-Maine controls the entire spectrum of operations from manufacturing the feed for its hens to packaging eggs. This helps the Jackson, Miss.-based company to maintain its operating margins, which stood at 26.3% on a trailing 12-month basis compared to the industry average of 9.6%
The stock has already gained 2.8% this year, compared to the 4.3% drop in the S&P 500. The 6.4% dividend yield on the stocks widens the scope for total returns, making it an attractive bet. The dividend payout ratio stands at 26.4%, allaying fears of the company sustaining its dividend.
Going forward too, the stock is expected to see significant upside of 20% from current levels, with analysts setting a 12-month price target of $59 for the stock. 
data by
Unilever (UL) - Get Report
Despite several challenges, Unilever outperformed markets in 2015. Revenues beat consensus estimates by 2.3%, and earnings a share also surpassed estimates by approximately 2.5%. This occurred despite tailwinds in the form of a slowdown in emerging markets, a major segment for Unilever.
However, Unilever is likely to benefit from weak commodity prices which will help improve its operating margins, currently on par with the industry at a little over 14%. Also, irrespective of economic conditions, consumption of personal care and hygiene products like soaps are recession proof.
The company has managed to grow its dividend through the difficult times since 2012, raising confidence that when demand growth increases, investors will benefit from holding it. Its dividend yield currently stands at 3.07%, making it a smart high-income play now.
At a forward price-to-earnings (P/E) ratio of 19.68x, Unilever is also slightly cheaper than its peer Procter & Gamble at 20.23x. The gap is wider with its historical P/E of 22.48, which put it at a discount currently.
This year, analysts expect earnings growth at 3.8% versus 2.3% for the industry.
General Mills (GIS) - Get Report
Like Cal-Maine, General Mills is banking on the health food trend.
The company, which gets high marks for building its $2.3 billion cereals business, will introduce three organic cereals approved by the USDA under the Annie's brand which will not contain artificial colors or flavors and no high fructose corn syrup. General Mills acquired Annie's Homegrown for $820 million in 2014 to increase its organic and natural foods offerings, and considers it as one of the company's major growth engines.
Last year, the company reaped the benefits of making its popular Cheerios brand gluten-free with sales of such varieties growing 4%-5% year-over-year in the last quarter of 2015. By introducing more healthy variants of cold cereals, General Mills seems to be on the right track.
The company's margins have been encouraging with a trailing 12-month (TTM) operating margin of 14.8% that's far ahead of the industry average of 9.6% and TTM net margin more than double the industry at 8.6%. Its TTM return on equity at 28.4% has dwarfed the industry average of 8.1%.
At $58 that the stock is currently trading at is close to its 52-week highs, and yet General Mills boasts a noteworthy dividend yield of 3.1%. The company has had a robust track record of increasing dividend growth since 2004, making it a reliable high total return stock.
Analysts' consensus via Thomson Reuters projects earnings to grow at 5.62% annually over the next 5 years, outperforming the S&P 500's 4.95% figure.
11% yields, zero taxes:
If you'd like to learn about a group of high-quality, high-yield income opportunities that are far too ignored by most investors, I urge you to check out this free presentation: 11% Yields and No Taxes. Inside, you'll learn about one of the greatest gifts to income investors in the last century, and how you can begin taking advantage of it today for your portfolio. Click here now to learn more.
This article is commentary by an independent contributor. At the time of publication, the author held no positions in the stocks mentioned.