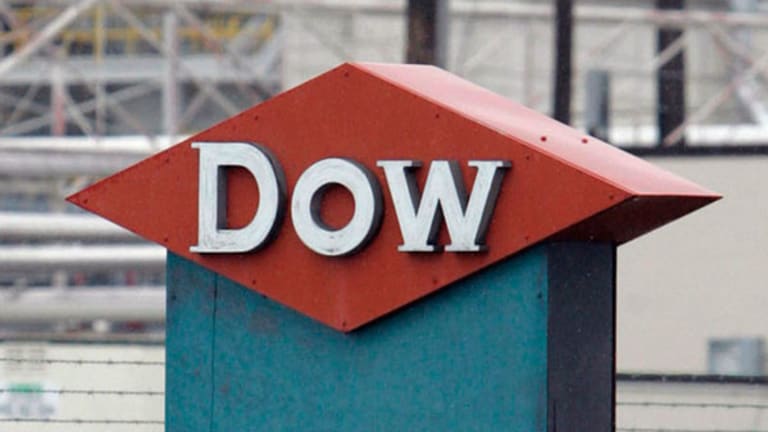 Publish date:
3 Chemical Stocks That Cast a Dismal Shadow in the Third Quarter
These leading chemical companies should be profiting from the economic recovery, but they're facing headwinds that are simply too powerful. Here's why you should avoid all three stocks.
These leading chemical companies should be profiting from the economic recovery, but they're facing headwinds that are simply too powerful. Here's why you should avoid all three stocks.
The economic recovery and rising consumer activity should be fueling demand in the chemical industry. That's what the textbooks say, anyway. But surprisingly, the latest earnings reports from the major chemical makers tell a different story.
What went wrong? We take a look and explain why these three big-name stocks should be avoided right now, until conditions improve.
data by
1. E.I. du Pont de Nemours and Company (DD) - Get Report
For a company that was originally a gunpowder mill, DuPont sorely missed its firepower in the latest quarter. Third-quarter operating earnings-per-share were $0.13 versus $0.39 in the previous year.
The results reflected macro challenges including currency; industry-wide challenges (e.g. agriculture, particularly in Brazil); and continued weakness in emerging markets and oil and gas sectors, impacting the company's safety and protection segment.
DuPont posted a 46% year-over-year drop in quarterly profits. Net income attributable to DuPont fell to $235 million, or 26 cents per share, in the third quarter ended Sept. 30, from $433 million, or 47 cents per share, a year earlier. Net sales fell 17.5% year-over-year to $4.87 billion.
DuPont is now led by Edward Breen, after chairwoman and CEO Ellen Kullman exited suddenly, after a protracted proxy battle with activist investor Nelson Peltz. Since then, on a global consolidated sales landscape, the company has faced declines almost everywhere.
U.S. and Canada sales were down 9% year over year in, as the company's product mix took a massive beating. In reality, the U.S./Canada plummet is the lowest among all its operating geographies. In EMEA -- Europe, Middle East & Africa -- revenues fell 19% year-over-year as the currency effect wreaked havoc. In the Asia Pacific region, sales plummeted 14% due to volume issues. In Latin America, currency and volume both reared their ugly head and as a result sales tanked 33%.
As far as product segments go, things were just as dark, with a 3% slip in the industrial bio-sciences arena being the lowest.
Agriculture sales fell 30%, followed by 15% each in performance materials and safety and protection (its biggest revenue earner). What's more, operating earnings dipped in 4 out of 7 segments.
Clearly the light at the end of the tunnel is pretty far from DuPont at this time.
data by
2. Dow Chemical Co. (DOW) - Get Report
The Andrew Liveris-led Dow Chemical reported earnings per share of $1.09, or operating earnings per share of $0.82. This compares with its earnings of $0.71 per share in the year-ago period, or earnings of $0.72 per share on an operating basis.
However, sales were at $12 billion, down 16 % year over year driven by pricing and currency challenges. Third quarter volumes rose 2%, excluding the impact of divestitures and acquisitions.
Gains were reported in most operating segments, excluding agricultural sciences where sales were impacted by lower crop commodity prices in Latin America, high channel inventories and significant currency headwinds.
As with DuPont, the company's Agri-segment was weak as well. As a segment, performance materials and chemicals reported third quarter sales of $3.1 billion, down from $3.9 billion in the year-ago period.
Even performance plastics was down, reporting third quarter sales of $4.7 billion, down from $5.7 billion in the year-ago period.
How did the earnings pan out against analysts' expectations? The $11.94 billion sales figure missed estimates of $12.38 billion in the third quarter. This is the fourth quarter on the trot that Dow Chemical failed to match sales expectations.
data by
3. Eastman Chemical Company (EMN) - Get Report
Eastman Chemical is much smaller when compared to Dow and DuPont. However, the malaise was evident all across the sector -- and didn't leave Eastman behind either.
Third quarter earnings, excluding non-core items, of $1.84 per diluted share for the third quarter of 2015 were lower than $1.89 per diluted share for the third quarter a year ago. The top line showed a semblance of good health, but that's hardly the complete picture.
Sales revenues for the third quarter 2015 were at $2.4 billion, a 1% increase compared with the third quarter for 2014, but this was primarily due to incoming sales revenues from the Taminco Corp. and Commonwealth Laminating & Coating Inc., businesses acquired in 2014.
Foreign exchange effects were a major culprit here, as was the case with the bigger players. Lower selling prices, particularly in the specialty fluids and intermediates and additives and functional products segments did not help either. In fact, three out of five segments logged lower revenues than the last year.
It's been a rough patch for all these companies and the tough times won't end in 2016. For now, avoid these stocks.
However, if you're looking for a small-cap stock with outsized growth potential that you should buy now, click here.
This article is commentary by an independent contributor. At the time of publication, the author held no positions in the stocks mentioned.