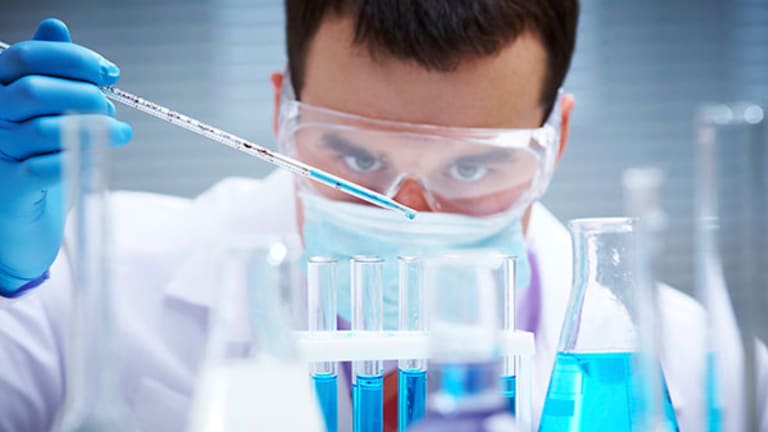 It's been one of the worst starts to the year ever for the global stock markets. If stock losses are making you feel woozy, we've found a cure: three exchange-traded funds (ETFs) in the biotechnology sector that are actually racking up healthy double-digit gains while the broader indexes tank.
These ETFs are even beating the broader biotech market. Year to date, the NASDAQ Biotechnology Index is down 22.97%, dampened by the same fears that are roiling other sectors: plunging energy prices, economic disarray in China, and signs of slowing growth around the world.
But amid this otherwise dreary scenario, several biotech/pharma companies are now benefiting from an increasing number of drug approvals, new product launches, promising pipelines, and limited disruption so far from the cost-containment strictures of Obamacare. In an indication of increased biotech innovation, the U.S. Food and Drug Administration (FDA) approved 45 new drugs in 2015, the most since 1996 and four more than in 2015.
Much of the surge in new drug approvals last year derived from advances in "biologics," which are manufactured from a living cell to create a complex mixture of molecules. Conventional prescription drugs typically are made by combining chemical ingredients. A major impetus behind biologic development is the race to cure rare and hard-to-treat diseases, as reflected by the global health emergency this month over the deadly Zika virus.
The trick in making money from these trends is to find the best biotech stocks, which is what our three ETFs do for you. Here's a closer look at our choices, in ascending order of risk:
data by
SPDR S&P Biotech ETF (XBI) - Get SPDR S&P BIOTECH ETF Report
With net assets of $2.26 billion, this fund seeks results that correspond to the total return performance of the S&P Biotechnology Select Industry Index. As such, XBI is more diversified that our other two funds. Year to date, XBI is up 13.58%.
Top holdings include Agios Pharmaceuticals, Cepheid, Medivation, Puma Biotechnology, and Ionis Pharmaceuticals.
Expense ratio: 0.35%.
data by
iShares Nasdaq Biotechnology ETF (IBB) - Get iShares NASDAQ Biotechnology ETF Report
With net assets of $8.05 billion, this fund seeks to track the investment results of the NASDAQ Biotechnology Index. However, IBB is currently beating the fund and is up 11.56% year-to-date (YTD).
Top holdings include some of the most respected names in biotech: Celgene, Biogen, Amgen, Gilead Sciences, and Regeneron Pharmaceuticals.
Expense ratio: 0.48%.
data by
ALPS Medical Breakthroughs ETF (SBIO) - Get ALPS Medical Breakthroughs ETF Report
With net assets of $168.21 million, this is the smallest and riskiest (but the most exciting) of our three biotech ETFs.
The fund seeks results that correspond to the performance of its underlying index, the Poliwogg Medical Breakthroughs Index, which is comprised of small- and mid-cap stocks of biotech and pharmaceutical companies that have one or more drugs in either Phase II or Phase III FDA clinical trials.
The fund's holdings include the biotech sector's most entrepreneurial pioneers. They have a market cap of not below $200 million and not above $5 billion. The earlier-stage firms in SBIO devoted about 2.7% of market cap on research and development, 29% higher than the R&D spent by components of the NASDAQ Biotech index.
SBIO has posted a bear-killing gain YTD of 27.86%, compared to the S&P 500's meager gain of 1.25%.
Top holdings include Seattle Genetics, Dyax, Anacor Pharmaceuticals, Neurocrine Biosciences, and Ultragenyx Pharmaceutical.
Expense ratio: 0.50%.
We've found a small-cap biotech "rocket stock" that's about to take off. UCLA researchers are stunned by a Nobel Prize-winning cancer breakthrough that's proven in clinical trials to eliminate lethal forms of cancer with a single dose. One small company owns the patent to this life-saving treatment. Now trading at about $5 a share, the stock of this biotech innovator is projected to surge 2,700% on an imminent FDA announcement. Learn the details now, before the regulatory decision happens. To download the full report, click here.
John Persinos is editorial director and investment analyst at Investing Daily. At the time of publication, the author held no positions in the stocks mentioned.