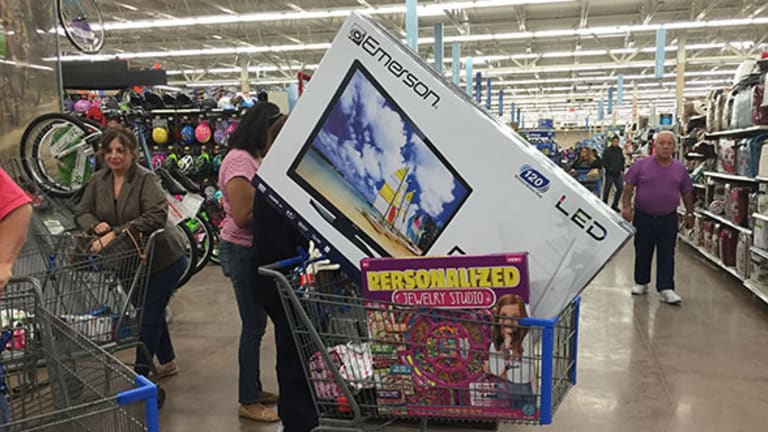 3 Biggest Takeaways From Walmart's Lackluster Earnings Report
The world's largest retailer missed U.S. sales estimates and reiterated weak guidance for the year, sending its stock spiraling.
Walmart's (WMT) - Get Walmart Inc. Report stock price is being rolled back following a sluggish holiday season.
Shares of the world's largest retailer slumped 4.4% in pre-market trading Thursday as sales in the U.S. missed estimates and execs reiterated expectations for a steep profit decline for 2016. Walmart's U.S. same-store sales rose 0.6% during the fourth quarter, falling short of the company's guidance for "around" a 1% increase. The sales shortfall is particularly disappointing in light of plunging gas prices during the holidays that helped lift consumers' disposable income, as well as an improved shopping experience at Walmart's huge stores.
For the full year, Walmart sees earnings in a range of $4.00 to $4.30 a share, which would represent a 6% to 12% year over year decline. The outlook was retained from Walmart's guidance shared at an investor event on Oct. 14.
Walmart did manage to beat overall profit forecasts for the fourth quarter. Excluding one-time items, earnings came in at $1.49 a share, surpassing estimates for $1.46 a share. Still, the earnings beat may not have been top quality -- Walmart spent $2.4 billion to repurchase 39 million shares in the fourth quarter. The maneuver lowered Walmart's share count by 1.4% year over year, thus serving to prop up earnings per share.
TheStreet takes a brief look at the three top takeaways from Walmart's results.


Amazon owned Walmart this holiday season.
1. E-commerce sales growth lags Amazon.
Walmart's global e-commerce sales grew approximately 8% in the fourth quarter, cooling from a 10% growth rate in third quarter. For the year, sales grew 12%.
"We saw strong online sales in the U.S. on the big days from Thanksgiving through Cyber Monday, and nearly half of our customers bought their online orders on a mobile device -- but we have faced specific challenges in our largest e-commerce markets outside the U.S as economic softness in Brazil and China continued to weigh on growth, and we have been in a transition phase at [Chinese online grocer] Yihaodian since acquiring full ownership," said Walmart U.S. president and CEO Greg Foran on a pre-recorded earnings call.
Foran concluded, "We need more GMV (gross merchandise value) growth from our e-commerce businesses."
Meantime, Amazon's (AMZN) - Get Amazon.com, Inc. Report net sales for the fourth quarter and full year rose 22% and 20%, respectively.


Walmart pulled back on deep discounts for the holidays, and possibly lost customers.
2. Walmart U.S. sales miss may reflect a decision to raise prices.
Walmart acknowledged that while consumers benefited from cheaper gas during the holidays, its sales were held back due to price deflation for meat and dairy products. The company also blamed disappointing U.S. sales on warmer-than-normal weather early in the quarter that likely impacted sales of winter apparel), as well as delays in IRS tax refunds near the end of the quarter.
But part of the sales shortfall may have been self-inflicted.
"We made a strategic decision to sensibly pull back on short-term, deep price investments, as we looked to simplify the experience for both our customers and associates and shift back towards a more EDLP (everyday low price) focus," said Foran. Less compelling prices on key items for Walmart may have sent cost-conscious shoppers elsewhere for the holidays.


Walmart is still opening stores in America.
3. Walmart still plans to open plenty of new stores in the U.S.
Walmart recently concluded the closure of 154 under-performing U.S. stores. The company noted, though, that employees that saw their stores closed are finding jobs at other Walmart locations. "I'm pleased, but not surprised, that we have already found open positions for more than half of the impacted associates in the U.S., and we're moving aggressively to identify other open positions for the remaining associates who are interested in transferring to new locations," said Walmart CEO Doug McMillon on the call.
Despite its appetite to prune its store base, Walmart still has a desire to open new stores. This year, Walmart plans to open 50 to 60 super centers and 85 to 95 smaller Neighborhood Markets. It will also expand its online grocery ordering program to more stores. Currently, it's available in about 150 stores in 20 U.S. markets.