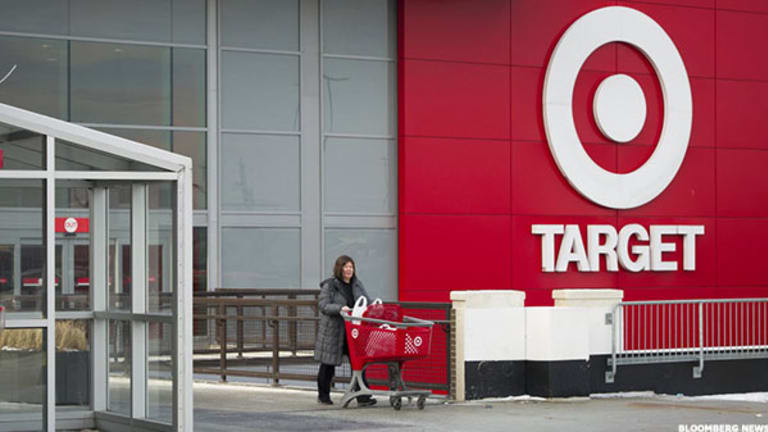 Target Reports Solid Quarter, but Shares Still Get Hammered
Target posted decent third-quarter results, unlike many of its rivals, but there was one big area where it missed expectations.
Updated to include additional comments from Target's earnings call.
Target (TGT) - Get Target Corporation Report  served up some solid results for its third quarter, especially compared to some of its rivals, but investors apparently wanted more. 
On Wednesday, the Minneapolis-based retailer reported adjusted earnings of 86 cents a share, right in line with Wall Street forecasts and toward the higher end of Target's own guidance for 79 cents to 89 cents a share. Same-store sales rose 1.9%, beating estimates for a 1.7% increase and better than the 1.5% gain seen at Walmart U.S.
For the full year, Target now anticipates earnings of $4.65 to $4.75 a share, up from $4.60 to $4.75 a share previously. "Consumers continue to spend cautiously, but I feel confident in the holiday season," said Target chairman and CEO Brian Cornell on a call with analysts. 
Shares rose about 2% in the premarket, but were down as much as 6% in morning trading on Wednesday.

TheStreet takes a look at the three top takeaways from the quarter.
1. Target outperforms during a challenging third quarter for retailers.
Apparel retailers such as Macy's (M) - Get Macy's Inc Report , Nordstrom (JWN) - Get Nordstrom, Inc. (JWN) Report and Dick's Sporting Goods (DKS) - Get Dick's Sporting Goods, Inc. Report  all recently reported lackluster third quarter sales due in large part to consumers not buying cold weather apparel amidst unseasonably warm weather. Moreover, consumers have been continuing to invest in their homes, making frequent purchases at Home Depot (HD) - Get Home Depot, Inc. (HD) Report  at the expense of companies selling apparel and accessories.
The sluggish results and dour outlooks for the broader retail sector have weighed heavily on retail stocks of late. The SPDR S&P Retail ETF (XRT) - Get SPDR S&P Retail ETF Report has plunged about 5% in the past month compared to a 2% gain for the Dow Jones Industrial Average.
Target bucked the trend in the third quarter, with its 1.9% same-store sale increase besting a 3.6% decline for Macy's and a 0.9% increase for Nordstrom. Despite the warmer weather, Target's apparel sales, which represent about 20% of its annual sales, managed to rise 3%.
"We are working hard to differentiate ourselves," said Target CFO Cathy Smith in response to a question from TheStreet. Smith, who joined Target in September from prescription drug provider Express Scripts where she served as CFO, explained that investments in areas such as mannequins and better customer service are helping to attract customers that are not shopping at malls.
2. Target's online sales growth misses expectations.
Acknowledging more work needs to be done to improve its online shopping experience, and warmer weather hurting apparel sales, Target's third-quarter online sales growth was below its expectations. Online sales rose 20% year over year, falling short of its longer-term guidance for 40% growth. In the second quarter, online sales increased 30%, missing company forecasts as well.
Rival Walmart (WMT) - Get Walmart Inc. Report also had a more challenging quarter online. "E-commerce sales and traffic were softer than we would like," said Walmart U.S. CEO Greg Foran on a conference call.
3. Target may have more U.S. stores left to close.
Similar to most retailers, Target has been closing underperforming stores in the U.S. the past few years. The closures have mostly been the retailer's smaller-format general-merchandise stores. In February of this year, the company shuttered 11 locations. By the end of January 2016, the company anticipates closing another 13 locations.
When asked if more store closures were likely over the next 18 months, Smith left the door open. "It's good discipline to continually evaluate the store portfolio," said Smith, adding that closing underperforming stores frees up money to invest in new, potentially more lucrative areas such as online. Target has 1,805 U.S. stores in operation.
One area those savings will be spent is to remodel stores.  In early 2016, Target will begin remodeling 25 stores in the Los Angeles area. The upgraded stores are expected to receive a broader array of grocery items, such as organic food and craft beers. "We have to start with getting the assortment right," said Cornell when asked if the enhanced shopping environment for groceries will eventually be rolled out chain-wide.