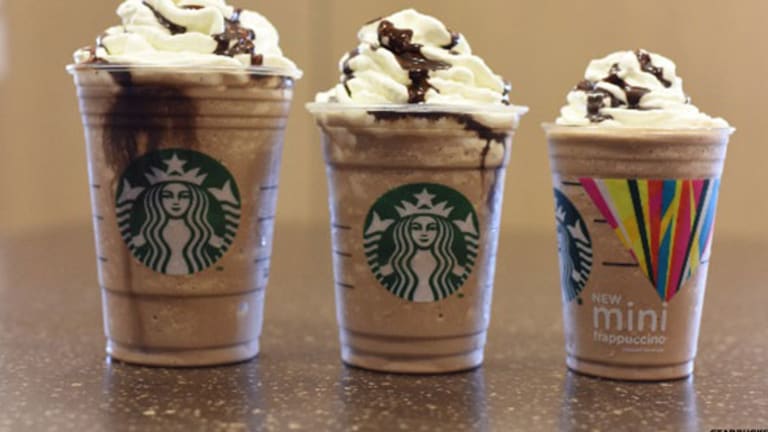 After sending Starbucks (SBUX) - Get Starbucks Corporation Report shares up 53% this year, Wall Street's expectations for the coffee giant are high.
On Thursday, Starbucks gave investors an impressive set of numbers to digest, reporting fourth quarter earnings of 43 cents a share, an increase of 16% year over year, and right in line with forecasts. Global same store sales rose 8%, trumping forecasts for 6.9% growth, led by a 9% increase in the U.S. The company's chairman and CEO Howard Schultz called the global same store sales growth "stunning."
The company did disappoint investors slightly with its outlook, though. For the holiday quarter, Starbucks said it expects earnings of 44 cents to 45 cents a share, while analysts were anticipating 47 cents a share. Starbucks guided to fiscal year 2016 earnings of $1.87 to $1.89 a share, relatively in line with estimates for $1.88 a share.
Shares fell in after-hours trading on Thursday, but were trading up around 1% in early trading on Friday. 
"Starbucks performance in the fourth quarter reflected a continuation of the pattern of accelerating momentum we saw with each successive quarter of fiscal 2015," said Starbucks CFO Scott Maw.
Here are the three main takeaways from Starbucks' most recent quarter.
Starbucks U.S. sales buck what many rivals are seeing.
In the U.S., Starbucks' 8% same-store sales increase matched a similar gain achieved in the third quarter. The coffee powerhouse realized a 4% increase in the number of transactions, with average ticket prices rising faster at a 5% pace.  

Starbucks kept packing people in during the quarter, while other restaurants struggled.
Starbucks' results from the quarter were in stark contrast to those of many others in the restaurant industry, who experienced slowing sales growth exiting the summer as consumer confidence waned. Third quarter U.S. same-restaurant sales at Dunkin' Brands (DNKN) - Get Dunkin' Brands Group, Inc. Report namesake restaurants increased just 1.1%, down from a 2.0% gain in the second quarter, as traffic to its U.S. locations fell 0.7%. At Chipotle (CMG) - Get Chipotle Mexican Grill, Inc. Report , same-restaurant sales rose 2.6% for the third quarter, marking a slowdown from a 4.3% gain delivered in the second quarter.
Investing more in its employees appears to be paying off.
Starbucks highlighted that investments in its people such as affordable healthcare plans, higher hourly wages and free college tuition are helping to spur stronger sales. In other words, satisfied employees are likely working harder at Starbucks to up-sell customers to new food offerings and more quickly making drinks to keep customers happy.  
"We are seeing a direct correlation between reduced partner [employee] attrition and our business results -- our comp sales results are strongest where we are having our greatest success in reducing turnover," said Schultz. 

Starbucks employees played a key role in serving up strong U.S. sales.
The Starbucks founder also noted the company is seeing strong employee retention, while others in the restaurant industry continue to struggle to find and retain skilled labor. For example, burrito king Chipotle had to hold a national hiring day on Sept. 9 in hopes of securing 4,000 new workers.
"We still have loads of applicants per position, it used to be 60 plus applicants per every single open position three to five years ago -- that number has dropped a little bit, but it's still about 25 or so that apply for every open position," explained Chipotle co-CEO Monty Moran in an interview on labor challenges being faced by the restaurant industry.
Even with a slowing economy and volatile stock market, the Chinese still dig Starbucks.
Starbucks now operates about 1,800 locations in 95 cities in China, and plans to have 3,500 spots open by 2019. During the quarter, the company opened 135 new restaurants in the country. And by most accounts, Chinese consumers continued to pack it into Starbucks to buy frappes and food despite a slowing economy and troubling summer for the Chinese stock market.

Despite economic woes, the Chinese still visited Starbucks frequently during the summer.
Same-store sales at Starbucks China, Asia Pacific segment rose 6% in the fourth quarter. According to Starbucks execs, same-store sales growth in China "accelerated month to month" and continued to gain steam into October. The China, Asia Pacific segment accounts for about 12.5% of Starbucks' global sales. 
"There is no systemic slowdown in China," said Starbucks China group president of China and Asia Pacific John Culver to analysts. Maybe so, but one development from Starbucks China warrants watching on the part of investors moving forward. The number of transactions from the company's China, Asia Pacific segment during the fourth quarter rose 6%, cooling from a 10% increase in the third quarter.