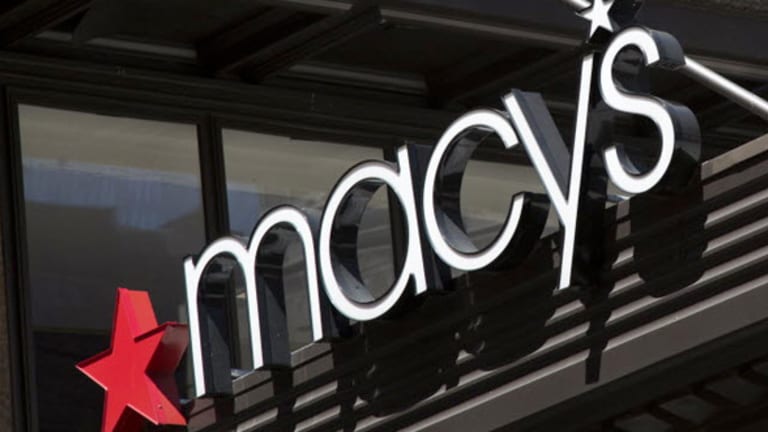 Macy's CEO: Expect Some Real Estate Deals This Year
Macy's reported better-than-expected fourth quarter earnings, sending its stock higher on Tuesday.
Updated to include comments from Macy's chairman and CEO Terry Lundgren.
Macy's (M) - Get Macy's Inc Report showed a little magic in capping off a challenging year on a high note.
On Tuesday, the department store operator -- which battled tepid consumer spending and calls to sell off real estate last year -- reported much better-than-expected fourth quarter earnings. Adjusted for one-time items, Macy's delivered earnings of $2.09 a share compared to Wall Street forecasts of $1.89 a share.
The result did fall short of Macy's updated guidance shared on Jan. 6 of $2.18 to $2.23 a share, however. Same-store sales for the quarter fell 4.3%, slightly better than guidance for a 4.7% drop.
Shares of Macy's rose about 2.3% in early morning trading Tuesday.
Macy's has Mother Nature to partly thank for its sales lift, as many states were walloped by several major snowstorms in January.  The return of cold weather helped spur sales of items such as sweaters and related accessories. 
Consumers snatching up winter clothes was also encouraging from an economic standpoint amid plunging stock markets this year and rising fears of a surprise U.S recession. Macy's chairman and CEO Terry Lundgren told TheStreet in a Jan. 19 interview that he "does not see a recession" in the U.S.
And he is sticking to that forecast more than a month later.

Macy's CEO Terry Lundgren still does not expect a U.S. recession this year.
"I am having this conversation with my organization because many on our team, particularly those under 30 years old that work in the online business...they haven't actually been through these downturns before and I have, and so have many on my management team, Lundgren told TheStreet on Tuesday. "While each one looks a little bit different at the onset, the reaction is often similar by consumers -- each time it seems like the end of the world is coming for shopping, and each time that turned out to be not true as the consumer is resilient."
Lundgren added, "I think it's similar to the aftermath of the 2001 September 11 attacks and the 2008-09 financial crisis where in both cases, we saw a significant slowdown in consumer spending and then a gradual return in shopping, in particular with us."
TheStreet takes a glimpse at several of the top takeaways from Macy's results.


Sales on mobile devices surged for Macy's in 2015.
1. Macy's on the move with mobile enhancements.
According to Macy's, its sales via mobile devices more than doubled in 2015 and is now the fastest-growing component of its business. The company will be moving quickly in 2016 to capitalize on consumer interest to shop on smartphones and tablets.
Macy's will be adding natural language search capabilities for its app along with better product filters. Macy's says the enhancements are designed to make its app easier to use and improve conversion.


Macy's poised to do more real estate deals.
2. Macy's real estate is receiving interest.

In a bid last year to appease activist investors, Macy's announced that it was pursuing real estate transactions to enhance shareholder value. Macy's completed one such transaction with developer Tishman Speyer on Jan. 29.
And more deals may be on the way this year.
"Just floating the idea of interest out there has generated an excellent response," said Lundren, adding, "I think you will see some activity [this year], I can't predict when, though -- we were working on Brooklyn [a deal with Tishman Speyer] for over a year before we had a deal consummated."
Lundgren explained deals of this nature take time due to tax implications, the legal process and the need to get the required permits. The long-time Macy's CEO also took a small jab at activists who continue to push the company for real estate deals.
"The process is moving along very swiftly, and I think no one could criticize us for the speed in which this work is taking place -- they could, but they would be wrong," said Lundgren.


In the face of sluggish sales, Macy's will tighten its belt on expenses. 
3. Macy's continues to curtail spending.
Also in November, Macy's announced that its capital expenditures for 2016 would be "less than" $1 billion as it sought to improve its bottom line amid sluggish sales.
For 2016, Macy's now says it expects capital expenditures to reach $900 million, down about 18% from $1.1 billion a year ago. The benefit of the cuts appears in Macy's profit outlook for the year ahead. Macy's expects 2016 earnings of $3.80 to $3.90 a share, up from about $3.77 a share in 2016, despite total sales planned down 2%.
Macy's still has a target to reduce its annual expenses by about $500 million by 2018.