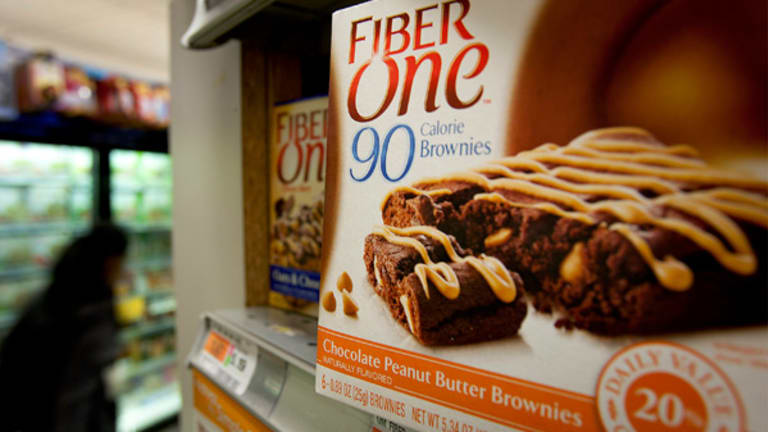 Has a For Sale Sign Been Placed on Some Big General Mills Brands?
General Mills gave investors a lot to digest in its latest earnings report.
General Mills gave investors a lot to digest in its latest earnings report.
Updated with comments from General Mills executives.
At least initially, investors are eating up the large volume of information General Mills (GIS) - Get Report just put on their plate.
Shares of the cereal and snack giant rose by as much as 2% by midday Wednesday as earnings for the fourth quarter ended May 29, adjusted for one-time items, fell 12% from the prior year to 66 cents a share. However, the result was far better than Wall Street forecasts for 60 cents a share as the company continues to benefit from cost-cutting efforts. Net sales declined 9% year over year to $3.9 billion, narrowly beating estimates for $3.86 billion.
TheStreet takes a brief look at what investors may be liking from General Mills' latest announcement.
Cost Savings Guidance Raised
General Mills raised its annual savings estimate from ongoing cost-cutting efforts to $600 million by fiscal 2018, up from a previous target of $500 million. One way the company plans to reach its new target is by slashing expenditures related to media promotion for some brands.
"We will intentionally move some of our advertising dollars over to merchandising to bolster our position in store (such as for yogurt), and will also rationalize some of the spend in our foundation businesses (see below) down by a high single digit," General Mills Chief Financial Officer Don Mulligan explained to TheStreet when asked about a projected high-single digit drop in media expense for fiscal 2017. General Mills will allocate a good bit of its media spending this year toward promoting faster growing cereal brands such as Gluten Free Cheerios and natural and organic products under the Annie's label. 
Outlooks Are Upbeat
In large part due to its cost cutting, General Mills sees earnings per share rising 6% to 8% in its current fiscal year (2017). For fiscal year 2018 the company expects earnings growth to accelerate to a low double-digit percentage.
Company Hints Some Businesses Could Be Shopped
General Mills said it's focusing its investments in faster-growing businesses in its cereal, snack bar, natural and organic portfolio, and yogurt, as well as brands such as Totino's hot snacks and Old El Paso Mexican products. Meanwhile, slower-growing categories such as Betty Crocker baking mixes, Progresso soup and others will see their SKUs (stock keeping units) reduced and an optimization in commercial spending. For these businesses, which the company refers to as "foundation," General Mills sees sales declining by mid-single-digit percentages in the current fiscal year. 
The reallocation of resources hints the company could shop these slower-growing brands, just as it did for its Green Giant frozen business last year. Execs downplayed that General Mills has put a for sale sign on its slower growing food brands.
"No, I don't think so -- clearly that's not our intention," said General Mills Chairman and CEO Ken Powell on whether the company has signaled to investors it wants to unload some brands. Continued Mulligan, "I wouldn't just jump to the conclusion these foundation brands mean we are thinking differently about our portfolio," adding, "They are equally profitable to our growth businesses, so they are still very much part of our core."