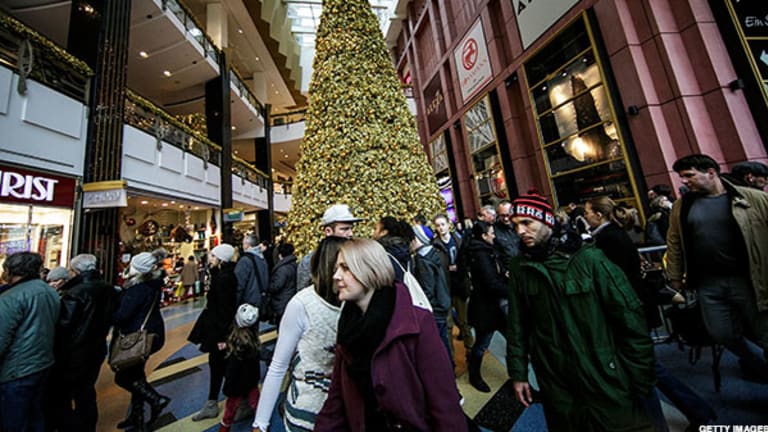 3 Big Stories to Watch For on Black Friday
With the huge shopping day almost here, here are some important stories for investors to track.
With Black Friday shopping about to commence, investors in the beaten-up retail sector best have their attention focused on three important stories.
According to the National Retail Federation (NRF), an estimated 135.8 million shoppers are expected to shop on Thanksgiving, Black Friday, Small Business Saturday or Sunday, up from the 133.7 million people that shopped in stores or online over the holiday weekend.
A promising start to holiday shopping would support generally optimistic assessments from forecasters on how the whole season will shape up. Based on the improved U.S. labor market and higher consumer confidence levels, Wells Fargoestimates that holiday sales will rise about 3.4% year over year, slightly below the NRF's forecast for a 3.7% increase. The NRF estimates the average U.S. consumer will spend $805.65 this holiday season, up about 0.4% from 2014.
Nevertheless, update predictions like these have not jibed with cautious stances from retail execs in recent weeks from the likes of department store retailer Macy's (M) - Get Macy's Inc Reportand videogame software outfit GameStop (GME) - Get GameStop Corp. Class A Report . Shares of the SPDR S&P Retail ETF (XRT) - Get SPDR S&P Retail ETF Report have fallen 2% over the past month, lagging the 1% gain for the Dow Jones Industrial Average.
TheStreet takes a look at three stories investors in the retail sector should be watching as the crowds bum rush stores and swamp websites.
1. How crazy do the discounts get?
Thanks to an abnormally warm fall across much of the country, consumers are in a prime position to score some great deals on winter apparel at Macy's, J.C. Penney (JCP) - Get J. C. Penney Company, Inc. Report , Target (TGT) - Get Target Corporation Report other apparel retailers as they take markdowns to clear merchandise that didn't sell in the third quarter. "The weather has not helped, with the warm temperatures experienced across the country -- our sales of cold weather merchandise, such as coats, sweaters, boots, etc. were significantly below last year in the quarter," conceded Macy's CFO Karen Hoguet on a call with analysts Nov. 11.
The 30%-40% off signs for jackets and sweaters have already begun to appear on the sales floors of specialty and department stores. Teen apparel retailer Abercrombie & Fitch (ANF) - Get Abercrombie & Fitch Co. Class A Report is currently offering $100 off its winter coats, while J.C. Penney is hawking winter accessories such as hats and gloves for 50% off.  
If retailers are able to hold discounts at around 30% to 40%, and consumers buy, it could mean better-than-expected news on profits for retailers in the fourth quarter in light of the conservative guidance offered by several retailers. However, if discounts on winter apparel climb above 50% by Black Friday weekend, it could be a sign that retailers are prepared to get completely irrational to move slow-selling winter inventory.
And if that were to happen, it raises the risk of lackluster earnings for the holiday quarter and possibly, worrying guidance for the first quarter of 2016.

2. Does the weather finally help retailers out?
This has been the hottest first nine months of any year in modern record keeping, according to the National Oceanic Atmospheric Administration (NOAA). September was the hottest on record dating back to January 1880. NOAA points out that while 2014 was the warmest year on record, it could be surpassed by this year after all of the data is compiled.
The warm weather has wreaked havoc on the sales plans of retailers this fall, but the tide may be beginning to turn in their favor.
Residents in parts of the Midwest were digging out of more than 10 inches of snow last week. According to AccuWeather, falling temperatures, and in some cases snow, will arrive in parts of the Central U.S. and Northwest. The East Coast is expected to have temperatures around 50 degrees during Thanksgiving Day and Black Friday weekend, but they will plummet in the evening hours. 
If temperatures get cold as anticipated without there being any major snowstorms that delay mall openings and cause consumers to stay home, it could spur badly needed sales of winter merchandise.
3. Will retailers' websites be able to handle the onslaught of orders?
Americans plan to do almost half of their holiday shopping online this year, and one in five of those who own smartphones will use them to purchase holiday merchandise, according to the NRF. The swarm of traffic could strain retailers' sites, risking lost sales and consumer outrage. The most recent example of this during a holiday season was seen just one year ago.
Best Buy (BBY) - Get Best Buy Co., Inc. Report suffered suffered frequent technical issues throughout Black Friday weekend last year, creating periods of time in which the site was not functional.
Earlier this year, Target's (TGT) - Get Target Corporation Report website came under stress due to voracious demand for a limited-time apparel and accessories collection from popular designer Lily Pulitzer. Target took its website off line for about 20 minutes on the morning of Sunday, April 19 as early shoppers navigated the site for Lilly Pulitzer bathing suits, dresses and home goods before stores opened at 8 am.
Should sites become overloaded on Thanksgiving Day, Black Friday and the weekend, there's not only the potential for lost sales for retailers, but a bit of lost confidence on the part of consumers.