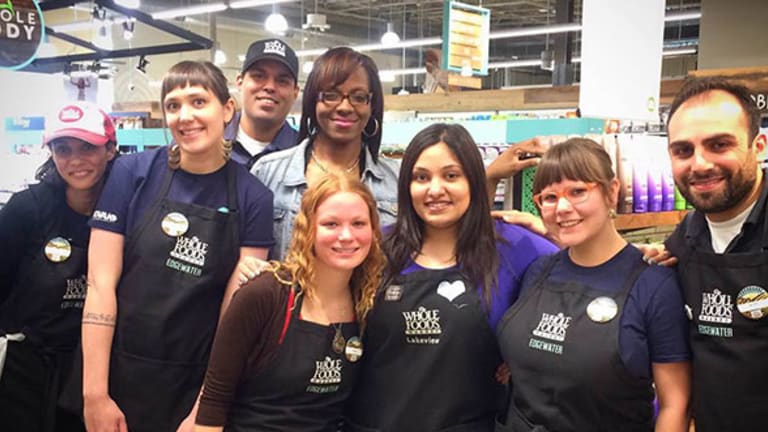 3 Big Reasons Warren Buffett Is Wrong About Whole Foods
Warren Buffett may think otherwise, but there are plenty of Americans who like shopping at organic grocer Whole Foods Market.
Updated from 2:05 pm to include second-quarter sales, earnings results and comments on new store format.
NEW YORK (The Street) -- Warren Buffett may think otherwise, but there are plenty of Americans who like shopping at Whole Foods Market (WFM) , a grocery chain known for its organic and health foods and other products.
Defending Berkshire Hathaway's (BRK.A) - Get BRK.A Report investments in companies like Coca-Cola (KO) - Get Coca-Cola Company Report, Heinz and Burger King (BKW) , Buffett said most Americans like junk food rather than the healthy variety.
"I don't see smiles on the faces of people at Whole Foods," the billionaire investor said at Berkshire's recent annual meeting.
Buffett, an admitted lover of junk food at age 84, probably didn't look closely enough at Whole Foods before praising the virtues of investing in junk food. Berkshire is also in the process of acquiring Kraft (KRFT) , which ironically just announced it was shedding all the artificial ingredients in its popular macaroni and cheese product.
If Buffett did venture deeper into Whole Foods outposts -- where organic food fanatics line up days before a new store opens -- he would find a company that does bring smiles to shoppers and investors.
Whole Foods dished out record sales of $3.3 billion last year. Average weekly sales, at $722,000, were also a record -- as were sales per gross square foot of $990. On Wednesday, however, the organic grocer's second-quarter sales and earnings played a bit into Buffett's downbeat commentary. 
Shares plunged 11% in after-hours trading on Wednesday as Whole Foods reported EPS of 43 cents a share, in line with consensus forecasts. It also stated sales of $3.6 billion; analysts had expected sales of $3.7 billion. The company announced its plans to pursue a new store format, one geared toward value-conscious millennials who have grown up eating organic food. Whole Foods is currently negotiating leases for the unnamed format. The stores are likely to be smaller than a traditional Whole Foods venue so as to better cater to tech-oriented, time-starved 30- to 35-year-olds.
Beyond a single quarter of so-so earnings, Whole Foods continues to do one big thing right -- that is, feed U.S. consumers who are willing to pay a little more for products with all-natural, easy-to-pronounce ingredients.
"I would say that 2015 may be the year where we have the biggest conversation ever about the quality of food and about what it means to our physical health," said Whole Foods co-CEO Walter Robb in a Dec. 18 interview with TheStreet.
Robb added, "It's not an elite thing, but it's actually something that is an American thing -- it comes up because McDonald's (MCD) - Get McDonald's Corporation (MCD) Report and Yum! Brands (YUM) - Get Yum! Brands, Inc. (YUM) Report have finally realized their stuff isn't selling anymore."
As luck would have it, Robb's comments foreshadowed what has been a significant year of change in the food business, where high-profile names like PepsiCo (PEP) - Get PepsiCo, Inc. Report and Chipotle (CMG) - Get Chipotle Mexican Grill, Inc. Report have sought to improve the health of their products by removing artificial additives.
TheStreet takes a look at three ways Whole Foods is creating smiles, following the release of its latest earnings.
1. People increasingly want all-natural ingredients.
This year, some of the titans of the food industry have announced tweaked product formulations to meet consumer demands for fewer preservatives and chemical additives. And as a result, they have brought smiles to folks who want to live healthier lives.
All of Chipotle's more than 1,700 U.S. restaurants as well as its 10 Asian-fare concept ShopHouse eateries now serve food free of genetically modified organisms (GMOs) following a two-year effort by the "heathy" fast-food company to eradicate them from the menu.
And in August, PepsiCo's Diet Pepsi, Caffeine-Free Diet Pepsi and Wild Cherry Diet Pepsi in the U.S. will be sweetened with a blend of sucralose and acesulfame potassium as opposed to the long-used, controversial aspartame. And more than 150 artificial ingredients will be removed from Panera Bread's (PNRA)  menu by the end of 2016.
Despite the rise in the number of organic offerings at Whole Foods' competitors Kroger (KR) - Get Kroger Co. (KR) Report, Wal-Mart (WMT) - Get Walmart Inc. Report and Target (TGT) - Get Target Corporation Report, the company is still seen as the go-to destination for organics due to its stringent guidelines on ingredient sourcing and labeling.
"We believe the quality of the items and ingredients people apply to their bodies topically are as important as the food they put into their bodies," according to Whole Foods' 2014 annual report.
The company has recently supported that core belief in several ways. In October 2014, Whole Foods introduced its "Responsibly Grown, Good, Better, Best" rating system for its produce and flowers. The index measures supplier performance on key sustainable farming areas, including pest management and soil health.
The company is also engaged in a transition to GMO product labeling, following an initiative announced in March 2013: By 2018, all food products in Whole Foods' stores in the U.S. and Canada will be labeled to indicate whether they contain GMOs. The company was the first national grocery chain to set a deadline for full GMO transparency.
These efforts come on top of the company's commitment its sourcing of organic food.
In the end, nothing is more smile inducing for a Whole Foods fanatic than leaving the store on a Saturday morning after finding the goods on their organic-only shopping list. Sorry, Warren.
2. When Whole Foods arrives to town, so do others.
Whole Foods has more than 400 stores and is aiming to cross the 500-store mark in fiscal 2017. For the long term, executives continue to see an opportunity to run 1,200 stores in the U.S. When towns learn that a Whole Foods will be opening, other businesses also set up shop to piggyback on the chain's hearty, consistent store traffic.
A great example of what is known by observers as the "Whole Foods Effect" can be seen in Dayton, Ohio.
A Whole Foods is scheduled to open there on June 3 in the Oak Creek Marketplace shopping center. Already, an upstart pizza chain called Rapid Fired Pizza has signed a lease at a site that's been empty for several years. Other tenants joining Whole Foods in the shopping center include a Mexican eatery, a sushi restaurant, a pet store, a massage parlor and a spa. The arrival of Whole Foods' arrival may potentially aid product suppliers in the surrounding area.
Indeed, tax receipts furnished from Whole Foods and a new crop of businesses and the fostering of greater economic activity in a town can bring a smile to a local politician.
3. Buying groceries using technology is in.
Maybe Warren Buffett is too hung up on studying the server division of IBM (IBM) - Get International Business Machines (IBM) Report, a Berkshire Hathaway equity holding, to recognize that buying groceries using mobile technology is all the rage. And Whole Foods is leading that charge to service the on-demand economy. Getting a few days of groceries to a hurried mom with a mere swipe on an app is likely another smile generator.
"We are now providing fresh grocery delivery options to more homes in America than any other food retailer," said a Whole Foods executive on the company's Feb. 11 earnings call. Since announcing a 15-market partnership with online-grocery-delivery firm Instacart in September, Whole Foods' average weekly online delivery sales have eclipsed the $1 million mark. At some of its stores, online delivery sales are as much as 5% of the store's total sales.
For those that still want to shop in person, Whole Foods is also speeding up its checkout time, thanks to its early adoption of Apple's (AAPL) - Get Apple Inc. (AAPL) Report Apple Pay service. Whole Foods is the largest Apple Pay retailer in transactions and sales. The payment option figures into more than 2% of Whole Foods' sales and is likely to increase further this year as millions of Apple Watches land on the wrists of smiling Americans.
Whole Foods could not be reached for comment on this story. 
This article is commentary by an independent contributor. At the time of publication, the author held no positions in the stocks mentioned.