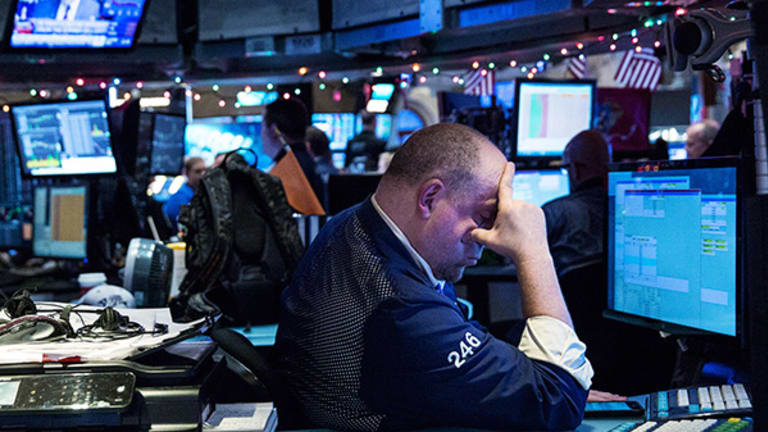 3 Cheap Dividend Stocks Down Big That You Should Buy Now
These three dividend stocks are down 10% or more in the last 30 days but won't be down for long. The time to buy is now.
When markets are down, it means it's time to invest. The time to buy great businesses is not right after they announce great results. The time to buy them is when they have temporary problems, and their stock prices are down.
These two quotes from Berkshire Hathaway (BRK.A) - Get BRK.A Report CEO and legendary investor Warren Buffett illuminate this point: 
"Whether we're talking about socks or stocks, I like buying quality merchandise when it is marked down."

"The best thing that happens to us is when a great company gets into temporary trouble ... We want to buy them when they're on the operating table."
Today we'll look at three dividend stocks from high-quality businesses. All three have declined by at least 10% over the last 30 days. Two of them are Dividend Aristocrats, stocks with 25 or more years of consecutive dividend increases. If that doesn't scream "high quality," then what does? Click here to see all 50 Dividend Aristocrats. The other high-quality dividend stock in this article is the most profitable company in the world. For some reason, Wall Street keeps discounting it.
1. Apple (AAPL) - Get Apple Inc. (AAPL) Report
Apple stock is extremely cheap. Shares are trading at a price-to-earnings ratio of just 10, because the stock is down 27% in the past year and more than 14% in the last month.
This has got the attention of some high-profile investors, among them Warren Buffett, the most famous value investor of all time. Buffett's Berkshire Hathaway purchased $1 billion worth of Apple stock last quarter, according to a recent filing with the Securities and Exchange Commission.
It is easy to recognize what Buffett sees in Apple.
Apple is a holding in Jim Cramer's Action Alerts PLUS Charitable Trust Portfolio. See how Cramer rates the stock here. Want to be alerted before Cramer buys or sells AAPL? Learn more now.
Apple has a very effective management team, along with one of the world's most valuable brands. As a result, even though the smartphone industry is highly competitive, Apple enjoys some of the highest profit margins in the industry.
Even in a difficult year, in which Apple has struggled with the strong dollar and slowing economic growth in the emerging markets, Apple still generated $33 billion of free cash flow over the first half of the current fiscal year.
Apple is in a product lull in terms of the iPhone; the iPhone 7 will not be released until later this year. This matters because the iPhone represents approximately 65% of Apple's total revenue. And still, Apple sold more than 51 million iPhones last quarter alone. Last quarter, Apple earned $1.90 per share on $50.56 billion of revenue.
Its tremendous cash flow is piling up on the balance sheet: Apple ended last quarter with $232 billion in cash, short-term investments and long-term marketable securities on its balance sheet, and just $69 billion in long-term debt.
Apple has a fortress balance sheet, which allows the company to create a great deal of value for shareholders through its capital allocation program. In April, Apple announced a 10% dividend increase and added $35 billion to its stock buyback program. In all, the company will raise its total shareholder capital allocation by $50 billion.
Apple now expects to spend a total of $250 billion under its current capital return program, which will conclude at the end of March 2018. Once the iPhone 7 is released, it is likely Apple will return to earnings growth. That could mean the stock will not stay this cheap for long.
2. Abbott Laboratories (ABT) - Get Abbott Laboratories Report
Shares of Big Pharma company Abbott Laboratories are down 21% in the past year and 12% in the last 30 days. Investor sentiment is negative, based on fears of increased government intervention in drug prices, as well as slowing growth across Abbott's product portfolio. But these concerns appear overblown. Abbott has a long history of navigating ups and downs.
Abbott has a very long track record of uninterrupted dividends. Abbott has declared 369 consecutive quarterly dividends, dating all the way back to 1924, and has increased the dividend payout for 44 consecutive years. Abbott is a member of the S&P 500Dividend Aristocrats Index. Last year, it increased its dividend by 8%. At its current share price, Abbott's $1.04 per share annual payout results in a 2.7% dividend yield. Such a long streak of paying consistent dividends is a great sign of the staying power of Abbott's underlying business model.
Abbott's fundamentals are not in nearly as bad shape as its share price decline would suggest. For 2015, Abbott reported adjusted earnings per share of $2.15 on $20.40 billion of revenue. Based on its current share price, Abbott stock trades for 17 times its non-GAAP adjusted earnings per share.
The company grew sales by 0.8% on a reported basis last year, but excluding currency fluctuations, its growth was much more impressive. Stripping out the effect of the strong greenback, Abbott's sales would have increased 9% last year, led by double-digit growth in the emerging markets. That is a very solid growth rate and not at all indicative of a deteriorating business.
In the first quarter, net sales declined just 0.2%, hardly justification for such a significant decline in share price.
Going forward, Abbott has a compelling future growth catalyst, in the form of its recent $25 billion acquisition of St. Jude Medical (STJ) . Buying St. Jude significantly enhances Abbott's medical devices business, which has a lot of long-term growth potential due to the aging U.S. population. St. Jude Medical has a high-quality product portfolio with leadership positions in premier areas of focus such as cardiovascular devices including atrial fibrillation. Abbott Labs expects the deal to be accretive to earnings in the first year after closing.
For the full year, Abbott Laboratories expects $2.19 per share in adjusted earnings at the midpoint of its guidance. That represents approximately 2% year-over-year growth. As a result, there seems to be room for Abbott's price-to-earnings ratio to expand.
Abbott's combination of a long dividend history, safety and growth make it a favorite of The 8 Rules of Dividend Investing.
3. Franklin Resources (BEN) - Get Franklin Resources, Inc. (BEN) Report
Franklin Resources is in the financial sector, in the asset-management industry. The stock has not performed well in recent periods. Shares are down 32% over the past year and nearly 11% in the last 30 days. The declines in its share price came even though the company remains steadily profitable. The good news is that this has created a buying opportunity for value investors.
The stock trades at a P/E of just 13. This is significantly less than the S&P 500's price-to-earnings multiple, which currently is at more than 23. In addition, Franklin Resource's falling share price has elevated its dividend yield to 2%.
Franklin Resources is being challenged by lackluster performance in the equity market, which has negatively affected its assets under management. They declined 16% year over year in the company's second fiscal quarter. But Franklin Resources remains a strong company. It has offices in 35 countries, more than 65 years of investment experience and more than $700 billion in assets under management.
Its steady profitability allows the company to advantageously buy back stock when it's cheap. In the last quarter alone, Franklin Resources repurchased 9.6 million of its shares for a cost of $337 million. Continued buybacks will help provide a future tailwind to a recovery in earnings growth.
Over the first half of the current fiscal year, revenue and earnings per share declined 17% and 28%, respectively, from the same period in 2015. Still, Franklin Resources has a long history of paying and raising its dividend. 
Last year, Franklin Resources lifted its shareholder payout by 20%. It has increased its dividend each year since 1981, a streak of 34 consecutive years. That qualifies Franklin Resources as a Dividend Aristocrat.
Future dividend hikes are still likely, even though Franklin Resource's fundamentals have been challenged over the past year. The reason for this is because it has a low payout ratio. Franklin Resources earned $1.35 per share over the first half of the current fiscal year, which resulted in a dividend payout ratio of just 26% in that time. That is a very low payout ratio, which gives the company plenty of room to continue increasing its dividend each year.
This article is commentary by an independent contributor. At the time of publication, the author was long ABT.