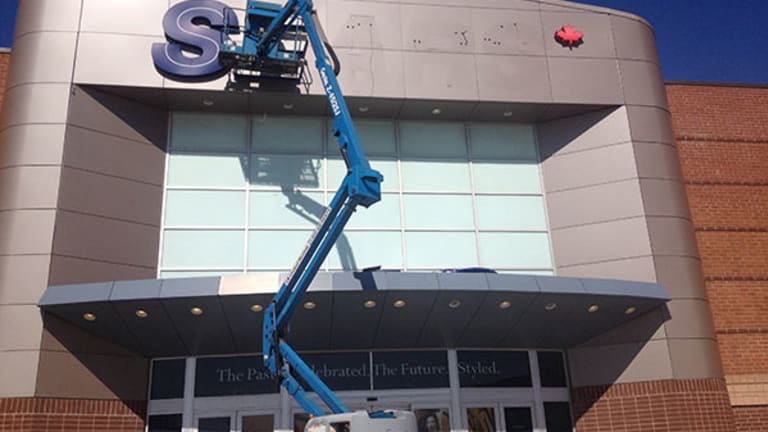 3 Battered Retailers That Desperately Need Blowout Holiday Seasons
These retailers have had terrible years, which raises the stakes considerably for them this holiday season.
Updated to include third quarter results and comments from Gap. 
For retailers that have endured plunging sales and pressured profits this year, nailing the all-important holiday season will be essential to restoring the trust of investors and in some cases, even staying in business.
To be fair, it hasn't been easy on the majority of brick-and-mortar retailers in 2015 due to growing demands by workers for higher wages and the need to invest online to compete with ruthless Internet juggernaut Amazon (AMZN) - Get Amazon.com, Inc. Report .
On Oct. 16, the world's largest retailer Walmart's (WMT) - Get Walmart Inc. Report usually stable stock price was destroyed by 11% as the company said cautious U.S. consumers and investments in people and technology would weigh on results this year and in 2016.
And November has brought more disastrous news for retailers, with apparel retailers such as Macy's (M) - Get Macy's Inc Report , Nordstrom (JWN) - Get Nordstrom, Inc. Report  and Dick's Sporting Goods (DKS) - Get Dick's Sporting Goods, Inc. Report  all reporting lackluster third quarter sales and profits as consumers delayed buying cold weather merchandise amidst unseasonably warm weather. Moreover, consumers have been continuing to invest in their homes, making frequent purchases at Home Depot (HD) - Get Home Depot, Inc. Report  at the expense of companies selling apparel and accessories.
The stagnant third quarter results for most retailers, coupled with less-than-cheerful outlooks for the holidays, have weighed heavily on retail stocks of late. The SPDR S&P Retail ETF (XRT) - Get SPDR S&P Retail ETF Report  has fallen about 5% in the past month compared to a 2% gain for the Dow Jones Industrial Average.
Still, the approaching holiday season is unlikely to be all doom-and-gloom for retailers against a backdrop of healthy employment growth and rising wages this year. According to the National Retail Federation (NRF), holiday sales, measured from November and December, are estimated to increase 3.7% this year, stronger than the 10-year annual average of 2.5%. Online sales, says the NRF, will increase between 6% and 8%.
TheStreet takes a look at three retailers that must deliver a big holiday season in order to reverse their declining stock prices and worsening financial states.


1. Sears Holding Corporation (SHLD)
Saying the holiday season is make-or-break for Sears may be a gross understatement.
Sears' stock has tanked about 35% this year, compared to a 1% decline on the Dow Jones Industrial Average. Investors have continued to flee the stock as Sears posted yet another same-store sales drop in the second quarter ended Aug. 1, plunging 14%. The retailer saw worrying declines in almost every category it offers -- home appliances, apparel, lawn and garden, automotive, and consumer electronics. Same-store sales at Kmart, which Sears owns, declined 7.3%, with weakness reported in consumer electronics, grocery and household goods, apparel and the pharmacy.
The sales declines have been fueled by years of under-investment by Sears in areas of its business such as inventory and store fixtures. The under-investment has continued in 2015. Capital expenditures as a percentage of revenues, a measure that offers a snapshot into how a retailer is investing to keep its stores fresh, was an embarrassingly low 0.7% for the 26-weeks ended Aug. 1. By comparison, Macy's has invested 3.1% of its revenues into capital expenditures this year.
As a result of Sears' neglect, consumers have migrated to the likes of Home Depot, Target (TGT) - Get Target Corporation Report and Macy's for more inviting shopping environments and better selections.
Pressured sales have led to more worrying losses for Sears and dwindling cash flow from operations. On an adjusted EBITDA basis, Sears reported a loss of $226 million the second quarter, just slightly improved from the $313 million adjusted loss from a year earlier. Meanwhile, for the 26-week period that ended Aug. 1, Sears' cash used in operations, which includes debt servicing, was $832 million, compared to $747 million a year earlier.
According to a review of Sears' last three annual reports and its year-to-date cash flow statement, it has not produced cash flow from its operations in over four years.
If Sears does not deliver sales growth and profits for the holidays, and cash flow proves disappointing during its most critical quarter, the company could be forced to take painful actions in early 2016. The company will likely have to raise more cash, likely at high rates, from outside sources to fund its operations in 2016. Moreover, it will have to shutter more stores in the U.S., removing potential long-term sales and profit drivers.


2. Aeropostale (ARO)
Intensified competition from fast-fashion retailers such as H&M and Forever 21 have continued to takes its toll on teen apparel destination Aeropostale. The retailer has served up 11 straight quarters of losses, shrinking cash at the end of the second quarter to $86 million, down from $151 million at the start of the year. Shares were recently trading at around 69 cents and have nosedived about 70% this year.
If efforts by execs to offer more fashionable wares to finicky teens at competitive price points does not lure in the shoppers this holiday season, Aeropostale may set off a nasty chain of events.
The biggest consequence could be that the company's stock gets delisted from the New York Stock Exchange (NYSE). On Oct. 30, Aeropostale received notice from the NYSE that it was not in compliance with listing rules because, as of Oct. 28, the average market capitalization over a consecutive 30 trading-day period was less than $50 million and, at the same time, stockholders' equity was less than $50 million.
The company sought to notify the NYSE by Nov. 13 that it intends to submit a plan to return to compliance with listing requirements. Under the NYSE rules, Aeropostale has 45 days from the receipt of the notice to submit a plan advising the NYSE of definitive actions it has taken, or is taking, that would bring the company into compliance with listing standards within 18 months of receipt of the notice.   
Staying listed, in spite of sharing plans with the NYSE, may be impossible if Aeropostale's stock gets dumped following a weak fourth quarter.
A delisting would have multiple negative consequences for Aeropostale. It would make it more difficult for Aeropostale to raise money in 2016 to stay in business. And if outside capital is secured, it would likely be at penalizing interest rates that would add stress to the company's already tattered bottom line. Furthermore, a delisting could cause creditors such as Sycamore Partners to call in their loans, which would be debilitating and possibly lead to Aeropostale filing for bankruptcy.


3. Gap (GPS) - Get Gap, Inc. Report
Although not in the same dire financial straits as Sears and Aeropostale, apparel retailer Gap is surely in need of some good cheer this holiday season after a brutal year that has rocked investor confidence.
Shares of Gap have shed an astounding 40% this year versus a 1% increase on the S&P 500. The stock's downdraft has been spurred by weak sales and profits as Gap's CEO Art Peck, who took the reins in February from long-time CEO Glenn Murphy, seeks to overhaul operations and bolster otherwise boring styles. Sales for the nine months ended Oct. 31declined 2.7%, with operating profits down about 25.3%. Free cash flow during that span has gone from $229 million a year earlier to $341 million.
The bad news for Gap has not been limited to floundering financials.
In mid-June, Gap announced that it will close about 175 Gap brand stores in North America over the next few years. About 140 closures will occur this fiscal year, a majority likely coming in January following the end of the holiday season. In September, Old Navy president Stefan Larsson left to become the CEO of Polo Ralph Lauren (RL) - Get Ralph Lauren Corporation Class A Report , succeeding iconic designer and longtime CEO Ralph Lauren. Larsson was widely credited by Wall Street analysts for turning around Gap's value-oriented Old Navy division.
Then, on Nov. 9, Gap forecasted that third quarter earnings would be in a range of 62 cents to 63 cents a share excluding items, versus analyst estimates of 67 cents. The profit warning was triggered by disappointing sales in October. 
On Thursday, Gap went on to deliver adjusted earnings of 63 cents a share for the third quarter, in line with its revised guidance. Same-store sales at the Gap and Banana Republic divisions declined by 4% and 12%, respectively, while Old Navy's sales rose 4%. But the company slashed its full year earnings forecast to $2.38 to $2.42 a share from $2.75 to $2.80 a share.
If Gap fails to stabilize its business this holiday season, investors may start to question Peck's strategies and his ability to turn the retailer around in 2016. If he doesn't deliver, they're likely to start heading head for the exits.