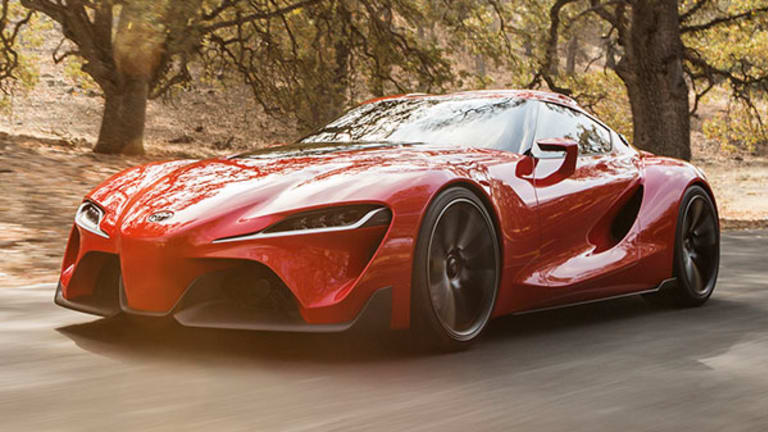 3 Auto Stocks to Own to Take Advantage of Projected Demand
In the United States, sales could hit 20 million new cars and trucks by 2017. Which car makers will benefit?
In the United States, sales could hit 20 million new cars and trucks by 2017. Which car makers will benefit?
NEW YORK (TheStreet) -- Based on current estimates and outlooks in the automobile industry the sector is poised for some positive growth. In the United States, sales could hit 20 million new cars and trucks by 2018. Which stocks should you invest in to take advantage?
data by
1. Toyota (TM) - Get Report: Cheap yen and planned expansion in China support a bullish outlook.
Toyota's profit rose 10% between April and June. That is due to effective cost reduction efforts and the cheap yen.
The Japanese manufacturer profits especially from exchange rate effects. As the U.S. dollar is soaring and the yen is depreciating, Japanese companies enjoy huge cost benefits on the American market. Unsurprisingly, Toyota's car sales in the U.S. were developing well.
Moreover, Toyota plans to expand in China, the world's largest auto market. They company plans to introduce two hybrid cars in the end of 2015. Considering the success with its hybrid, the Toyota Prius, this expansion could have a very positive impact on Toyota's bottom line.
The Toyota stock is not only attractive in terms of capital gains. Currently, the company pays a dividend of 2.3% and Japanese companies are well known for maintaining their dividend payouts. (Good News!)
data by
2. Tata Motors Limited (TTM) - Get Report: India's top manufacturer is currently undervalued due to economic slowdown China.
Being the largest automobile manufacturer in the Indian market, Tata Motors has seen strong growth over the last five years. Alone in 2014, the stock was up almost 40%. However, it has plunged 30% since March 2015, mostly due to the economic slowdown in China and issues regarding the acquisition of Jaguar and Land Rover.
However, these issues have seemed to settle down. According to Credit Suisse (CS) - Get Report, the sharp fall in the stock is pessimistic and it's only factoring in the effects on the Chinese market, but not Tata's strong product pipeline. The stock is undervalued and the absolute majority of analysts are keeping a "buy" rating.
In the long term, Tata will benefit from global growth trends. The company is well-positioned in the Indian market and offers affordable vehicles for new entrants into India's growing middle class. (Great Demographic!) 
data by
3. Ford (F) - Get Report: Global manufacturer offers great potential for capital gains and an attractive dividend yield.
Earnings per share have increased by 47% in the second quarter of 2015, compared to the same quarter in 2014. Net income, cash flow and return on equity have all improved as well.
Moreover, the company pays an attractive 4% dividend yield. Considering Ford's enormous free cash flow of almost $7 billion over the past 12 months, the company won't have any problems keeping its dividend payouts at a high level.
As with other car manufacturers, Ford suffers from the Chinese slowdown as well. Sales in China fell 6% in July and 3% in June, according to Reuters. However, Ford manufactures and distributes worldwide, hence, the decline in sales in China can be offset by stronger growth in other regions.
S&P Capital IQ forecasts 22.7% annualized earnings growth over the next five years. Although an optimistic number, Ford is a strong stock which is definitely worth looking at if you don't have it in your portfolio yet. 
This article is commentary by an independent contributor. At the time of publication, the author held TK positions in the stocks mentioned.