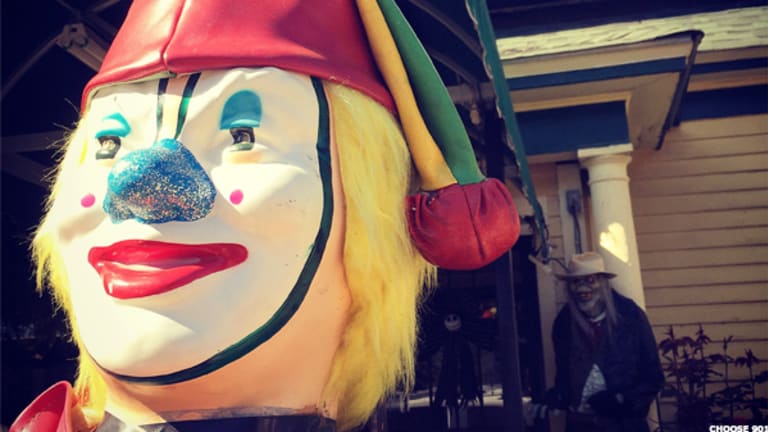 3 April Fool's Jokes for Your Retirement Plan
Don't be a foolish retiree this April. It's time to discover the reality behind common retirement misconceptions.
For too many Americans, the suggestion of retiring early is just plain hilarious. Indeed, the potential of such a reality veers so far what's possible that it often borders on the absurd. 
For those of us planning, or dreaming of, a no-frills retirement with adequate investments to cover our living expenses and heath needs, April Fool's Day can serve as an excellent opportunity to make light of some of our misconceptions. Given that Americans are largely underprepared for retirement, some of our assumptions about the future range from simply comedic to all-out slap-stick. Read on below to see why, in terms of our beliefs, the joke's on us. Here are some of our best side-splitting retirement one-liners.  
1. I plan on retiring around age 67, at my convenience.
When surveyed, workers aged 50 and older are planning to retire at a median age of 67, according to a report from Transamerica's Center for Retirement Studies called "The Current state of Retirement: Pre-Retiree Expectations and Retiree Realities." However, among the fully retired, 61% retired before age 65, with a median retirement age of 62.
April Fool's! The harsh reality is that the actual age you retire is not always the age you planned on retiring. In fact, the age you retire is, in most cases, not even your choice. The Transamerica report says that among retirees who retired sooner than planned, 66% did so for employment-related reasons such as organizational changes, job loss, unhappiness or a buyout. Some 27% retired due to health reasons and 11% for family reasons. Only 16% retired early due to being financially able to retire. (These percentages are over 100%, because retirees were allowed to select all options that applied).
Retiring five years earlier than anticipated may not have been your choice, but it can drastically change your overall financial plan. That's five years of lost income, five years of potentially saving more for retirement, and five years longer that you're living off of your retirement nest egg.
2. I know I won't have enough saved for retirement, so I plan to work in retirement.
When surveyed, 54% of workers aged 50 and older plan to continue working either part-time or full-time in retirement, according to the Transamerica report.
April Fool's! The reality is that of the fully retired, only 5% are currently working. That means 95% of retirees are living off what they already saved, and of that 95%, only 3% are actively looking for work. The disparity between 54% of pre-retirees expecting to still be working and only 5% of retirees actually working is a huge cause for alarm for financial planners. Assuming an individual was planning on only working a part-time job making $20,000 per year for five years during retirement, that individual now has to make-due without $100,000 that he had factored into his retirement plan. The numbers only get larger for those of you planning on working full-time during retirement.

3. I'm going to start receiving my Social Security benefits at full-retirement age.
April Fool's! Of the 89% of retirees currently receiving Social Security benefits, the median age at which they started receiving benefits is 62, according to the Transamerica report. This is the earliest age possible for receiving Social Security benefits as opposed to receiving full retirement benefits at age 66. By choosing to receive Social Security early, at age 62, depending on one's birth year and age, a retiree is potentially giving up 20% to 30% in benefits.
Many financial professionals recommend to do a break-even analysis on your Social Security benefit, to determine the age at which taking Social Security at age 62 becomes unfavorable. For many retirees, the break-even age is around 80, at which point, waiting to receive full Social Security benefits at age 66, would have been the better choice. Conversely, a person could argue that if he won't live past 80, he should take his benefit while he's still alive.
April Fool's again! When surveyed for the Transamerica report, 57% of retirees provided an answer to the question "How long are you planning to live?" The median age they expected to live was age 90 and furthermore, expected to spend a median of 28 years in retirement. This goes directly against the notion that one will not live past their "break-even age." If a retiree does in fact live to his expected median age of 90, he would be leaving hundreds of thousands of dollars on the table by choosing to take his Social Security benefits early.
Don't be a fool this April
If you have a financial plan in place, great - you're halfway there. It's time to come up with a Plan B. There are many disparities between the expectations of a worker aged 50+ and the reality. It's important for workers to shock-test their retirement. Throw in variables such as retiring five years earlier than expected, not being able to work full or part-time during retirement and taking Social Security benefits earlier than planned. As always, plan for the worst and hope for the best.
Raymond James Financial Services, Inc. Member FINRA/SIPC. Past performance does notguarantee future results. There is no assurance that past trends will continue into the future. The effects of anyupdates released after the period shown above are not reflected in this data. The information has been obtained from sources considered to be reliable, but we do not guaranteethat the foregoing material is accurate or complete. Investing involves risk and you may incur a profit or lossregardless of strategy selected.Links are being provided for information purposes only. Raymond James is not affiliated with and does not endorse, authorize or sponsor any of the listed websites or their respective sponsors. Raymond James is not responsible for the content of any website or the collection or use of information regarding any website's users and/or members. Any opinions are those of Joseph Carpenito and not necessarily those ofRaymond James. Raymond James is not affiliated with and does not endorse the opinionsor services of TheStreet.com. 301 Yamato Rd. Ste. 3160 Boca Raton, FL 33431. 561.241.6616.