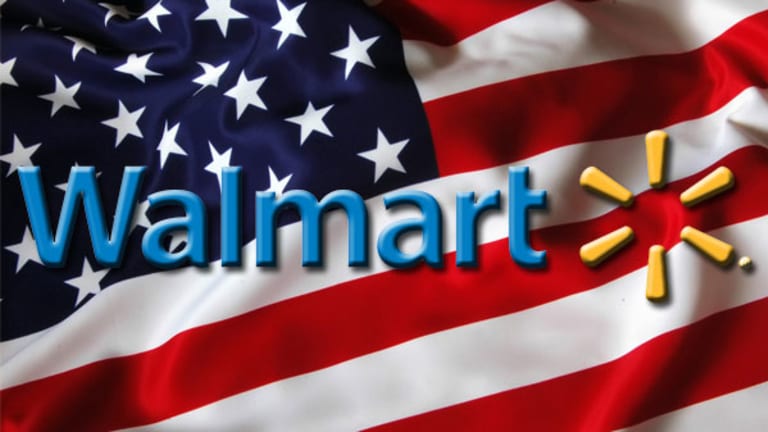 **Also see reaction from the people who actually work at Walmart, on the ground ... Mistreated Walmart Employees Speak Out Against Company.
NEW YORK (TheStreet) -- Earlier this year we created quite a stir when we posted imagesBelus Capital Advisors CEO and TheStreet superstar Brian Sozzi took at an unidentified Sears Holdings (SHLD) store.
In the subsequent weeks, I've received all sorts of feedback.
On the critical side, some readers asked what any of this has to do with investing. And the companies in question aren't happy with the approach of publishing images they claim are not representative of their stores.
Sears voiced displeasure publicly via Twitter (TWTR) - Get Twitter, Inc. Report. And I assume Wal-Mart (WMT) - Get Walmart Inc. Report wasn't happy Thursday after we published pictures I took of an outright embarrassing consumer electronics section that happens to house Apple (AAPL) - Get Apple Inc. (AAPL) Report products.
**To head right to the images ... click HERE.
To the investment question, I'll say -- what doesn't this have to do with the company's stock?
I can't think of anything more material for a retailer than how they present themselves to the public. In this regard, the broken windows theory applies to investing. If Sears -- or any other retailer for that matter -- allows the stores we happen to take pictures of to exist in such bad shape who's to say there aren't a considerable number of others just as bad or worse.
Furthermore, as the broken windows theory goes, if they let the stores go, does that send a signal throughout the organization and to the public (investing and otherwise) that other areas of the business are maintained unkempt. To respond, as Sears often does, with you can ALWAYS find us online only reinforces the cluelessness that got the company into the mess it's in in the first place.
To the companies, why are you lashing out at the media?
It's my job to observe and report. While I'm not claiming every Sears or Walmart looks the way the ones I (or Sozzi) visit look, the bad ones provide more than enough cause to raise red flags.
If your stores didn't look this way, guys like me would have nothing to relay to the public. A public, by the way, that often corroborates our reporting by sending us pictures from decrepit stores in areas where they live.
Stories like the ones on Sears, the Walmart/Apple one and this one should not trigger angry calls from the companies in question; rather they should incite executives to the point where they look within and not only demand, but create meaningful change.
With that in mind, it wasn't simply the consumer electronics section of the Walmart at Baldwin Hills Crenshaw Plaza in South L.A. that needs love. The rest of the store, with the notable exception of the grocery section, could use attention as well.
It's an embarrassing mess.
You can't walk more than a few feet without seeing something that should cause heads to roll, not necessarily at the local employee level, but among corporate executives. They set the tone. It all goes back to some variation of the broken windows theory. Cultures do not become toxic out of the blue. There's most always a trigger that permits the degradation to occur. And that starts at the top.
So, of course, Walmart doesn't appear to care about Apple's image because, as these pictures from the South LA store illustrate, they don't seem to care about their own. Maybe this is isolated. Maybe it's not. Either way, it's unacceptable. And it's a red flag for investors as much as it is a slap in the face to the underserved folks of the South LA community Walmart operates in.
Consider the visual evidence, photographed shortly after the store opened on Thursday, March 13, 2014, after the click to Page Two.
You'll see tons of empty shelves, displays in disarray, random junk lying around and shopping carts full of more random junk scattered throughout the store. The things I witnessed at this particular Walmart lend support to a recent analysis conducted by Sozzi on TheStreet TV.
--Written by Rocco Pendola in Santa Monica, Calif.
Disclosure: TheStreet's editorial policy prohibits staff editors, reporters and analysts from holding positions in any individual stocks. Rocco Pendola is a columnist for
TheStreet
. Whenever possible, Pendola uses hockey, Springsteen or Southern California references in his work. He lives in Santa Monica.