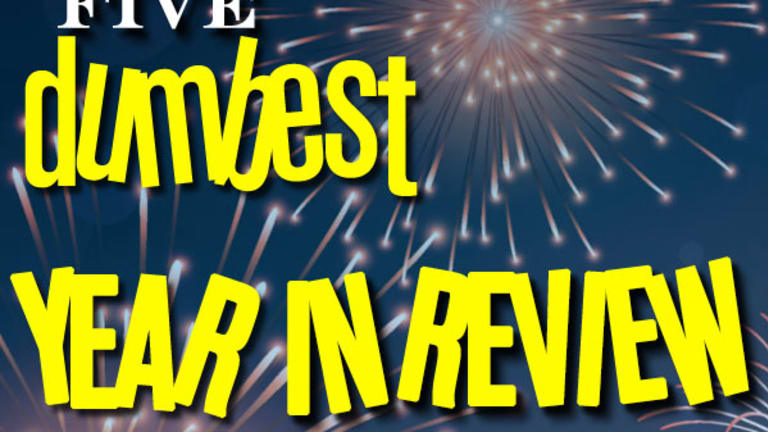 2013's Top 10 Dumbest Things on Wall Street
While indices shot up, dumb things also proliferated. After reviewing our articles for this year, we've compiled the 5 Dumbest Things on Wall Street's top 10 list.
It's been one heckuva year for the bulls, hasn't it Dumbest fans? Boy, did they lead a market stampede in 2013, Fed-tapering talk be damned.
Simply because the indices shot higher, however, does not mean corporate America was devoid of dumb things this past year. In fact, it was quite the contrary. Our friends on Wall Street gave us an abundance of asinine incidents from which to choose, making it harder than ever for us to select a mere 10 for our annual year-end list.
Still, we have a job to do, so here are our selections for the 10 biggest flubs of 2013. If you disagree with our ranking, or feel we omitted a doozy, feel free to shoot us an email. Like we said, there was more than enough stupidity to go around this year, far more than even experts like us could possibly recognize.
And before we turn the last page in our calendar, we'd like to wish all of our readers a happy and healthy 2014. We hope to see you all in the New Year, but for your own sake, not on one of our dumbest lists.
10. Loeb Lays Down
Originally published Aug. 9.
Dan Loeb must have lost his superpowers because Batman beat his ass down.
The Third Point hedge fund manager, famous for his spiteful, yet highly profitable takedowns of Yahoo! (YHOO) CEO Scott Thompson and Herbalife (HLF) - Get Herbalife Nutrition Ltd. Report antagonist Bill Ackman, toned down his attack on Sony (SNE) - Get Sony Corp. Report management this week, even after CEO Kazuo Hirai summarily dismissed his proposal to spin off up to 20% of the company's entertainment assets. Shares of Sony fell 9% this week following Hirai's rejection of Loeb's plan.
Loeb lit into Sony's CEO last week after Hirai sloughed off Sony's big budget bombs After Earth and White House Down. Loeb, who reportedly owns 7% of the company, referred to the films as "2013's versions of Waterworld and Ishtar" and called it "perplexing" that Hirai gave "free passes" to the Sony executives responsible for the box office flops.
This week, however, the usually acid-tongued Loeb offered a bit of honey instead, saying in a Variety interview, "It is probably unfair to focus on one or two bad movies, just in the way that Third Point from time to time can have one or two bad months or a bad year. What is important is the overall profitability and margins over a period of time."
What the heck, Dan? Why did you go soft on Sony all of a sudden? You went from flamethrower to flaccid. That's not like you at all.
Be honest. Did George Clooney's defense of the company get to you? When George said last week that you know "nothing about our business," did it faze you? Because from our perspective it looked the Batman & Robin star put kryptonite in one of your 10Qs.
"Notwithstanding the fact that the media likes to create a stir, I admire Mr. Clooney's passion for Sony and his loyalty to Sony and his friends there," said Loeb, replying to George's jabs. "We are all for intelligent investment in creative content. I believe our interests are aligned in a way he probably doesn't realize." Clooney, for the record, is directing and starring in the World War II-era thriller The Monuments Men, which Sony is co-financing with Fox.
What a load of crap Dan. Wall Street masters of the universe should not be backing down from Hollywood pretty boys, so man up and go kick Clooney's ass! If you ask us, he deserves it for dumping Stacy Keibler anyway.
9. Lulu's Lulu
Originally published Nov. 15
Sorry or not Chip, you are still a blockhead.
Lululemon (LULU) - Get lululemon athletica inc. Report founder Chip Wilson apologized last Friday for asinine remarks he made about women's bodies during a Bloomberg TV interview. We'd like to say "publicly" apologize, nevertheless, that does not seem to be the case as Wilson directed his groveling at his employees rather than his customers and, more importantly, the world's entire female population.
"I'm sad, I'm really sad, I'm sad for the repercussions of my actions, I'm sad for the people of Lululemon who I care so much about, that have really had to face the brunt of my actions," said Wilson in a video posted on YouTube. "For all of you that have made Lululemon what it is today, I ask you to stay in a conversation that is above the fray."
"Above the fray"? Have you flipped Wilson? You created this cockeyed controversy when you told Trish Regan that your company's yoga pants "don't work" for some women's figures. And now your workers are being dragged deeper in and your stock -- down almost 10% this year -- deeper under because of your half-assed apology.
Honestly Chip, have you already forgotten last March's recall of Lulu's overly sheer pants? That's right, the one that cost your company nearly $70 million in sales and likely led to the unexpected June departure of Lulu's former CEO Christine Day?
Talk about sheer madness!
The real "fray" Lululemon should be worried about, as opposed to this nonsense, is the fraying that's going on with its pants. Pilling complaints are piling up and its hurting sales.
"It's really about the rubbing through the thighs, how much pressure is there over a period of time and how much they use it," said Wilson.
No, it's really about a big-mouthed moron repeatedly rubbing people the wrong way.
8. Tesla's Pit Stop
Originally published July 12
Come on index-makers. Enough with the baby steps. Let's just stick Tesla (TSLA) - Get Tesla Inc. Report in the Dow Jones Industrial Average.
Hey, we're not fooling! With a $14 billion market cap, 3,000 employees and public since July 2010, it undoubtedly belongs there. Don't you think?
Excuse our dripping sarcasm, but 1.) its blisteringly hot on Wall Street, and 2.) we still can't get over the inanities occurring in the all-important indices this week, most notably the electric car-maker zooming into the Nasdaq 100. Tesla was tapped to take Oracle's (ORCL) - Get Oracle Corporation Report spot Monday as the software-maker -- $146 billion cap, 120,000 workers, IPO in 1986 -- heads over to the New York Stock Exchange (NYX) .
Oracle, in case you were unaware, is not a member of the widely watched Dow Jones Index despite its size and influence. For that matter, tech-bellwether Apple (AAPL) - Get Apple Inc. Report -- $385 billion, 73,000, trading since 1980 -- is also excluded from the august 30-member group (although it would probably have to split a few times if it was accepted into the Dow since $420 a share would blow the lid off the price-weighted index.)
Of course, size and stature have little meaning when it comes to the Dow since Alcoa (AA) - Get Alcoa Corporation Report -- $8.4 billion, 61,000, 1978 -- remains on the team. The aluminum maker, which is far smaller than all three tech companies, "unofficially" kicked off earnings season Monday by beating Wall Street analyst estimates by a penny.
But back to Tesla, because the money-losing carmaker and its single product really should be everybody's focus now. Forget Bernanke, this is a Musk-see market.
That Musk, as the world knows by now, is Elon Musk, the billionaire entrepreneur who took Tesla public three years ago this month at $17 per share. The company's stock traded in line with the major equity indices -- the Dow 30, S&P 500 and Nasdaq -- until the start of this year when it pulled away from the rest of the pack.
Forgive us. Not just pulled, blasted off like one of Musk's SpaceX rockets. Tesla's stock is up 265% so far this year and trades at an all-time high of $123 (well, a three-year high).
Tesla bulls argue that the outperformance, the nose-bleed valuation and the spot in the index are warranted since the company's sales surged 1,760% in the past year to just under $1 billion. (Alcoa posted sales of $23.5 billion in the past year, but we're not talking about them.) The company's fans also say its SUV, which will arrive in the second half of 2014 (yes, 2014) will add on to the gains of its current offering (note the singular), the Model S sedan.
Our view, however, is that a third of Tesla's float has been sold short as of June 14th and this price is blatantly unnatural.
Not that Tesla's car is not fabulous. We keep hearing that it is an amazing roadster to own if you have the $70,000 to own it. Nevertheless, the company's stock price is not trading on fundamentals. It is trading on the backs of some very bloody bears and to talk about the company as a legitimate addition to any index is plain silly.
Almost as silly as Alcoa still being a Dow component while Google (GOOG) - Get Alphabet Inc. Report -- $300 billion, 54,000, 2004 -- remains on the outside looking in.
7. Herbalife Hysteria
Originally published Feb. 1
For the love of Barnum and Bailey! The Herbalife (HLF) - Get Herbalife Nutrition Ltd. Report circus has officially grown larger than its warring clowns.
Herbalife insanity hit new heights this week, even without the help of the hedge fund hotshots responsible for the frenzy in the company's stock. Shares of the supplement seller sank 8% to $40 Monday on the news that the Federal Trade Commission was shutting down Fortune Hi-Tech Marketing, a totally unrelated Kentucky-based direct-sales company, for operating a pyramid scheme. This latest act in the Herbalife three-ring circus -- those rings currently being occupied by activist investors Bill Ackman, Dan Loeb and Carl Icahn -- came only a single trading day after the insane on-air battle between long-time enemies Icahn and Ackman.
That's right, folks. No Ackman. No Icahn. No Loeb. No problem, it's still fun for investors of all ages.
The spectacle actually started Monday morning when the FTC posted a media advisory on its Web site announcing an afternoon press conference in Lexington, Kentucky, regarding an action against an "alleged pyramid scheme." The FTC's cute little tease titillated traders into dumping their shares of both Herbalife (Ackman's $1 billion short and Loeb's long), as well as fellow direct marketer Nu Skin (NUS) - Get Nu Skin Enterprises Inc. Report (a reported Loeb short).
(Icahn's position in both stocks remains unclear. His position that CNBC's Scott Wapner is a meanie has not changed since last Friday as far as we know.)
Of course, the Herbalife carnival would not be complete without barking from CNBC's Herb Greenberg. Herb was quick to point out that any government activities would likely come from its L.A. bureau where Herbalife is based, rather than Lexington. Herb was quickly proven right when CNBC started flashing alerts that did not expose the mystery scammer's true identity, but confirmed it was not Herbalife.
That honor would be held for the day's real ringmaster, C. Steven Baker, the director of the FTC's Midwest region. Once CNBC had completed its sideshow, Baker stepped up to the mic at 1 p.m. and revealed that Uncle Sam's true target was the non-publicly traded Fortune Hi-Tech Marketing.
"Pyramid schemes are more like icebergs," Baker said. "At any point, most people must and will be underwater financially."
Yep, Mr. Baker, there's a sucker born every minute, just like P.T. Barnum proclaimed. This Herbalife extravaganza, however, is truly turning into one for the ages.
6. Carnival's Crisis
Originally published Feb. 15
Go ahead, Carnival Corp. (CCL) - Get Carnival Corporation Report . Set your cruise ships adrift in the Gulf of Mexico. Stranding them at sea is absolutely the smartest move you can make.
We're not kidding. It may tick off your passengers, but your shareholders will absolutely love the ride.
Here's what happened: An engine-room fire caused the company's Triumph cruise ship, which was bound for port at Galveston, Texas, to lose power 150 miles off southern Mexico's Yucatan peninsula on Sunday. None of the 3,143 guests nor 1,086 crew members on board were injured, according to the cruise line operator. That said, inoperable toilets and a lack of air conditioning reportedly made the tug-boat-aided trip to Mobile, Ala., far less than luxurious. Shares of the company's stock fell just under 1% on the news.
The cruise line canceled the next two Triumph departures to fix the problem. It also offered full refunds and vouchers to the travelers whose vacations were ruined.
We here at the 5 Dumbest Lab, however, maintain they should do nothing of the sort. In fact, we think Carnival should screw up people's dream getaways more often. You see, based on last year's annus horribilus, Carnival's stock can do no wrong when the cruise company can do no right.
Think about it: Carnival's stock finished up over 17% in 2012 despite more mishaps at sea than McHale's Navy and Gilligan's Island combined.
Let's review.
Last January, the Costa Concordia capsized and sank off the Tuscan island of Giglio in Italy, killing 32 people. That tragedy was followed by Carnival's Crown Princess cutting a cruise short in early February after a norovirus outbreak. Later that month, 22 passengers from the Splendor were robbed at gunpoint while on a Carnival-sponsored shore excursion in Puerto Vallarta, Mexico. Not long after, the company's Costa Allegra had a fire break out in its generator room, causing the ship to lose power and drift aimlessly.
Finally, barely two weeks after the Allegra's electricity outage, the Caribbean Princess faced propulsion problems in mid-March and had to return to San Juan four days early. The following Princess cruises were canceled so repairs could be made to the ship.
Imagine that. Three solid months of seaborne stupidity and Carnival's shares still beat the S&P last year.
Hey, if that's what it takes, then damn the torpedoes, it's full dumbness ahead!
5. Carl's Compulsion
Originally published Oct. 11
Forgive us Dumbest fans, but since we're talking Twitter we really need to address Carl Icahn's recent tweeting compulsion.
Not that there's anything wrong with the billionaire investor using the social media platform to pump -- or potentially dump -- his positions. The powers that regulate so far don't seem inclined to hassle Icahn about moving the market with his 140 character outbursts. So why should we antagonize Carl if he's filing the appropriate paperwork before letting his tweets fly?
Said another way: We're not idiots. We saw firsthand the hell Icahn put Bill Ackman and Michael Dell through this past year and the last thing we want is for Carl to belittle us in front of Scott Wapner on Power Lunch.
Unless, of course, there is something wrong with mixing tweeting and trading. We really don't know the legal ramifications of this new disruptive technology as it pertains to the market. That is, other than the fact that big-hitters like Carl can make big waves simply by hitting send and bucket-shop brokers are already tweeting for their own nefarious purposes as we speak.
Take the craziness that Carl unleashed Monday night when he tweeted: "Disclosed approx 61 million share position in Talisman Energy (TLM) . May have conversations with mgmt re strategic alternatives, board seats, etc.".
Carl's simple statement sent shares of the Calgary-based oil and gas driller surging over 8% in after-hours trading all the way to $13.43. Prior to Icahn's announcement, Talisman was down 3% for the year and were vastly under-performing the broader market.
Holy cow, Carl! We haven't seen markets reactions that amplified since Abby Joseph Cohen leveled the Nasdaq with an inadvertent belch during the Internet bubble.
And that's just Carl's latest trick. In August, Icahn added $17 billion to Apple's (AAPL) - Get Apple Inc. Report market capitalization when he Tweeted about his $2 billion investment in the iPhone maker and his "cordial dinner with Tim" where he pushed Apple CEO Tim Cook for a bigger buyback plan.
Is it just us or is this getting a little nuts? Should we really care who Icahn dines with? Does it affect our retirement savings? Who knows? Maybe it does and maybe we ought to know what's on the menu too. Perhaps Carl should file his dessert choices with the SEC before tweeting them out.
Once again, we are not against this whole tweeting fad. We simply don't know where it will end.
Although it does give us a good idea for a new social media platform of our own. Maybe we'll take it public for $20 billion someday too.
How does BillionaireYenta.com sound?
4. Cool Hand Cohen
Originally published July 26
Picture this Dumbest fans:
INT. SAC CAPITAL TRADING FLOOR
An SEC agent kneels before Steve Cohen and begins hammering on the iron shackles between his feet. Silence except for the HAMMERING AND CLINKING. Steve is silhouetted with the bright lights from the television cameras glowing behind him, reflecting off his bald head. The Captain looks past Cohen to the stunned traders in a line before him.
CAPTAIN (to Cohen)

You gonna get used to wearing them chains after a while, Stevie. But you never stop listening to them clinking. Cause they gonna remind you of what I been saying. It's for your own good.
COHEN
I wish you'd stop being so good to me Captain.

The Captain feeds his fury staring at Cohen then reaches out his hand behind him. SEC boss Mary Jo White lays the subpoena in it. Trembling with rage, the Captain takes a convulsive step forward and brings the legal summons down behind Steve's ear, knocking off his glasses. As Steve leans down to pick up his spectacles:
CAPTAIN
Don't you never talk that way to me! Never! Never!

The Captain's rage subsides and his voice becomes calm, reasonable.
CAPTAIN (to the traders)
What we got here is a failure to supervise. Some men you just can't reach, so you get what we had here last week, which is the way he wants it. Well, he gets it. I don't like it any more than you men.
Nodding curtly, the Captain and his crew turn to leave. The SEC agent throws the hammer down. It CLATTERS until it lands beside Cohen. The group heads towards the door until Cohen stops them mid-stride.
COHEN
Um, excuse me, Captain. But what exactly does that mean?
CAPTAIN
What's that?
COHEN
"Failure to supervise." I don't get it.

The Captain walks forward until he is nose-to-nose with Cohen.
CAPTAIN
You got something better in mind tough guy?
COHEN
Well, if you're looking for a nebulous charge that will never stick, how about 'Failure to Communicate'?

The two men maintain their icy stares in silence. Mary Jo White steps up behind the Captain and whispers in his ear. He nods his understanding.
CAPTAIN
Can't do it Cohen. We're saving that one for Corzine.
3. Dell's Straw Poll
Originally published Aug. 9
What the Dell (DELL) - Get Dell Technologies Inc. Class C Report is going on down there in Round Rock, Texas? Don't these folks understand that elections this interminable and inane are expressly reserved for the Presidency of the United States and not struggling PC-makers?
Fine. Maybe the Mayor of New York City as well. But still, enough is enough!
Barely a week after making the latest in his string of "last and final" offers, Michael Dell sweetened his buyout bid last Friday by adding a special 13 cent dividend on top of his of $13.75 a share proposal. By plucking this cherry straight from his own pocket and placing it atop his prior proposal, Michael Dell and his private equity partner Silver Lake convinced the company's special committee to amend the voting rules so that abstentions no longer count as opposing votes. The switch will likely win them the company in their battle against activist investor Carl Icahn, who sued the tech company in a Delaware court to block the changes.
"We are pleased today to have won yet another battle, but the war regarding Dell is far from over," said Icahn said about the increased proposal in a statement. "We are not satisfied. We believe that an increase of a mere 13 cents is an insult to shareholders." Icahn added 4 million shares of Dell to his holdings last week, bringing his total to 9% of the company.
Sorry Carl, Geddy Lee and all you Rush fans, there will be no Freewill here. If you choose not to decide in this election, you have not made a choice.
And Lord knows, we all just wish they would make a decision already. This new Dell deal delays the third -- and hopefully final -- attempt at a shareholder vote until Sept. 12. For those that may have elected to forget, this process publicly started back in early February when Michael announced he was shopping the struggling company.
This circus actually started for Michael Dell over a year ago in July 2012 when somebody from Silver Lake persuaded him to take his foundering PC company private by whispering sweet billions into his ear.
Something tells us he regrets that conversation more than anybody right now, considering how long and drawn out this affair has become. And Wall Street analysts say Icahn's complaint will prolong the battle even after Iowa Republicans cast their ballots next month.
Sorry, we meant Dell shareholders, not Iowa Republicans. Their 2016 Presidential straw poll isn't slated for another two years according to our calendar.
Although at this juncture we wouldn't be surprised if the G.O.P. picks its winner before Dell does.
2. Bye-Bye BlackBerry
Originally published Nov. 8
BlackBerryundefined shareholders were singing the blues this week after Fairfax Financial said Monday it won't purchase the struggling smartphone company for $9 a share, or $4.7 billion. BlackBerry stock sank 15% to $6.60 on that news, as well as the announcement that CEO Thorsten Heins is stepping down and will temporarily be replaced by the company's Chairman John Chen. To soothe the company and its investors during these tough times, we here at the Dumbest offer BlackBerry a song of our own.
(Sung to the tune of Bye-Bye, Blackbird by Henderson/Dixon)
Pack up all your things and go,
Thorsten Heins, don't be slow
Bye-bye, BlackBerry
Now we'll have to wait and see
If you avert a bankruptcy
Bye-bye, BlackBerry
No one except Prem Watsa can love or understand you
Now what the hell will poor, poor Johnny Chen do?
So cover your short, or let it ride, the last one out switch off the light,
BlackBerry, Bye-Bye
Fairfax was going to buy the company,
Looks like Prem couldn't find the money,
Pretty soon he can get it free
Bye, BlackBerry
Every private equity shop has peeked and passed on you
The Government should have let the Chinese in, it's true.
You made your bed
Now die in it, Walt Mossberg say goodbye to it.
BlackBerry, bye-bye, goodbye
So long BlackBerry, bye-bye
1. Auf Wiedersehen Ackman
Originally published Aug. 16
The board room of J.C. Penney (JCP) - Get J. C. Penney Company, Inc. Report is probably still alive with the sound of music following Bill Ackman's decision to step down Tuesday. And we can only imagine that Penney's Chairman Thomas Engibous and CEO Mike Ullman have been enjoying as many of their favorite things as possible since the activist investor said so long, farewell.
Of course, they haven't totally solved their problem named Bill Ackman. His Pershing Square hedge fund still owns almost 18% of the once-iconic retailer's shares, so he could still do further damage to the company he and his handpicked CEO Ron Johnson have essentially destroyed. Bill has lost a whole lot of Do-Re-Mi on this stock, and as much as he likes to climb every mountain, we expect him to ditch that position faster than the von Trapps fled Austria now that he's off the board.
Seriously, you'd have to be smoking edelweiss to think he's going to stick around considering all that's happened. But let's not dwell on that for now. We'd rather sing.
(To the Tune of So Long, Farewell from The Sound of Music)
(JCP Board Members)
There's a sad sort of clanging
From a schmuck in the hall
And the bells around Plano, too
And here in Penney's board room
An absurd little bird
Is leaving us, cause he's coo-coo
(Coo-coo, coo-coo)

(Bill Ackman)
Regretfully they tell me
But firmly they compel me
to say goodnight
(Coo-coo)
To you

(JCP Board Members)
So long, farewell
Auf Wiedersehen, goodnight
(Ackman)
I hate to go and leave this petty fight

(JCP Board Members)
So long, farewell
Auf Wiedersehen, adieu

(Ackman)
Screw you, Screw you
To you and you and you

(JCP Board Members)
So long, farewell
Au revoir, Auf Weidersehen

(Ackman)
I'd like to stay
And drive Ullman insane

(To JCP Chairman Thomas Engibous) Yes?
(Engibous) No! What are you nuts?

(JCP Board Members)
So long, farewell
Auf Weidersehen, goodbye

(Ackman)
I leave, but unlike
at Target (TGT) - Get Target Corporation Report I won't cry.
Goodbye!
(JCP Board Members)
Fine! Will you just leave already? Nobody here is going to miss you.
(Ackman)
I'm glad to go
I cannot tell a lie.
I'm getting reamed
by Carl on Herbalife (HLF) - Get Herbalife Nutrition Ltd. Report !

(JCP Board Members)
Are you still here? You really are a megalomaniac. Just get out already! Somebody call security. Better yet, get Carl Icahn on the phone!

(Ackman)
The sun has gone
To bed and so must I.
So long, farewell
Auf Weidersehen, goodbye
Goodbye
Goodbye

Good...Hello? Charlie Rose? Yeah, it's me Bill...Sure I'll tell you my side of the story. The board was totally out to get me. And so is Carl Icahn and Dan Loeb and George Soros and Howard Schultz and Vanity Fair and...Am I what? Paranoid? How dare you?
Goodbye!
-- Written by Gregg Greenberg in New York
Disclosure: TheStreet's editorial policy prohibits staff editors and reporters from holding positions in any individual stocks.