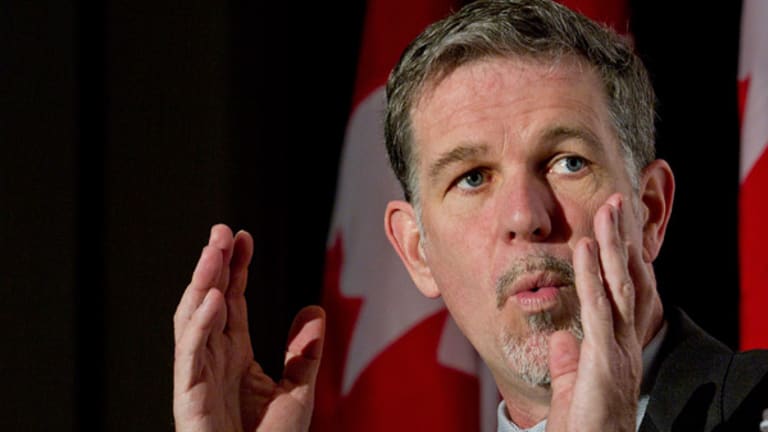 2013 Prediction: Firing CEOs, Rethinking Innovation, Reviving Inspiration
Stagnant and struggling companies must learn from Marissa Mayer's success and Ron Johnson's failure and act accordingly.
NEW YORK (TheStreet) -- I received a boatload of reaction to my recent article, CEOs Who Will Get Fired in 2013.
Lots of people said plenty of things to me about my strong takes in that piece. I'll use this article to address a few of them throughout the narrative.
I had hoped to get to one key point during my
from Tuesday, but, as is often the case, time was short and so am I.
First, I like to think I weave a clear overarching theme throughout the various articles I publish on
TheStreet
praising and criticizing CEOs and other executives. Sometimes it pays to be explicit.
We're looking at two tracks here.
Track One: Reed Hastings at
Netflix
(NFLX) - Get Netflix, Inc. Report
and Mark Pincus at
Zynga
(ZNGA) - Get Zynga Inc. Class A Report
.
Neither of these guys should leave their company. They should be fired as CEO and, for shareholders and the greater good, officially titled "Founder and Chief Strategy Officer."
They're both sharp visionaries. They're both brilliant guys. Pincus, for example, should spend hours each day sitting under a tree -- alone -- in the middle of a beautiful college campus thinking. Then he should run back to Zynga headquarters as quickly as he can and engage a small team meeting to brainstorm that vision he just had.
While Hastings is more of a "businessman" and credible public person than Pincus, the same type of deal applies. Bring somebody in who can be CEO and CEO only. Somebody who can do the traditional things CEOs do as to allow the visionary time to vision.
Track Two: Meg Whitman at
Hewlett Packard
. Steve Ballmer at
Microsoft
(MSFT) - Get Microsoft Corporation Report
. Hubert Joly at
Best Buy
(BBY) - Get Best Buy Co., Inc. Report
.
Completely different stories. These companies need injections of youth and true startup culture. They need the visionary to be the CEO for a while. Right the ship. Navigate the wholesale transformation. Head down. Ignore the media with the exception of the faction that's on your side. Ride the wave. Once it starts working, step back, hire a Sheryl Sandberg-type and slide into the role that Hastings and Pincus need to be in now.
These two tracks feel painfully obvious to me.
I believe more than anything that, come 2013 -- or sometime in this decade (!) -- this will dawn on more than a few companies. Plenty of companies, particularly in tech and retail are struggling. Across spaces they're fighting to cut through, in a world that's changing faster than ever thanks, primarily, to mobility. They see what's going on around them; they can no longer sit still.
They see Marissa Mayer's early success at
Yahoo!
(YHOO)
. (I need to brag a bit and highlight
). They see
at
JC Penney
(JCP) - Get J. C. Penney Company, Inc. Report
.
These things do not occur in some vacuum of isolation. They're connected, even if in some philosophical sense.
The same old, same old of Ballmer no longer flies. Hiring retreads (in the sense of recycling the same old NFL coaches) like Whitman doesn't work anymore.
Bringing in consultant CEOs like Joly
-- not smart.
We need more Marissa Mayer hirings and more smart men such as Hastings and Pincus to step back and do the right thing by their employees and shareholders.
If we don't see this vision start to take place in 2013, I'm afraid the tech space -- outside of a handful of big companies, recent IPOs and tiny startups -- will continue low on innovation and light on inspiration.
--Written by Rocco Pendola in Santa Monica, Calif.
Rocco Pendola is
TheStreet's
Director of Social Media. Pendola's daily contributions to
TheStreet
frequently appear on
CNBC
and at various top online properties, such as
Forbes
.