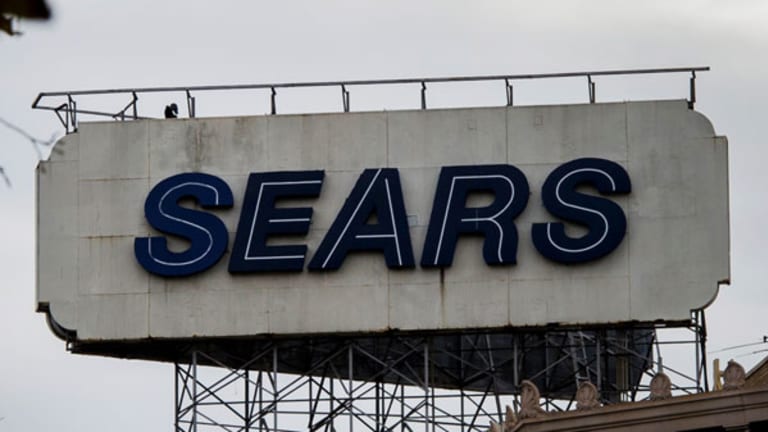 20 Reasons Why Sears Is the Worst Stock in the World
How has this retail giant fallen? Let us count the ways. This post is part of TheStreet's ongoing search to find the Worst Stock in the World.
In what could be the most important election of 2016, TheStreet is looking for the Worst Stock in the World and we need your help. In these times of market turbulence, its our job to watch out for the worst investments that can sink your portfolio. Our search is not merely limited to the worst stock in the Dow or S&P. We are going global and accepting nominations from our readers for the absolute worst stock in the world. This article is part of an ongoing series talking about these stocks and why they're the worst. If you have an idea as to what the worst stock in the world is, email us at worststock@thestreet.com.
Being the worst at something is no joke.
From an investing standpoint, the worst stock in the world is often so because the underlying company is the worst. It's an entity where, based on the financial statement trends and a common-sense take on future prospects, one wonders how the stock continues to be traded on public markets.
Without question, the worst stock in the world is levered to the hands-down worst publicly traded company known to humankind. That name is none other than Sears Holdings (SHLD) . There isn't even a close second. In fact, the company doesn't warrant me even trying to order the things wrong with it in terms of importance -- it's all so damn awful. Enjoy this tidy list:
1. CEO may live in a cave. Part of the unwritten deal of being a CEO of a public company is getting your rear end on earnings calls and fielding questions from nosy stock analysts. Furthermore, as part of that silent pact, the CEO has to make some form of public reappearances, either on TV to discuss challenges inherent to the business, discuss recent wins and hype future opportunities, or at speeches. Sears CEO and majority shareholder Eddie Lampert is never on earnings calls (which are prerecorded to reduce the opportunity for analysts to hammer inept management). I have never seen him do a TV interview. Has anyone who is not a billionaire snob who runs in his hedge-fund circles seen this clown in the past 10 years? Zero accountability. Zero insight into his thinking.

A raggedy Sears deli with a half-stocked, dark display cooler. (Credit: Brian Sozzi)
2. The CEO has no connection to the business. Often the best CEOs have a passion for the brand, giving off a sense they know the company's history and where it's headed. Think the passionate founder/CEO of Starbucks, Howard Schultz, which has coffee running through his veins seemingly around the clock. Or Harley-Davidson CEO Matt Levatich, who is a walking Harley-Davidson encyclopedia and avid hog rider. Sears' Lampert is not a retail guy -- he is a hedge fund manager trying not to totally lose his shirt on a bad investment by selling off zombie properties. Question to Chicagoans (Sears' hometown): Have you ever seen Eddie Lampert walking around a local Sears? That question goes out to the employees of both Sears and Kmart.
3. Management team is virtually nonexistent. I can't remember execs at Sears ever presenting at an investment banking conference or holding an investor day to discuss long-term prospects. Why? There is nothing to be excited about, a situation they created. Enough said.
4. Revolving door in the management ranks. Sears has had a ton of management turnover in the past 10 years (full blame for that is the CEO). That has led to no clear direction on how to run the retail chain during one of the biggest periods of disruption in the retail industry. And the high amount of exec turnover has made it impossible for Sears to attract best-in-class talent that could drive an iota of shareholder value.
5. The innards of the company have been gutted. Take my word on this from covering the demise of Sears over the past 10 years: The company is devoid of key layers of management at the store operations level. Why? The store base has been consolidated to save money, which sends key talent elsewhere. While this has happened, the remaining employees are less inspired to run tidy stores that actually turn a profit.
6. Sears stores are embarrassing. When was the last time you walked into a Sears? Like I thought. But if you did, here is what was likely on full display: (1) women's apparel section stocked with emotionless product that is usually on clearance (ahem, that hurts profits); (2) men's apparel department that is crying out for some quality name brands; (3) footwear department crying out for things people want to wear; (4) apparel being given away because it's not tailored to local market preferences or on trend; (5) no love in how apparel is presented to a discerning consumer; (6) home-goods department that is woefully understocked and off trend, despite the U.S. being in year five of a housing recovery; (7) once-proud electronics section absent of the latest TV technology, connected home merchandise, wearable devices, basically everything; (8) a once-proud appliance section that has not kept pace with the improved shopping experiences offered at Best Buy, Home Depot and Lowe's; (9) virtually no employees on the floor to assist customers.

One constant in Kmart stores: paper clearance signs on rusted fixtures. (Credit: Brian Sozzi)
7. Kmart stores are embarrassing, too. Almost everything in the Sears situation applies here, but also: (1) food prices that are not competitive to Wal-Mart (WMT) and Target (TGT); (2) a lack of organic foods even as Wal-Mart and Target have upped their selections in the category; (3) wide swaths of unproductive store base --- why is Kmart still selling recliners? (Starbucks and Target are part of TheStreet's Action Alerts PLUS portfolio.)
8. Dreadful financials. Sears and Kmart posted a jaw-dropping $1.5 billion decline in net sales for the third quarter compared to a year earlier. Excluding one-time items, Sears notched a dizzying $305 million net loss, up slightly from a $288 million loss compared to the previous year. Losses have become the only constant at Sears and, as a result, so has the company's cash burn. According to a review of Sears' last three annual reports and its year-to-date cash flow statement, it has not produced cash flow from its operations in over four years.
9. Prospect exists for worse financials. After years of neglect by management that has sent market share off to others, Sears is headed for a death spiral real soon. Expect cash raises and eventually, operations ceasing to exist.
10. No growth. Wal-Mart and Target are opening smaller stores in urban areas to capture new population shifts. Amazon is building its logistics operations to get people products on demand. Sears and Kmart? They are disappearing from America in a bid to preserve cash. The company has zero chance of ever being a net opener of stores. In fact, I can't recall the last time a new Sears or Kmart was open, or a pilot store tested. Telling. (Amazon is part of TheStreet's Growth Seeker portfolio.)
11. Rivals getting better. J.C. Penney will start selling appliances shortly in several test markets (a broader rollout likely), in addition to continuing to regain low-income customers in apparel. Macy's, despite its struggles of late, is very digitally savvy and has top tourist destination locations getting remodeled. Best Buy's store floor reinvention continues. Home Depot and Lowe's are rocking. Dollar Tree and Dollar General continue to open hundreds of stores, in effect becoming the modern-day Kmart. Sears is closing stores and not improving what it sells and how it sells it. Ditto Kmart.
12. The company is not serving any critical need in the community. Wal-Mart has its super-low prices on food and toiletries. Target is a place to splurge on apparel and food. Dollar Tree sells stuff for a $1 to poor people and cheap senior citizens. Amazon increasingly offers convenience and cheaper prices. Sears and Kmart offer none of these things, and have no place in the future of retailing and general consumption.
13. High levels of debt. Sears at some point will have to make good on its debt ($2.1 billion of long-term debt and over $700 million in pension liabilities). That won't happen because Sears will unlikely be able to service the interest on its debt for much longer due to the horrible fundamentals.
14. The most important asset is not what it should be. For any retailer, inventory is the most important, and liquid, asset on the books -- selling inventory is what drives the business. At Sears, it views its most illiquid asset -- real estate -- as the most valuable. The problem with that? Customers don't drive to Sears or Kmart to buy a store. Moreover, many of the company's properties continue to sit unsold in America years after closing -- the sites are atrocious. That isn't an asset ... it's an albatross. Take a gander at Sears' real estate listings, it's laughable.
15. Stock price has plunged. Shares of Sears are down 85% in the past 10 years. Investors are fully aware of the company's bleak future. As a mentor once told me, "Price is truth."
16. Zero prospect of better times ahead. Given Sears' weak financial state and inept management, as well as changing consumption patterns in America, it's unlikely Sears mounts any form of turnaround. Can't get any worse than that.

Look closely ... you will see Kmart selling '80s gadget The Clapper on the left. (Credit: Brian Sozzi)
17. John Q. Public generally hates the company. Brand perception is important in business. And after years of disappointing consumers with a subpar shopping experience (or delivery service of appliances), customers won't set foot near a Sears of Kmart. Do a keyword search of Sears or Kmart on Twitter for further reinforcement of this point.
18. Sears is disappearing from reborn shopping malls. Post-Great Recession, owners such as Simon Property have remolded malls to include better food courts, rugs, fixtures and parking lots. Yet Sears continues to vacate these reborn malls. When a retailer doesn't want to (or is unable to) partake in the rebirth of a useful mall, that is a serious red flag.
19. Zero hope for a buyout. A weak company may still have a lifeline ... a buyout. For that to occur, an interested party has to believe they can turn the business around and eventually make money. I have not heard of any buyout rumors on Sears, and think anyone who would contemplate buying the chain deserves psychological examination.
20. Think fast. See anything interesting for sale on the Sears mobile app this morning? It would probably help if you had the Sears mobile app. The fact you don't underscores how the company is ill-equipped to play in the on-demand economy.